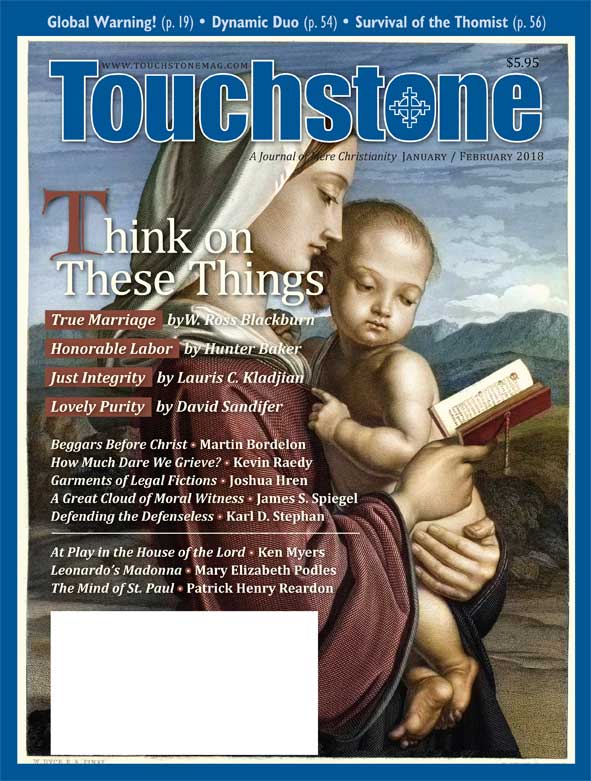 Get this issue included in a special box set of 30 issues for only $20.
Free shipping. While supplies last.
editorials
Getting Sex Wrong Is a Foundational Error
by James M. Kushiner


A Comfort Zone for Christians Remains Elusive
by James Hitchcock


On Irresponsible Nostalgia
by S. M. Hutchens


quodlibets
Ivy League Advice Worth Repeating
Intelligent Design & the University
columns
Mortal Remains
by S. M. Hutchens


From Heavenly Harmony
At Play in the House of the Lord
by Ken Myers


First Books
by Kathie Johnson


Illuminations
by Anthony Esolen


A Thousand Words
Leonardo's Madonna and Child with Saint Anne
by Mary Elizabeth Podles


As It Is Written...
by Patrick Henry Reardon


features
Consumer Man versus Working Man: Thoughts on the Value of Work
by Hunter Baker


How Polyphony & the Cantus Firmus Can Illuminate Integrity
by Lauris C. Kaldjian


Hiding Foul Things with Garments of Legal Fictions
by Joshua Hren


The Wisdom of the Victorian Quest for Innocence
by David Sandifer


An Appeal to the Churches Concerning Marriage Vows
by W. Ross Blackburn


An Image of God by Sharon M. Leon
Beyond the Abortion Wars by Charles C. Camosy
Embryos Under the Microscope by Jane Maienschein
by Karl D. Stephan


views
Martin Bordelon on Taking the Measure of the Deserving & the Undeserving Poor


Kevin Raedy on Augustine & Refusing to Grieve As Others Do


Timothy J. Burbery on Ragnarök, an Extreme Weather Event & the Paths to Conversion


A Great Cloud of Moral Witness
James S. Spiegel on the Solid Historical Consensus Regarding Homosexual Practice


book reviews
Reviews of Man Up! by Jeffrey Hemmer & Man of the House by C. R. Wiley
by S. M. Hutchens


Joy by Georges Bernanos, tr. Louise Varèse
A review by Norm Klassen


Aquinas and Evolution: Why St. Thomas' Teaching on the Origins Is Incompatible with Evolutionary Theory by Michael Chaberek, O.P.
A review by D. Q. McInerny


departments