Get this issue included in a special box set of 30 issues for only $20.
Free shipping. While supplies last.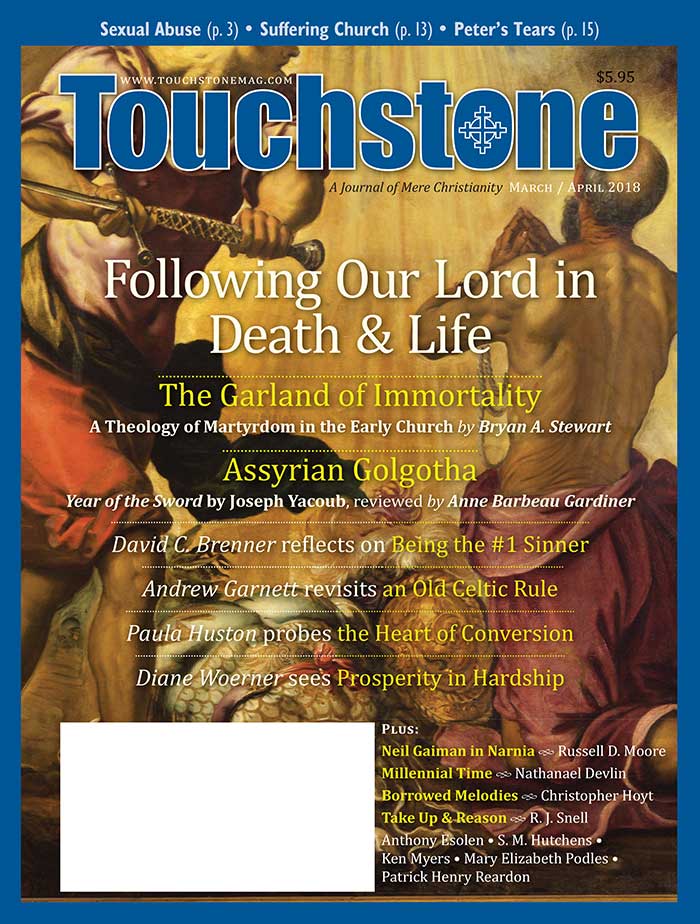 editorials
The Far Country of Sexual Rebellion
by James Hitchcock & James M. Kushiner


quodlibets
columns
Mortal Remains
by S. M. Hutchens


From Heavenly Harmony
by Ken Myers


Illuminations
by Anthony Esolen


A Thousand Words
The Votive Crown of King Recceswinth
by Mary Elizabeth Podles


As It Is Written...
by Patrick Henry Reardon


features
A Theology of Martyrdom in the Early Church
by Bryan A. Stewart


Neil Gaiman's Brush with Narnia Lingers
by Russell D. Moore


How Best to Face the Total War of the Anti-Culture
by R. J. Snell


The Transmission of Christianity Is Not a New Task
by Nathanael Devlin


Musical Borrowings & Trinitarian Echoes
by Christopher Hoyt


views
Paula Huston on Becoming a New Kind of Human Being


David C. Brenner on Being the Biggest Sinner in the Room


Diane Woerner on a Strength That Is from God Alone


Andrew Garnett on Insights from the Rule of Columbanus


book reviews
Year of the Sword: The Assyrian Christian Genocide, A History
by Joseph Yacoub, tr. James Ferguson
A review by Anne Barbeau Gardiner


departments