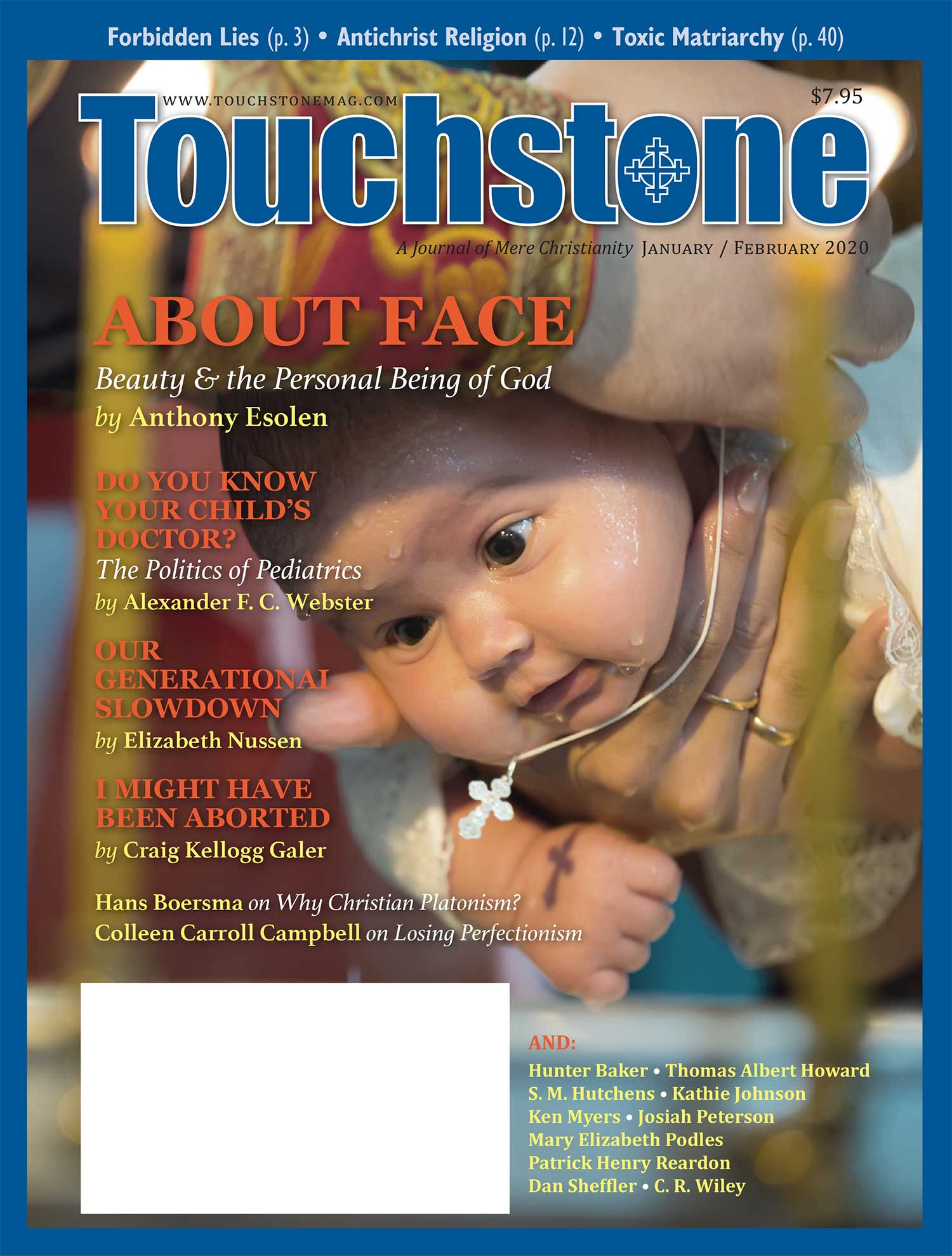 Get this issue included in a special box set of 30 issues for only $20.
Free shipping. While supplies last.
editorials
Speaking Truth About the Sexes Is Not Optional
by Anthony Esolen


quodlibets
columns
Mortal Remains
by S. M. Hutchens


From Heavenly Harmony
by Ken Myers


First Books
by Kathie Johnson


Illuminations
by Anthony Esolen


A Thousand Words
Portrait of St. Luke in the Gospel Book of Otto III
by Mary Elizabeth Podles


As It Is Written...
by Patrick Henry Reardon


features
On Beauty & the Personal Being of God & Man
by Anthony Esolen


Why Christian Platonism Is Key to the Great Tradition
by Hans Boersma


Do You Know Your Child's Doctor?
The Politicization of Pediatrics in America
by Alexander F. C. Webster


The Cure for Too Much of a Good Thing May Be Painful
by C. R. Wiley


views
Colleen Carroll Campbell on a Saint's Charism That Cures Toxic Perfectionism


Craig Kellogg Galer on the Consequences of One Birth Before Roe v. Wade


Elizabeth Nussen on Generational Spacing & Familial Inertia


Dan Sheffler on Taking Seriously Gravitas, Dignitas & Pietas


book reviews
Pagans & Christians in the City: Culture Wars from the Tiber to the Potomac by Steven D. Smith
A review by Hunter Baker


Conscience & the Limits of Caesar
Liberty in the Things of God: The Christian Origins of Religious Freedom by Robert Louis Wilken
A review by Thomas Albert Howard


An Encouraging Thought: The Christian Worldview in the Writings of J. R. R. Tolkien by Donald T. Williams
A review by Josiah Peterson


commonplaces
departments