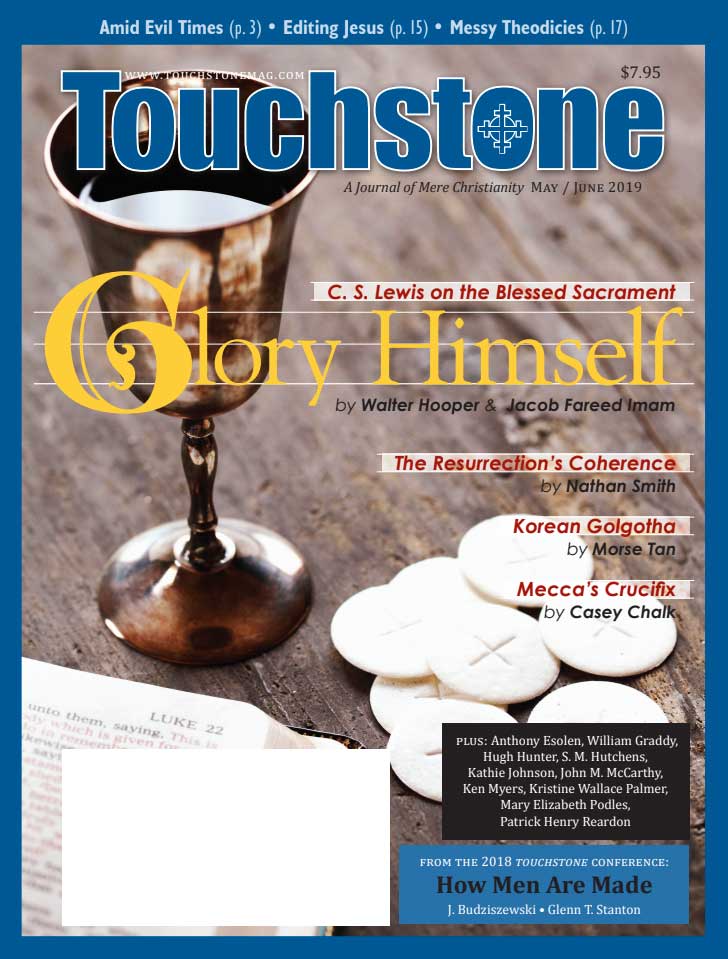 Get this issue and 5 others for only $15.
Free shipping. While supplies last.
editorials
Justice Demands an Assessment of Injustice
by Anthony Esolen


quodlibets
Mere Conservatism Is Not Christian
columns
Mortal Remains
by S. M. Hutchens


From Heavenly Harmony
by Ken Myers


First Books
by Kathie Johnson


Illuminations
by Anthony Esolen


A Thousand Words
by Mary Elizabeth Podles


As It Is Written...
by Patrick Henry Reardon


features
Why It's in Bad Shape & How to Recover It
by Glenn T. Stanton


The Nature of a Man Is What He Is For
by J. Budziszewski


C. S. Lewis on the Blessed Sacrament
by Walter Hooper
& Jacob Fareed Imam


The Compelling "Bayesian" Case for Christ
by Nathan Smith


Pyongyang Was Once Jerusalem of the East
by Morse Tan


views
John M. McCarthy on the Implications of Changing the Pater Noster


Hugh Hunter on the Infinite Problem of Goods & Evil


William Graddy on Seeing with a "Devout, Intransitive Eye"


Kristine Wallace Palmer on Novel Superheroes versus the Human Adventure


book reviews
The Crucifix on Mecca's Front Porch: A Christian's Companion for the Study of Islam
A review by Casey Chalk


commonplaces
departments