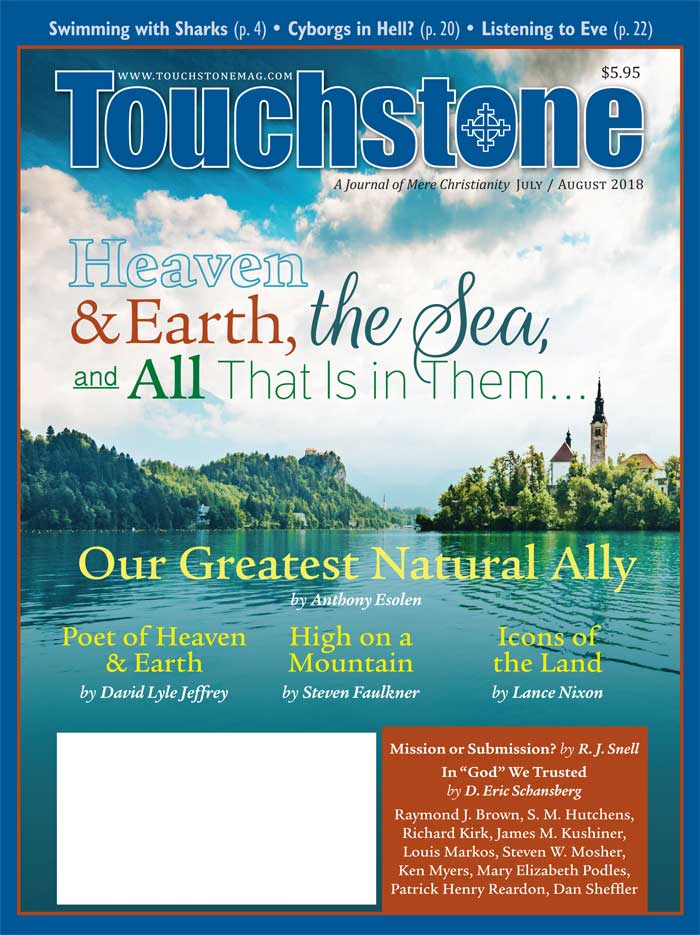 Get this issue and 5 others for only $15.
Free shipping. While supplies last.
editorials
Labels & the Ecumenism of Discipleship
by James M. Kushiner


The Politics of Power, Pleasure & Atheism
by S. M. Hutchens


quodlibets
In Memoriam, Lawrence D. Jacobs
Transgenderism: What the Biology Professor Must Say
columns
Communiqué
by Lance Nixon


The Suffering Church
by Steven W. Mosher


Mortal Remains
by S. M. Hutchens


Illuminations
Glorious Things of Thee Are Spoken
by Anthony Esolen


A Thousand Words
Rachel Ruysch's Still Life with Flowers in a Glass Vase
by Mary Elizabeth Podles


As It Is Written...
by Patrick Henry Reardon


features
Life & Love Are Real Despite Theatrical Illusions
by Anthony Esolen


His Thoughts Are Not Our Thoughts, Nor His Words
by David Lyle Jeffrey


The Difficulty of Apologetics for Dead Souls in the Real World
by R. J. Snell


views
Steven Faulkner on God's Pictures of Life & Death & Eternity


Patrick B. Whalen on Virtual Reality versus Real Personality


Judith Anderson on the Brevity & Theology of Her Recorded Words


D. Eric Schansberg on America's 1950s Religion & Hope for Today


book reviews
The Art of Living by Dietrich von Hildebrand with Alice von Hildebrand
A review by Dan Sheffler


12 Rules for Life: An Antidote to Chaos by Jordan B. Peterson
A review by Richard Kirk


Our Secular Age: Ten Years of Reading and Applying Charles Taylor
A review by Louis Markos


Lionhearts: A Pastor Stephen Grant Novel by Ray Keating
A review by Raymond J. Brown


departments