Get this issue included in a special box set of 30 issues for only $20.
Free shipping. While supplies last.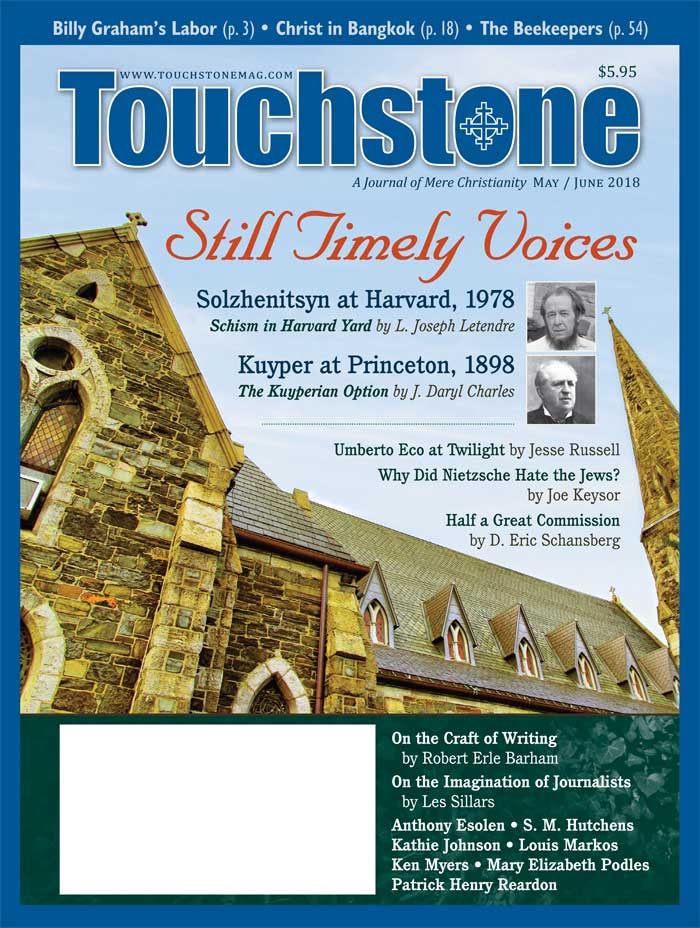 editorials
Billy Graham's Legacy Is All Around Us
by James M. Kushiner
quodlibet
by S. M. Hutchens
by Patrick Henry Reardon
by Anthony Esolen
communiqué
The Christian Asylum Seekers of Bangkok
by Casey Chalk
columns
Illuminations
by Anthony Esolen
A Thousand Words
by Mary Elizabeth Podles
From Heavenly Harmony
by Ken Myers
As It Is Written...
by Patrick Henry Reardon
Mortal Remains
by S. M. Hutchens
First Books
by Kathie Johnson
features
Cultural Engagement & Natural Law Ecumenism
by J. Daryl Charles
The Riddle of Nietzsche's Philosemitic Anti-Judaism
by Joe Keysor
The Last Will & Testament of Umberto Eco
by Jesse Russell
Solzhenitsyn's Blunt Sermon Still Cuts Deep 40 Years Later
by L. Joseph Letendre
views
D. Eric Schansberg on Christ's Commandments & True Discipleship


Robert Erle Barham on the Craft of Creating Worlds of Words


Les Sillars on Journalism as an Exercise of the Moral Imagination


book reviews
Apologetics and the Christian Imagination: An Integrated Approach to Defending the Faith by Holly Ordway
by Louis Markos
departments