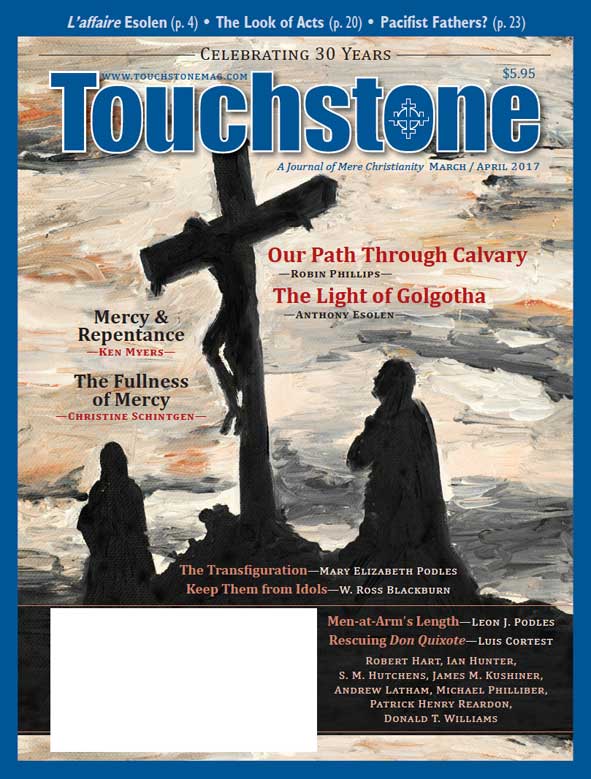 Get this issue and 5 others for only $15.
Free shipping. While supplies last.
editorials
Beware Scandalizing Unbelievers
by Patrick Henry Reardon


We Stand in Solidarity & in Good Company
by James M. Kushiner


columns
Mortal Remains
Christology & Bible Translation
by S. M. Hutchens


Contours of Culture
by Ken Myers


Illuminations
by Anthony Esolen


A Thousand Words
The Transfiguration by Theophanes the Greek
by Mary Elizabeth Podles


As It Is Written...
by Patrick Henry Reardon


features
Soldiers of Christ & the Mixed Messages They Receive
by Leon J. Podles


The Education of Children Takes Generations of Fidelity
by W. Ross Blackburn


Our Path to Holiness Runs Straight Through Calvary
by Robin Phillips


Western Literature & the Illumination of a Divine Attribute
by Christine Schintgen


views
Luis Cortest on Reading Don Quixote in Its Original Christian Context


Robert Hart What the Church Steadfastly Does Every Sunday


Andrew Latham on Pacifism Today & in the Early Church


book reviews
Last Testament: In His Own Words by Pope Benedict XVI and Peter Seewald
A review by Ian Hunter


Without Precedent: Scripture, Tradition, and the Ordination of Women by Geoffrey Kirk
A review by S. M. Hutchens


Unchanging Witness: The Consistent Christian Teaching on Homosexuality in Scripture and Tradition by S. Donald Fortson III and Rollin G. Grams
A review by Michael Philliber


Philosophy in Seven Sentences: A Small Introduction to a Vast Topic by Douglas Groothuis
A review by Donald T. Williams


departments