For complete online access to
new issues of Touchstone, subscribe today!
---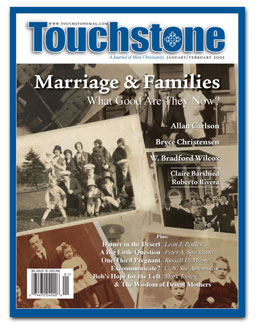 California Dreaming
by Thomas S. Buchanan

Home Invasion
by Gillis J. Harp



The Matter At Hand
Empty Spaces of the Word
by Leon J. Podles

As It Is Written...
Abimelech in Love
by Patrick Henry Reardon



Bob's Hope
Post-Election, NCC Leader Reaches Out to the Left Behind
by Mark Tooley



The Idea of Kirk
Russell Kirk and
the Age of Ideology
by W. Wesley McDonald
A review by Jeremy Beer



Five Rings & a Wedding
Marriage & the Concentric Communities That Surround It
by Allan Carlson

Rush to Alter
How Homosexuals Benefit from the Devolution of Marriage
by Bryce Christensen

Onan's Onus
A sidebar in W. Bradford Wilcox's "The Facts of Life & Marriage"
by David Mills



Who Made Thee?
Peter A. Speckhard on Telling People Who They Really Are

The Child Not Taken
Russell D. Moore on Aborting the Conscience Through Choice

Triple Bypass
C. N. Sue Abromaitis on Rhetorical Evasions of the Pro-Life Imperative

Novel Bioethics
Claire Barshied on How a Book Taught Her to Reimagine Sex

Desperate Steps for Wives
Roberto Rivera on Television Wives & Suburban Choices



Every issue of Touchstone also contains short commentaries by our editors, notices of books you should know about, and our spirited letters section.