The Upper Reaches
The Remarkable 50-Year White House Ministry of Billy Graham
by Mark Tooley
Barack Obama may be the first American president since Franklin Roosevelt whom evangelist Billy Graham never meets or counsels. America's most famous preacher turned 90 last November 7, and although Obama tried to visit him during the campaign, the evangelist's health precluded it. But in a meeting with Obama earlier last year, son Franklin, who has succeeded to his father's ministry, made known the Grahams' disagreement with Obama over abortion and same-sex unions.
Still mentally alert though frail, Billy Graham is perhaps the most influential clergyman in US history. He has been a celebrity since 1949, when his surging Los Angeles crusade persuaded the Hearst press to "puff" him nationally, and across seven decades, he has preached in 185 countries to over 200 million people. He helped launch Christianity Today magazine to encourage Evangelical intellectual life, denounced racial segregation, fostered ecumenism with Roman Catholics, and presided over a populist spiritual boom that made previously backwater Evangelicals America's largest religious demographic.
Graham's celebrity status, earnest confidence, and charisma gained him almost easy access to many of the twentieth century's political giants. West German Chancellor Konrad Adenauer, a Catholic, assured him of his own faith in Christ's resurrection. Chiang Kai-shek and his wife, both Methodists, eagerly hosted him in Taiwan. Jawaharlal Nehru, though a Hindu, opened doors to him in India. King Hussein offered him the hospitality of his palace in Jordan, and Golda Meir charmed him in Israel.
A despairing Winston Churchill once kept the Duke of Windsor waiting while he privately heard Graham present the gospel. And Queen Elizabeth, herself the titular head of the Church of England, was his frequent host. So, too, was the far more active head of a much larger church, Pope John Paul II. More controversially, Communist despots like North Korea's Kim Il Sung were also his host, exploiting Graham for their own purposes.
Friend of Presidents
But Graham's most celebrated friendships were with eleven US presidents. While his friendships with Lyndon Johnson and Richard Nixon were the most publicized—and the most politically exploited—Graham has described Ronald Reagan, who was widely derided as a non-churchgoer during his presidency, as the president to whom he was closest. He was also especially close to the Bush family, spending the night with George and Barbara Bush on the night that the Persian Gulf War began.
The presidential associations were mutually beneficial. For Graham, they opened diplomatic doors for his international preaching crusades and also probably increased his domestic audiences. Meanwhile, the presidents received the religious blessing of America's foremost minister, while also gaining political and spiritual counsel from a savvy public figure with a following sometimes bigger than their own.
Graham's first presidential meeting, with Harry Truman in 1950, was notoriously disastrous. Only age 31, and wearing a pastel suit and white bucks, Graham prayed with the president and then, to the delight of an attentive press corps, reenacted the prayer on the White House lawn. Years later, he apologized to Truman for his showmanship, and he was careful to be more discreet in the future.
Graham advised the non-churchgoing Eisenhower that he should join a church when elected president, and steered him to the National Presbyterian Church, where Ike would be baptized. As president, Eisenhower hosted Graham at his Gettysburg home and led him on a battlefield tour, pointing out where Graham's Confederate grandfather likely had fought. Ike once asked Graham to explain the afterlife, perhaps sensing his coming heart attack. Years later, while dying at Walter Reed Hospital, Eisenhower summoned Graham again, to discuss his salvation and also to ask Graham's help in fostering a reconciliation with Richard Nixon, who was himself already a Graham friend.
A Catholic & a Quaker
Right before the presidential election of 1960, Henry Luce of Life magazine pulled a virtual endorsement of Nixon by Graham, an act for which Graham was grateful, realizing that open political alliances were for him a mistake. After John F. Kennedy was elected, he invited Graham to a press conference to declare that Protestants could support a Catholic president.
The evangelist became a golfing partner with JFK, as he would with most presidents, using the outings to also discuss spiritual issues, such as the Second Coming of Christ. Graham sat with the Kennedy family during the president's funeral. Later, Rose Kennedy would tell Graham that, though Catholic, "I have never heard you say anything we don't agree with in the Bible."
President Lyndon Johnson invited Graham, with whom he was already friends, to the White House shortly after JFK's assassination. They often prayed on their knees together, especially as the Vietnam War worsened. Graham admitted that LBJ was not "pious," but he was an earnest spiritual seeker who sometimes attended churches of different denominations several times a week. Graham and his wife spent the night in the White House with the Johnsons on the last night of LBJ's presidency, and remained to spend the next night with the newly inaugurated Nixon.
In his memoir, Graham calls Nixon his "Quaker friend." He had first met Nixon's mother when she came to hear Graham preach in 1949. Himself a former Sunday school teacher, Nixon never fully satisfied Graham with his reserved spiritual expressions. But Graham enthusiastically encouraged him towards and throughout his presidency. Nixon attended Graham crusades as president and, no less than Johnson, benefited from public association with Graham's earnest virtuousness.
At one point during the invasion of Cambodia in 1971, Nixon phoned Graham at 1:00 A.M. for solace. Graham was embarrassed by Watergate, but maintained his friendship with Nixon and preached at his funeral. Years later, when a Nixon tape surfaced on which Graham could be heard agreeing with Nixon about undesirable Jewish influence in the media, the preacher, who had always nurtured good relations with Jewish leaders, profusely apologized.
Graham's friendship with Gerald Ford, whom he had known years previously as a congressman, was comfortable. The evangelist advised him to pardon Nixon. Later, Graham's wife publicly tore a sign away from a protester during a Ford visit with the Grahams, prompting an unsuccessful lawsuit by the chagrined demonstrator.
Comfort & Conviction
Ironically, Graham was least close among the presidents with fellow Baptist Jimmy Carter, who had years earlier organized a racially integrated public showing in Georgia of one of Graham's evangelistic films. Even so, Graham was a regular White House visitor during the Carter years, and a plaintive Rosalyn Carter asked Graham what God's purpose was in their 1980 defeat to Reagan.
Ronald Reagan first met Graham in 1953, introduced by his socially prominent mother-in-law. Graham prayed at both of Reagan's inaugurations. When Graham preached in the Soviet Union for the first time, Reagan was quietly supportive, even though the evangelist made foolishly accommodating comments about the Soviet authorities.
Reagan frequently phoned Graham for counsel or simply conversation. Following the Reagans' final state dinner, held for Prime Minister Margaret Thatcher, who was another Graham friend, the pajama-clad Reagans summoned the Grahams back to the White House from their hotel for a late-night spiritual conversation. When Reagan died, Graham was sorrowfully too frail to preach.
Graham's friendship with the Bushes stretched back to the 1950s, beginning with Senator Prescott Bush, father of George H. W. Bush. When the latter was vice president, he began inviting the Grahams to visit the family compound at Kennebunkport, Maine, where Graham often gave spiritual talks to the family. He remained close to the family after Bush became president, and spent the night with George and Barbara Bush on the night that the Persian Gulf War began.
During one of his visits to Kennebunkport in the mid-1980s, Graham pressed young George W. Bush about his faith during a private walk. Fifteen years later, he publicly appeared with candidate Bush right before the 2000 presidential election, to allay public concerns about Bush's just-exposed drunk driving arrest of 24 years earlier. After 9/11, President Bush invited Graham to speak at the National Cathedral, which was the evangelist's last major role at a state event.
Both Apologist & Conscience
Although not as close as with the Bushes or the Reagans, Graham's ties to the Clintons were longstanding and cordial. Not untypically, Graham created controversy when he seemed to defend Bill Clinton during Monica-gate, comparing him to sinful but heroic King David. Graham then had to explain his disapproval of adultery in a New York Times op-ed. Later, Hillary credited Graham with helping her forgive her husband. However sincere the claim, it illustrated the ongoing need for presidential families to claim personal ties to America's chief preacher.
In the first presidency in 60 years without a role for Billy Graham, Barack Obama will likely have no spiritual counselor as politically helpful or spiritually reliable as the now 90-year-old evangelist. Graham sometimes became more of an apologist than a conscience for his presidential friends. But his overall integrity, so universally appealing, has been mostly reassuring both to his powerful confidantes and to the American public.
Not a subscriber? Subscribe to Touchstone today for full online access. Over 30 years of content!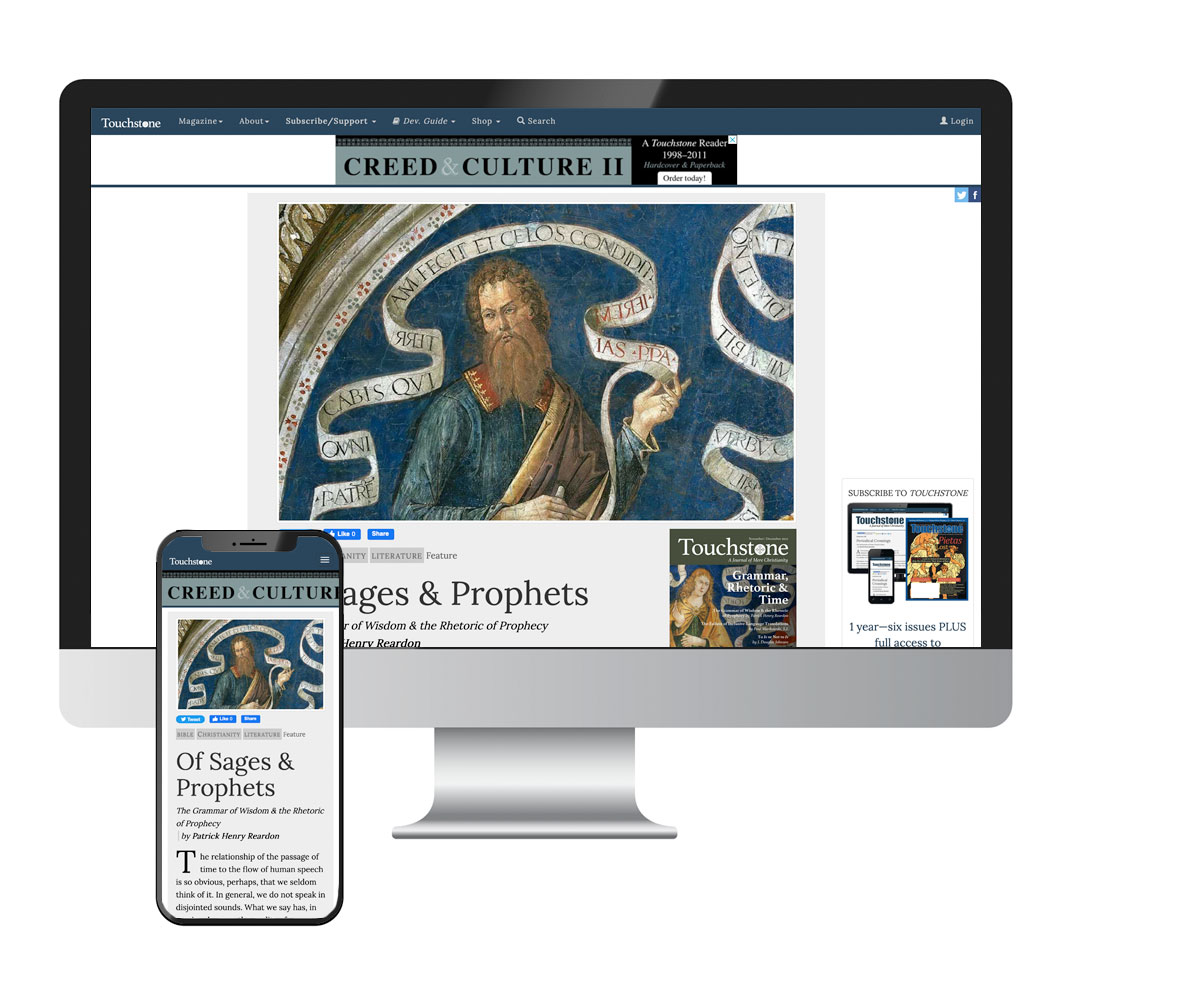 Get a one-year full-access subscription to the Touchstone online archives for only $19.95. That's only $1.66 per month!
Purchase Print &
Online Subscription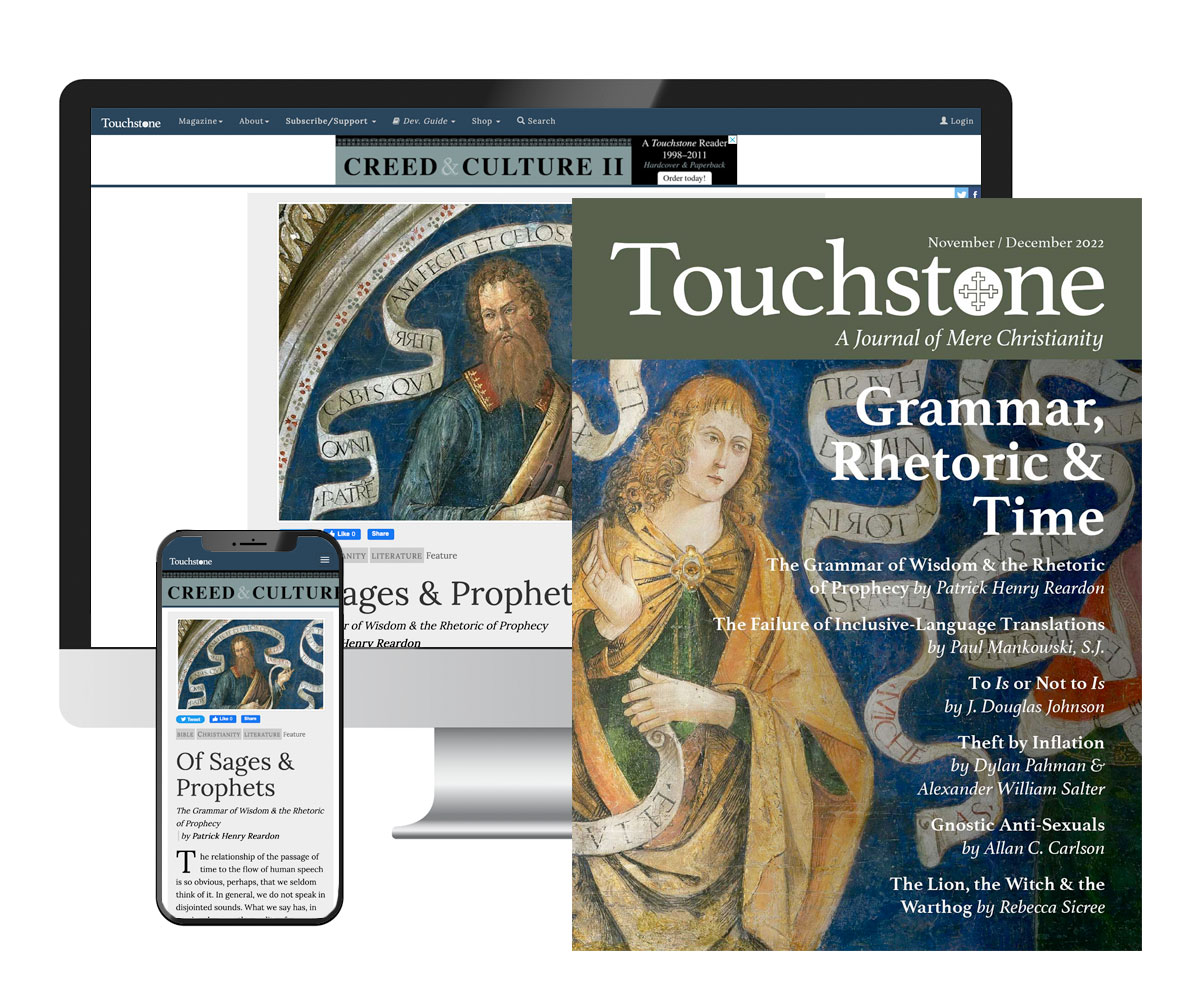 Get six issues (one year) of Touchstone PLUS full online access for only $29.95. That's only $2.50 per month!
Your subscription goes a long way to ensure that Touchstone is able to continue its mission of publishing quality Christian articles and commentary.
*Transactions will be processed on the secure server of The Fellowship of St. James website, the publisher of Touchstone.
from the touchstone online archives