For complete online access to
new issues of Touchstone, subscribe today!
---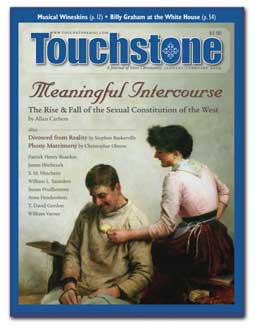 Subject to Change
by James Hitchcock



As It Is Written...
The Prophet & the Sage
by Patrick Henry Reardon



The Upper Reaches
The Remarkable 50-Year White House Ministry of Billy Graham
by Mark Tooley



Sexes United
Marriage: The Dream That Refuses to Die by Elizabeth Fox-Genovese
A review by Anne Hendershott

Sacred Exits
Quitting Church: Why the Faithful Are Fleeing and What to Do About It by Julia Duin
A review by Patrick Henry Reardon

Protection Thicket
Freedom of Religion: UN and European Human Rights Law and Practice by Paul M. Taylor
A review by William L. Saunders

Reserved Seating
A Place at the Table: George Eldon Ladd and the Rehabilitation of Evangelical Scholarship in America by John A. D'Elia
A review by William Varner



Divorced from Reality
"We're from the Government, and We're Here to End Your Marriage."
by Stephen Baskerville

Meaningful Intercourse
The Rise & Fall of the Sexual Constitution of Christian Civilization
by Allan Carlson

Phony Matrimony
Or What King Kamehameha II Teaches Us About the Last Marriage Taboo
by Christopher Oleson



A Certain Anger
S. M. Hutchens on Secularists Who Don't Get Hell & Terrorists Who Do

Hymns Resurrected
Meredith Henne on Old Musical Wine & the New Wineskins

Sermon Pointers
T. David Gordon on Preaching as Spiritual Cartography

Talking About Abortion
Susan Prudhomme on Facing the Pain & Joy of the Right Choice



Every issue of Touchstone also contains short commentaries by our editors, notices of books you should know about, and our spirited letters section.