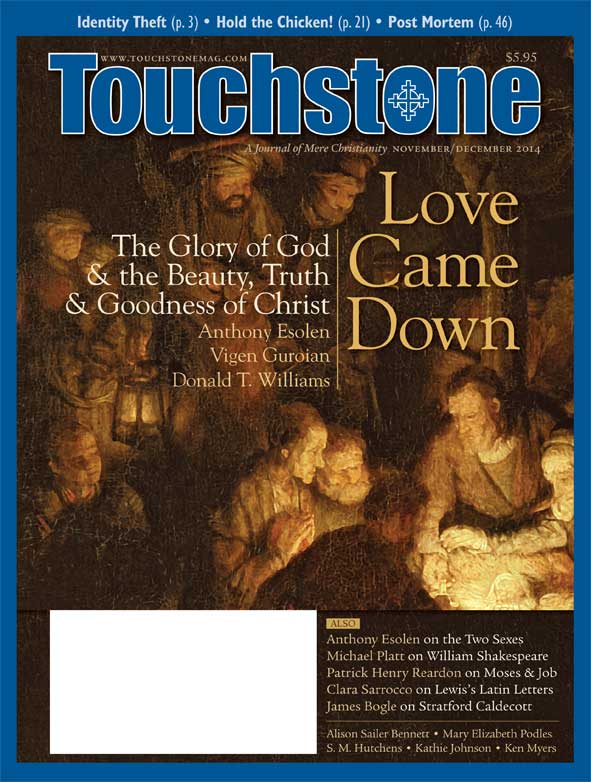 Get this Christmas issue and 5 others for only $15.
Free shipping. While supplies last.
editorials
In Christ All Sinners Are Truly Made New
by Anthony Esolen & S. M. Hutchens


Caesar in the Sanctuary
by S. M. Hutchens


columns
The Suffering Church
by Jinghong Cai


Mortal Remains
by S. M. Hutchens


From Heavenly Harmony
by Ken Myers


First Books
by Kathie Johnson


Illuminations
by Anthony Esolen


A Thousand Words
The School of Athens, Raffaello Sanzio
by Mary Elizabeth Podles


As It Is Written...
by Patrick Henry Reardon


features
Tales of Forbidden Stereotypes
Real-Life Men & Women & the Tragic Loss of Human Comedy
by Anthony Esolen


The Gospel Story Resonates Throughout H. C. Andersen's Beloved Tale
by Vigen Guroian


C. S. Lewis & the Ontological Argument
by Donald T. Williams


Any Quest to Understand the Bard Requires Humility & Ardor
by Michael Platt


views
Patrick Henry Reardon on the Meekest of the Servants of God


James Bogle on the Life & Witness of the Late Stratford Caldecott


Clara Sarrocco on the Latin Letters of C. S. Lewis & Don Giovanni Calabria


Rebecca Sicree on the Childish Interruptions That Make Up Real Life


book reviews
Culture and the Death of God
by Terry Eagleton
A review by Graeme Hunter


Becoming Human: Meditations on Christian Anthropology in Word and Image
by John Behr
A review by Alison Sailer Bennett


departments