BOOK NOTICE
For Notre Dame
Battling for the Heart and Soul of a Catholic University
by Wilson D. Miscamble, C.S.C.
St. Augustine's Press, 2013
(232 pages, $17.00, paperback)

Soldiers, religious believers, and scholar-philosophers all have a uniquely paradoxical relationship to the virtue of courage. The first two are enjoined to give up their lives, if necessary, for their country or their faith. The third are rarely called upon to make the supreme sacrifice but are enjoined, as definitive of their vocation, to dedicate themselves entirely to the pursuit of truth, no matter how inconvenient that pursuit might be.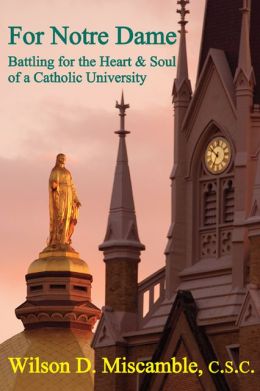 Yet in practice it appears that it is often easier to live out a higher kind of courage than a lower one. Soldiers who willingly court death in battle often compromise amidst Pentagon politics. Clergy who would be willing to suffer martyrdom are not willing to live at odds with the clerical culture. As to scholar-philosophers, the universities that allegedly exist to guarantee the freedom to pursue the truth without fear or favor have instead become perfect environments of enforced intellectual conformity.
Father Wilson Miscamble is a priest-scholar at the University of Notre Dame who is the rare living embodiment of the kind of courage both believers and scholars are supposed to possess. Those who pay attention to Catholic higher education realize what a lonely and truly brave struggle he has made on behalf of the professed values of that education, even as those values are being systematically undermined from within. His is not a lone voice, but it is one of only a few.
This volume of collected essays and speeches includes interesting insights into the history of Notre Dame, appreciative accounts of present and past faculty colleagues, and addresses made on happier occasions (when he was, for example, "Outstanding Teacher in the College of Arts and Sciences," before he became "controversial").
But the most important part of the book comprises the speeches and statements Miscamble made in the past decade, when Notre Dame regularly sponsored performances of The Vagina Monologues, appointed a militantly pro-abortion feminist to its governing board, and—most famously—lavished honors on President Barack Obama at the exact moment that the Obama health plan threatened to deprive religious institutions of their constitutional rights.
Miscamble is a model controversialist—never abusive, always rational, but relentlessly calling attention to the fact that, given its own stated principles, Notre Dame cannot justify the policies it now pursues. When the specific controversies themselves are forgotten, this book and the man who wrote it will stand as rare examples of courage and integrity in a dark time.
—James Hitchcock
---
James Hitchcock is Professor emeritus of History at St. Louis University in St. Louis. He and his late wife Helen have four daughters. His most recent book is the two-volume work, The Supreme Court and Religion in American Life (Princeton University Press, 2004). He is a senior editor of Touchstone.
This page and all site content © 2017 by The Fellowship of St. James. All rights reserved. Please send comments, suggestions, and bad link reports to webmaster@touchstonemag.com.