Rock Formation
What I Saw & Heard at the ICHTHUS Christian Music Festival
by Christopher Jackson
On a warm Kentucky night, a young mother stands with an infant in her arms, swaying to music performed to the praise of God. The child sleeps, despite the fact that a contemporary rock ensemble is playing loud enough to damage the hearing of a grown man. This scene plays out hundreds of times a year throughout the United States at Christian rock festivals.
Christian rock festivals such as ICHTHUS, Creation Festival, Cornerstone Festival, Rock the Universe, and Kingdom Bound attract tens of thousands of fans—ICHTHUS, not the largest, attracted 14,000 in 2009. Along with radio stations and churches using Contemporary Christian Music, the festivals have influenced American Christianity by helping to foster this genre.
I knew almost nothing about these rock fests until the summer of 2007, when, as a new pastor, my duty was to lead the youth group on its annual ICHTHUS Festival trip. We went again in 2008, and in 2009 I took along a voice recorder and notebook to interview fans, musicians, and an ICHTHUS spokesperson.
Eclectic Mix
Attending ICHTHUS involves much more than concerts. The first thing you experience is the campground—acres of tents, RVs, and trailers. Some campsites are one-car wide and host a small family. Others sprawl to accommodate church groups of more than sixty. I came across church groups from all over the United States and the occasional surprise, like "Goth Mom" Donna Sheehy, who plays hostess each year to gothic youth, offering delicacies like "gooey eyeballs" and "minty maggots."
There are also preppy girls with ribbons in their hair, punky guys with spiky Mohawks, women with tattoos and chained wallets, men in tight pants and eye makeup, well-manicured soccer moms with children in tow, and youth pastors with shaved heads and unshaved faces. There are a surprising number of older people and children, but most are high-school age, which is the demographic target of most bands.
The concert area is a huge, fenced-in compound on a hill above the campground. Inside the gate you pass two side stages that host bands outside the mainstream of Contemporary Christian Music, bands that either haven't "made it" yet or offer musical styles that are less popular than those on the main stage. Most offer either heavy metal or punk rock. Some bands are more artsy—one stage even featured two violinists—and some defy categorization, like the Psalters, a group of bohemian acoustic musicians who mix such elements as Eastern European melodies, African drumbeats, and the Sanctus into their music.
The side stages also host breakout sessions, when concerts and other activities cease so that the festival-goers can hear presenters. In recent years these have included Shaine Claiborne, Matthew Sleeth, M.D., Dr. Devin Brown of Asbury Seminary, and XXXchurch, a ministry aimed at preventing and freeing people from the use of pornography.
A little farther in are prayer tents, a Compassion International booth where you can sponsor a needy child, and the merchandise tent with an energy and feel all its own due to the eclectic mix of vendors. Every band sets up a table where they meet fans and hawk CDs, posters, and T-shirts. Some vendors sell "Jesus Junk"—buttons, bobble-heads of biblical characters, and apparel. T-shirts reading "It's a relationship, not a religion" are popular.
Ideas are traded in these tents as well. Several pro-life groups such as Rock for Life and Abort73.com solicit support. The No Silence Campaign and Destiny Reckoning aim to raise awareness and inspire action against sex slavery and human trafficking. The Creation Research Science Education Foundation encourages Christians to believe the historicity of the Creation and Flood accounts in Genesis and to resist evolutionary thought. Christians for the Mountains oppose mountaintop coal mining. In 2009 members of these last two groups exchanged heated words.
Main Attraction
Past the merchandise tents you finally encounter the main stage, a massive steel and cement structure, with huge speakers and video screens. This is where popular, commercially successful groups play, artists like David Crowder, Skillet, Toby Mac, Grits, and Family Force 5.
The main speakers also present here. In 2009 they included Justin Lookadoo, Shaine Claiborne, and Bob Lenz. The main stage also serves as chapel, with a communion service and the main revival message on Saturday night.
Bands tend to have three goals: providing fun for Christian youth, addressing the issues that confront young people, or leading worship. Some bands are primarily oriented toward one purpose. Family Force 5 is more of a fun band, while Skillet takes on youth issues like cutting and depression. Most bands have varied purposes; one song may address an aspect of living the Christian life while another offers up praises to God. Many songs have overlapping purposes.
I was surprised at the positive and supportive view of the bands and ICHTHUS Ministries toward congregational life. ICHTHUS is in the process of establishing support networks and resources for church youth leaders. All the band members I talked to spoke of the importance of involvement in a local congregation and considered their work in Contemporary Christian Music as supportive and not opposed to churches. Still, many people I spoke with had disparaging things to say about traditional churches (often defined as churches that use organs), stating that such churches would probably not welcome punk rock and heavy metal fans and would make them feel uncomfortable.
The bands are sincerely concerned to honor Christ and to bring young people closer to him. While some musicians in Contemporary Christian Music are motivated by fame and money, I sensed none of that in those with whom I spoke.
Surprisingly, one occasionally encounters some of the best of the Christian tradition. Devin Brown has used the recent Chronicles of Narnia movies to expose festival-goers to the thought of C. S. Lewis. In 2009, I heard a band quote St. Augustine. The Psalters sing the ancient canticles of the Church. While David Crowder encourages nonrational "worship" with minute upon minute of singing "La-la-la," he also annually leads the crowd in a version of St. Francis of Assisi's "All Creatures of our God and King." And in the tent with the bobble-heads and T-shirts I ran across Ron Moore, one of the performers at the first ICHTHUS and a convert to Eastern Orthodoxy, who was giving away icon cards and selling copies of Patrick Henry Reardon's Christ in the Psalms.
ICHTHUS fosters much that is good and praiseworthy. The festival works closely with the Christian Appalachian project, Compassion International, and several local ministries in central Kentucky. About 280 children were sponsored at ICHTHUS through Compassion. XXXchurch, while not uncontroversial, has a laudable goal.
In 2009, ICHTHUS claims, 581 people made a first-time commitment to Christ at the festival. While many reading this article may have concerns about revivalist theology, it is yet encouraging to see so many people desiring to follow Christ.
Tree Hugger?
And yet there is much that is troubling. ICHTHUS emphasizes the teaching portion of the festival, but the teachers often present questionable content. Shaine Claiborne was a breakout speaker in 2007 and a main-stage speaker in 2009. In 2007, he shared his experience of helping the homeless in Philadelphia. While his concern for the poor is honorable, he boasted of helping them illegally, setting up a residence for them in an abandoned Roman Catholic church without the permission of the diocese and in violation of fire codes. His talk also contained anti-Roman Catholic rhetoric.
Claiborne also advocated pacifism and hinted that soldiers work for a master other than Christ. Additionally, he opined that concern for right doctrine usurps the concern for service. While he toned down his more radical rhetoric in 2009, he displayed a loose approach to the Scriptures, portraying the Roman Empire as Christ's enemy, not sin, death, and the devil.
Tina Pugel, a spokesperson for ICHTHUS, stated that while the teachers are screened, the festival gives them freedom in their presentations. When asked about some of the things Claiborne said, Pugel seemed unconcerned, saying that he "brings some interesting ideas that open up discussion."
In 2008 I heard a talk by Matthew Sleeth regarding creation care, a worthy topic. He attempted to demonstrate God's concern for trees by showing how positively the Bible speaks of trees from Genesis through Revelation. But most of the passages he cited were making a theological point about something other than the care of creation or God's estimation of trees. Our young people do not need yet another example of bad Bible teaching. Most disconcerting was Sleeth's repeated statement that since Jesus died "hugging a tree," God is a tree hugger. He did not mention that Christ's death on the tree was a curse and part of his suffering.
Body Bash
There also is a lack of modesty. Young women's bared shoulders and thighs are ubiquitous. Young men frequently go about shirtless; a group of young men roamed about with "Free Hugs" written on their bare chests with magic marker.
Bodily disfigurement is displayed by fans and especially the bands. Many band members sport extreme tattooing, covering large portions of their arms and necks. Many of them also have ear lobe "spacers," wide earrings that create permanent holes—one musician had holes in his ears four inches in diameter. Pugel said that the extreme tattooing and piercing can serve as bridges to reach people with the gospel.
Aggressive music such as heavy metal and punk rock elicits aggressive and rage-like behavior from fans. "The genre . . . and the energy it puts out . . . it's part of the territory," said Jared Christman of the band Corpus Christi. Mosh pits are very common at ICHTHUS. Sometimes those in the pit "slam dance," viciously punching and kicking at the air; occasionally another person gets in the way. At other times fans will form a "circle pit," where the fans run in a circle while waving their fists and jumping up and down. This often breaks down into general moshing, as fans run about waving fists and pushing each other. Some "worship" while engaging in this dangerous behavior, raising their hands in praise. Christman called this "mosh church."
In 2009 I witnessed a young man knocked unconscious, and I spoke with a 15-year-old girl who claims to have suffered a concussion from moshing in 2008 and was taken to the hospital. She still suffers some memory loss.
Pugel said, "We did not start the mosh pits. It's the kids that started that." Each year I have attended, concert officials have given lessons on how to mosh correctly, and in 2009 there were designated volunteers policing the mosh pits. Moshing is a natural reaction to the loud and aggressive music. One band in 2009 even divided the audience in half and told the two sides to run towards each other at full speed.
Ear Drums
The ICHTHUS theme for 2009 was "The Summer of Peace, Love, and Loud Music." While all of the stages are loud, the main stage is as loud if not louder than a typical rock concert. When in the audience area, you can feel the music in your chest. A quarter mile from the main stage you will struggle to carry on a conversation. According to the Occupational Safety and Health Administration, only fifteen minutes of unprotected exposure to rock music at this volume will permanently damage one's hearing.
Many fans hear 24 hours' worth or more of these concerts. Many of them are young children. During the 2009 Skillet performance, I counted 35 children just along the center aisle—there were certainly more farther into the audience—and only one family had earplugs for their children. Dr. Katherine Fick, a pediatric audiologist at the University of Louisville School of Medicine, says loud noise is especially damaging to children, since their ear canals are smaller, and is "even worse for babies." In 2009, I saw several infants at ICHTHUS, and only one had ear protection.
When I asked about the damage to young people's hearing, Pugel replied, "We're unapologetic about the loud music." She also said, as did many fans and musicians, that the loud music can help open doors for the gospel: Kids like loud music, and if loud music gets them to listen to the gospel, it's worth it. They appealed to personal responsibility, indicating that the fans can wear earplugs. Christman said that it is common sense to wear hearing protection, and that he regularly preaches its importance from the concert stage.
His message does not seem to be getting out, for very few fans wear ear protection. I spoke separately with two young people who believed that since ICHTHUS is a Christian event, God would protect them from harm, whether from loud music or fellow moshers.
One can hope that God miraculously shields babies from loud music, moshers from injuries, young people from immodesty, and everyone from bad teaching. While God does work in mysterious ways and is at work at ICHTHUS and other Christian music festivals, it is natural for people such as me, raised on the catechism, canticles, and chorales, to dismiss Christian music festivals. They are imperfect, but they are not forsaken.
Christopher Jackson is Associate Pastor at Saint Johnís Lutheran Church, Missouri Synod, in Lexington, Kentucky. He and his wife Mary have three children.
Not a subscriber? Subscribe to Touchstone today for full online access. Over 30 years of content!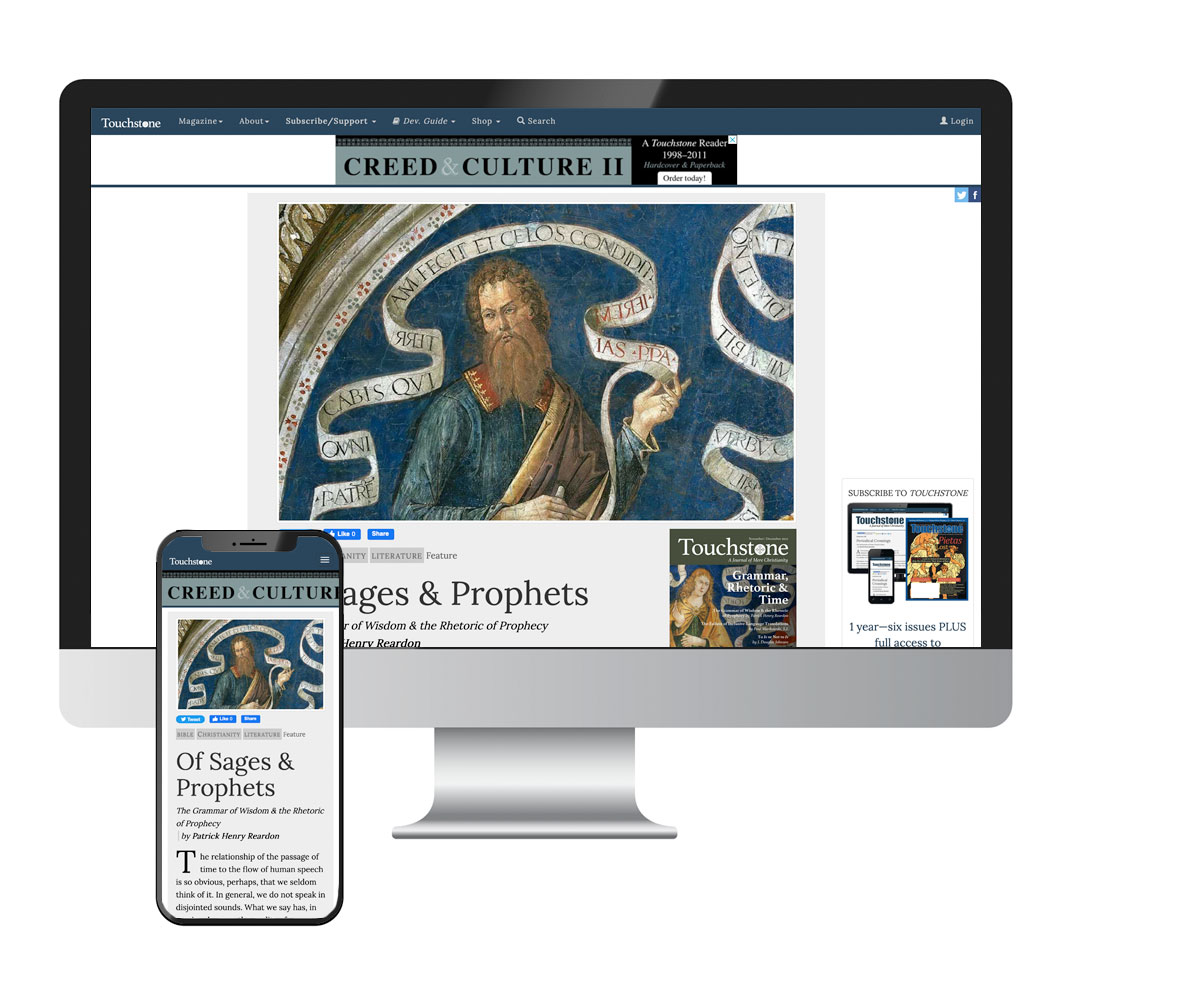 Get a one-year full-access subscription to the Touchstone online archives for only $19.95. That's only $1.66 per month!
Purchase Print &
Online Subscription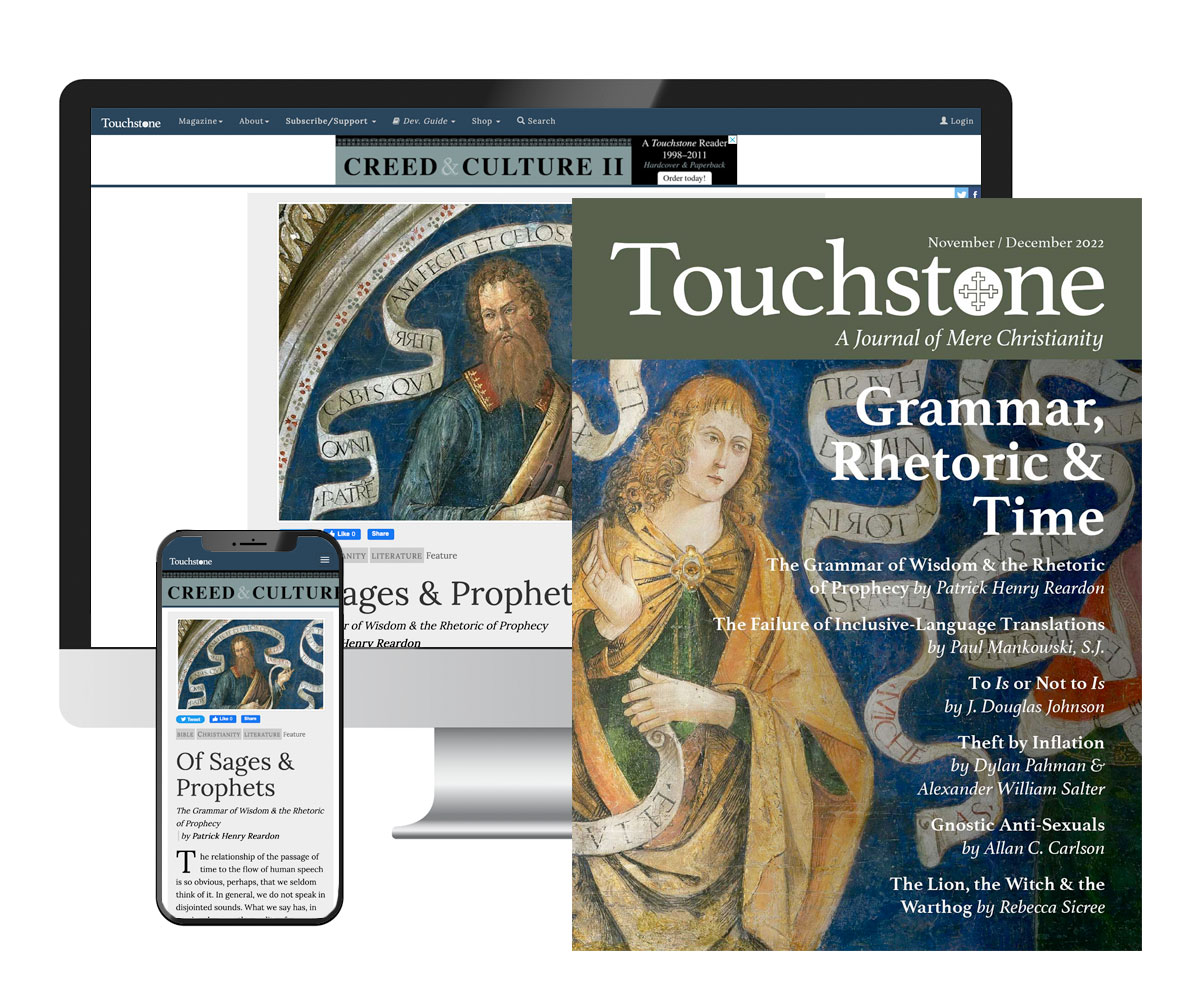 Get six issues (one year) of Touchstone PLUS full online access for only $29.95. That's only $2.50 per month!
Your subscription goes a long way to ensure that Touchstone is able to continue its mission of publishing quality Christian articles and commentary.
*Transactions will be processed on the secure server of The Fellowship of St. James website, the publisher of Touchstone.
from the touchstone online archives