For complete online access to
new issues of Touchstone, subscribe today!
---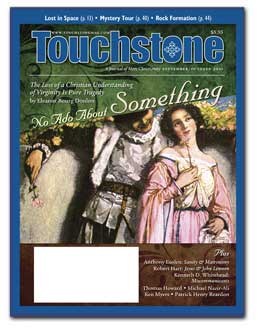 Modest & Bold
by Patrick Henry Reardon



Communiqué
Two Murdered in Pakistan
by Peter Riddell

Contours of Culture /
From Heavenly Harmony
Irrigating Deserts
by Ken Myers

Communiqué
Rock Formation
by Christopher Jackson

As It Is Written...
Royal Enigma
by Patrick Henry Reardon



Disconnected
The Devil Reads Derrida, and Other Essays On the University, the Church, Politics, and the Arts
by James K.A. Smith
A review by Micah Mattix

Beyond the Scrim
The Franklin Trees: A Late-Summer Night's Dream
by Jonathan Nauman
A review by Thomas Howard

Mystery Tour
Secret Places, Hidden Sanctuaries: Uncovering Mysterious Sights, Symbols, and Societies
by Stephen Klimczuk and Gerald Warner
A review by Elena Maria Vidal



No Ado About Something
The Loss of a Christian Understanding of Virginity Is Pure Tragedy
by Eleanor Bourg Donlon

Sanity & Matrimony
Ten Arguments in Defense of Marriage (Part 2 of 2)
by Anthony Esolen

Miscommunicants
Setting the Record Straight on Episcopal Duties Regarding Pro-Abortion Politicians
by Kenneth D. Whitehead



Hard to Imagine
Robert Hart on John Lennon & the Popularity of Jesus

Father Urban's Lesson
Thomas W. Jodziewicz on Real Christianity for Losers

Lost in Space
Michael Baruzzini on the Cosmic Home Carl Sagan Couldn't See

Say It Again
Randall Smith on What Is There to Talk About in Heaven?



Civilization in the Balance
An Interview with Michael Nazir-Ali



Every issue of Touchstone also contains short commentaries by our editors, notices of books you should know about, and our spirited letters section.