Religious Leftovers
How the National Council of Churches Lives Off the Agenda of the Democratic Party
by Mark Tooley
Does the National Council of Churches (NCC) ever disagree with the Democratic Party? The short answer is "not really." But a longer answer would explain that the NCC, in its political pronouncements and activism, is sometimes more utopian and less grounded in political realities than the Democratic Party.
Predictable Opposition
On economic, military, and foreign policy issues, the NCC is always in sync with the most liberal wing of the Democratic Party. For example, NCC General Secretary Bob Edgar formally responded to President Bush's State of the Union address in January much like a leader of the Democratic Party. (He is, after all, a former Democratic Congressman.)
"Many people are uncomfortable with a national priority that provides major tax cuts for millionaires and pays for them with funds that ought to go to help children without health care insurance, children who can't get into Head Start, children whose families live on the edge all the time," Edgar said in his response to Bush's speech. "The President didn't say it, but the country knows it: The union is in a state of great uneasiness," he added.
On Iraq, Edgar said, "We should all be concerned about the tone of the President's war rhetoric." He claimed that "Americans are right to be uneasy about the morality of a pre-emptive American invasion that, even with extreme care on our part, could kill a staggering number of innocent civilians."
This was boilerplate Democratic Party rhetoric, although more outspoken on Iraq than some Democratic leaders have been willing to be. Conservatives would say, with some justification, that Edgar resorts to class warfare histrionics and assumes that only an expansive federal welfare state can guarantee the common good.
It is of course possible for devout and orthodox Christians to share these assumptions. Many do. But there is little or nothing that is specifically Christian about this perspective, which involves partisan issues that are matters of prudential judgment, not Christian doctrine.
But Edgar's spouting of a liberal Democratic and secular critique of President Bush's policies underline how the NCC is utterly predictable in its public policy witness and can be expected to find sympathy among Democrats. His statement could just as easily have come from the National Education Association, the AFL-CIO, the Children's Defense Fund, or any one of dozens of other secular liberal constituency groups within the Democratic Party.
If It Sounds Like a Democrat . . .
Indeed, the NCC cooperates extensively with constituent groups of the Democratic Party and largely regards itself as part of a "progressive" political coalition. In his annual report of June 30, 2002, Edgar listed some of these partner groups. There was the Children's Defense Fund (CDF), which warns that every failure to enlarge the federal welfare state will lead to increased child malnutrition, abuse, disease, and so on. The NCC distributed the CDF's 2002 "Action Guide to Leave No Child Behind" to national church leaders, Edgar enthusiastically reported. The guide is in part a primer on the wrongness of the Bush administration's budget and the pros of Democrat-sponsored alternative legislation.
Edgar also cited the NCC's work with the National Coalition on Health Care and Families USA, both of which are lobbying for "universal health insurance coverage," i.e., socialized medicine, supervised by the federal government.
Also cited by Edgar was Religious Leaders for Sensible Priorities, which opposes "wasteful military spending" (i.e., virtually all military spending) and favors a shifting of national priorities towards "children and the poor." And then there was the National Religious Partnership for the Environment, through which the NCC promotes a liberal environmental agenda that demands greater federal regulation of the economy to forestall "global warming."
Last year, the NCC joined with the Sierra Club to run television and newspaper advertisements opposing any drilling in the Arctic National Wildlife Refuge and calling on Americans to "keep our promise to care for creation." "Conservation is more effective, providing much greater benefits that are more permanent, and in the long run are less costly, than a modest and short-lived increase in oil supply at the price of a ravaged environment," Edgar said.
In 2001, the NCC also was outspoken in condemning President Bush's tax cuts. As part of a "Religious Community for Responsible Tax Policy," the NCC chief said he was "appalled" that the "focus of attention in this Congressional session is not on meeting [the poor's] needs; rather, it is on tax cuts that will mostly benefit the affluent." Edgar moderated a Washington, D.C. press conference that blasted the Bush tax plan. He repeated standard Democratic Party critiques of the proposals: "It is too inequitable, too large, and threatens the future well-being of our nation."
Also in 2001 the NCC helped to organize a "Let There Be Light" rally on Capitol Hill to "raise fundamental questions" about the Bush administration's energy plan. "When this administration announces that it will not keep faith with the Kyoto Protocol process dealing with climate change, it's time for religious leaders to raise our voices of protest," said United Methodist Bishop Melvin G. Talbert, a former NCC president. Bob Edgar added: "The president's plan is only going to make the planet hotter."
On foreign policy, the NCC is generally in line with the left of the Democratic Party. The NCC led a delegation to the Middle East last year that was unequivocally critical of Israel while equally uncritical of Palestinian Authority policies. And the possibility of war with Iraq has become a preoccupation for the NCC. (At the time of this writing, 16 of the top 25 news stories on the NCC's website were about Iraq.) Edgar led an NCC delegation to Baghdad in December, where he and other NCC officials met with Iraqi Deputy Prime Minister Tariq Aziz and other senior Iraqi officials. And the NCC has sponsored a television commercial featuring Bishop Talbert, who excoriates Bush's presumed war plans as "contrary to the teachings of Jesus Christ."
Liberal Families & "Gays"
The NCC certainly views the family from a liberal perspective. Divorce, the decline of two-parent families, father absence, and sexual promiscuity are rarely, if ever, mentioned in NCC pronouncements.
A recent NCC brochure advertising "Family Week" calls for "Strengthening Families in a New Century." Strongly relying on the Children's Defense Fund for resources, the brochure highlights "gun violence" and calls for increased funding for public education and expanding federal health care coverage. The importance of mothers and fathers is not mentioned, except indirectly. "Parents" are encouraged to improve the "quality of time" spent with their children. The brochure asserts that "most children" say that the amount of time their parents spend with them is not the issue. Instead, children just want the time to be "focused."
The NCC seems to share the Hillary Clinton perspective that the "village" (i.e., the federal government), and not mothers and fathers, is the key to successful child rearing.
In all fairness, the NCC, unlike the Democratic Party, has generally declined to formally endorse pro-abortion or pro-homosexuality initiatives—thanks largely to its more theologically conservative black churches and Eastern Orthodox members.
But like the Democratic Party, the NCC never endorses pro-life initiatives and never opposes the "gay" rights movement, since most of its staff and governing officials are certainly "pro-choice" and "pro-gay."
The gay caucus within the NCC is strong, and General Secretary Edgar's pro-homosexuality views are not disguised. Two years ago, he joined Roman Catholic and Evangelical leaders in endorsing a "Christian Declaration on Marriage" that called for renewed church emphasis on strengthening the institution of marriage, which it defined as the lifelong union of a man and a woman. The document made no specific mention of homosexuality. Anxious to showcase the NCC's alleged new ability to reach beyond its traditional mainline circles, Edgar was hard-pressed not to sign on.
Edgar's signature nonetheless caused an uproar within the NCC's gay caucus. He replied with a news release declaring, "It would be unconscionable if support for married couples, so desperately needed today, were to be twisted into a weapon that can be used to attack gays and lesbians, their families and friends and all in our churches who love and care for them." He went on to insist, "There is unanimity among us in our long-standing advocacy for full Civil Rights for gay, lesbian, bi-sexual and transgendered persons. Through our dialogues, we have come to celebrate the gifts and the challenges they present to us."
But this did not mollify the gay caucus, so Edgar publicly and with great embarrassment withdrew his endorsement of the Christian Marriage Declaration, effectively ending any further cooperation with the National Association of Evangelicals.
According to Gwynne Guibord, ecumenical officer for the predominantly homosexual Metropolitan Community Churches (MCC), a half-dozen MCC representatives, including Guibord, sit on National Council of Churches committees, including the Faith and Order Commission and a task force on justice for working women. This has occurred even though the NCC has declined (because of Orthodox and black church opposition) to accept the MCC as a member denomination. Guibord addressed the NCC's 1999 General Assembly, saying, "Homosexuality will not just disappear from the church. We have filled the Christian church throughout its history, and we always will." About half of the delegates gave her a standing ovation.
Secular Salvation
The NCC rarely disagrees with the pro-choice and gay-friendly Democratic Party, except when it strays from doctrinaire liberal orthodoxy, such as when Bill Clinton endorsed welfare reform. It is tempting to liken the NCC to a left-wing version of the Religious Right. But that comparison is unfair. Most politically active religious conservatives still adhere to the transcendent message of Christian orthodoxy, after all, whatever other compromises they have made.
Not so with the NCC. Running parallel with the secularization of the Democratic Party since the 1960s, it has become obsessed with politics as the path to salvation. And its politics nearly match those of the Democratic Party. After all, while secularist Democrats routinely vilify the dreaded Religious Right, when was the last time they criticized the National Council of Churches? They don't, because the NCC, unable to connect with most traditional believers, now fits right in with the secularists.
An Alternative to the NCC?
Christian leaders working to expand ecumenical unity in the United States have taken a further step towards creating a new national body of churches. Fifty-five church leaders representing 30 denominations agreed at a meeting on January 29 in Pasadena, California, to form a new alliance, which currently is being called "Christian Churches Together in the USA."
The new body is intended to include Roman Catholic, Orthodox, Episcopalian, Evangelical, Pentecostal, and other Protestant churches. Wesley Granberg-Michaelson, general secretary of the Reformed Church in America and a leading figure in the new alliance, told the Associated Press that the Pasadena meeting represented "a remarkable breakthrough." Neither the Roman Catholic Church nor many Evangelical or Pentecostal bodies belong to the US National Council of Churches (NCC), the nation's main ecumenical group.
Robert Edgar, the NCC's general secretary, has made expanding the US "ecumenical table" a priority since he became head of the NCC in 2000, but it is still unclear how the creation of the new group will affect the NCC. Some church leaders have said they doubt there would be a need for the NCC if a broader ecumenical grouping were formed. An NCC spokesman said it would require several more years to determine how the new group would operate, the form it would take, and what role it would play. No decision has been made by the NCC on the matter.
(Ecumenical News International, February 5, 2003)
Not a subscriber? Subscribe to Touchstone today for full online access. Over 30 years of content!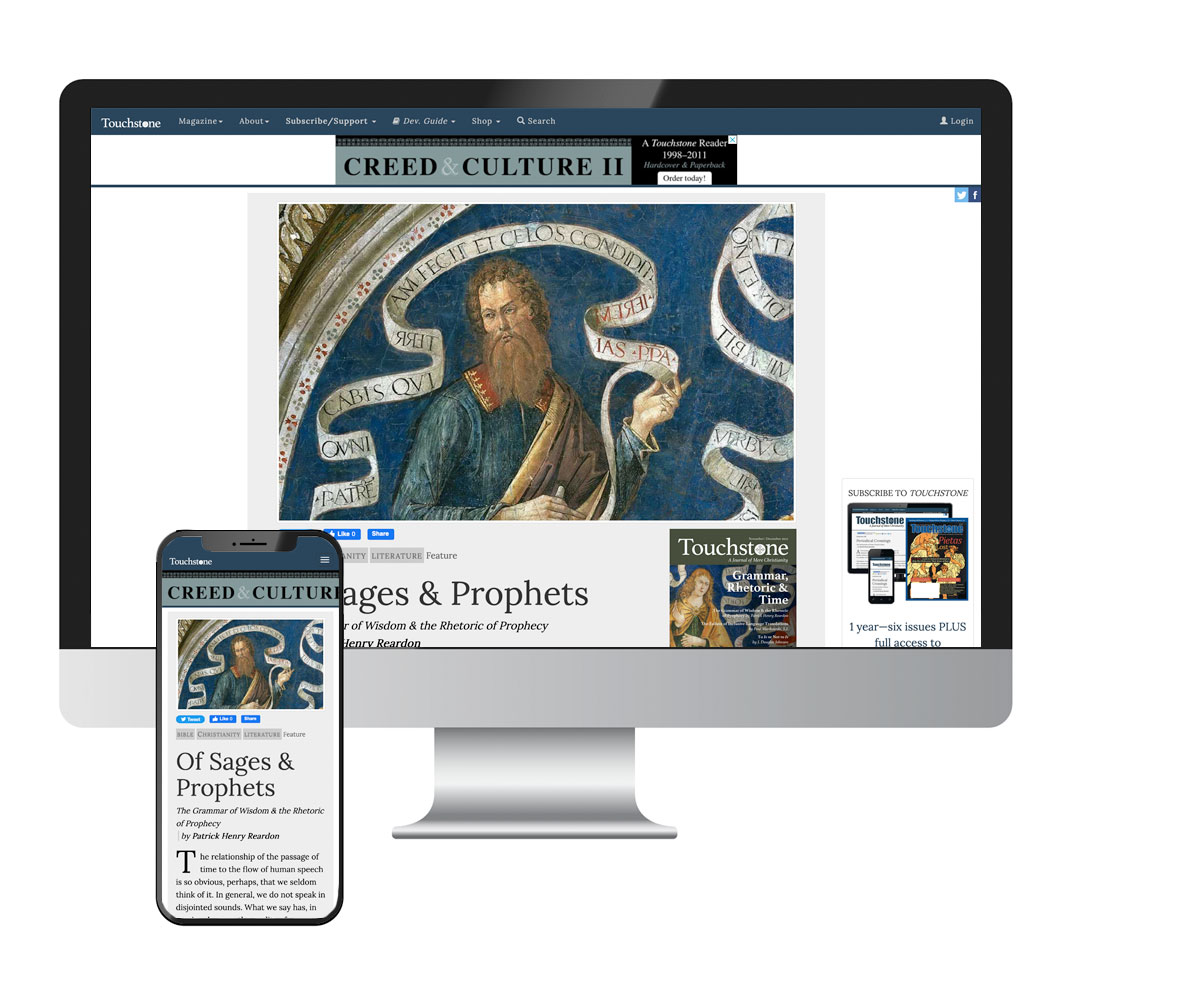 Get a one-year full-access subscription to the Touchstone online archives for only $19.95. That's only $1.66 per month!
Purchase Print &
Online Subscription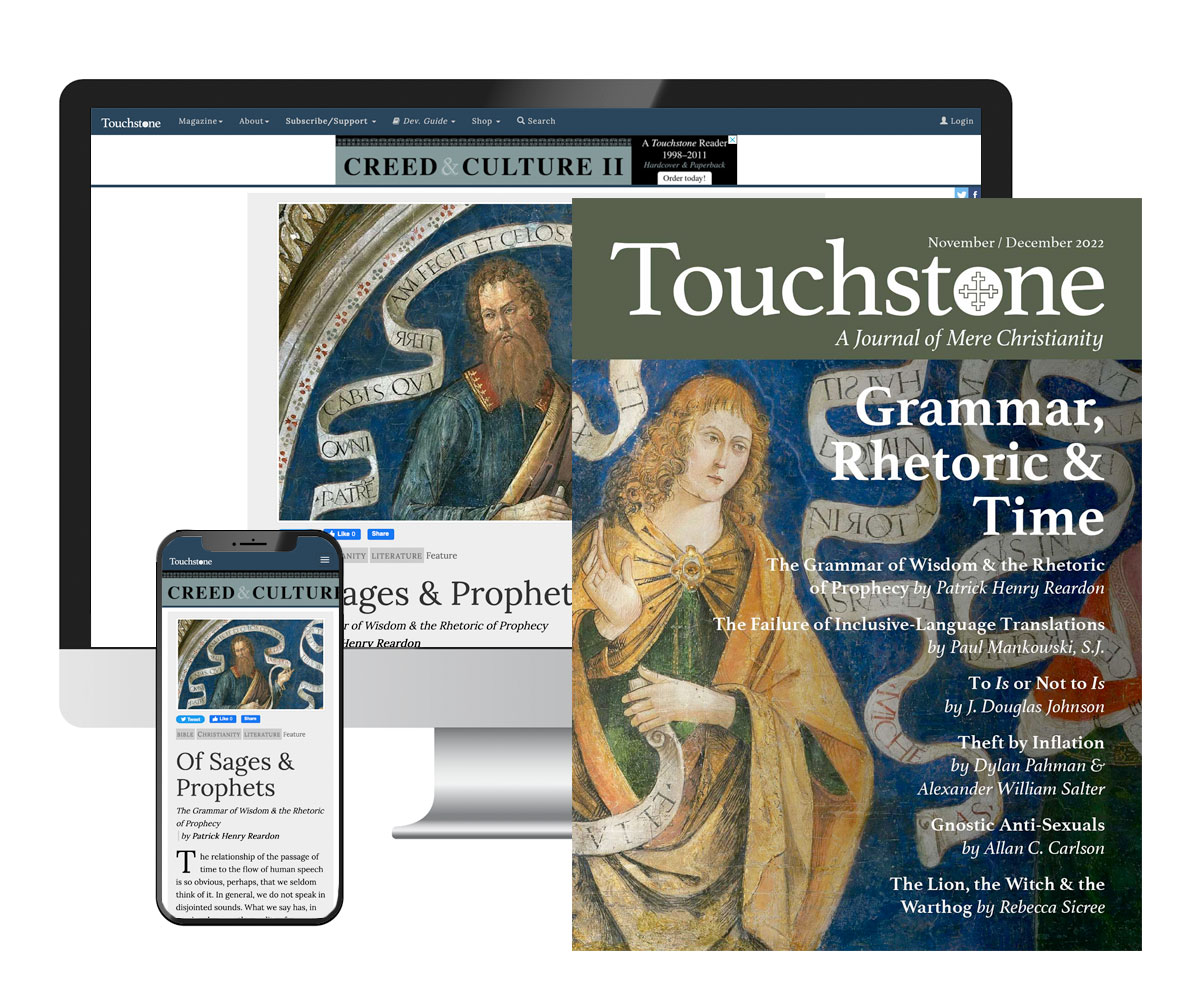 Get six issues (one year) of Touchstone PLUS full online access for only $29.95. That's only $2.50 per month!
Your subscription goes a long way to ensure that Touchstone is able to continue its mission of publishing quality Christian articles and commentary.
*Transactions will be processed on the secure server of The Fellowship of St. James website, the publisher of Touchstone.
from the touchstone online archives