For complete online access to
new issues of Touchstone, subscribe today!
---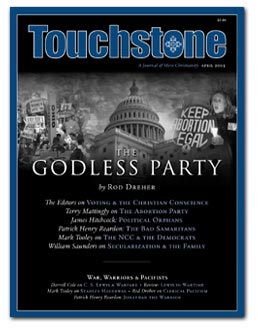 Voting as Christians
by Leon J. Podles

Voting for Pontius Pilate
by James M. Kushiner
& David Mills



The Matter At Hand
Choosing Truth or Power
by Leon J. Podles

As It Is Written...
Jonathan, Loyal & Brave
by Patrick Henry Reardon



An Honored Prophet
Stanley Hauerwas: ?America?s Best Theologian?
by Mark Tooley



Lewis in Wartime
C. S. Lewis at the BBC
by Justin Phillips
A review by Dale Nelson



The Godless Party
Media Bias & Blindness?And the Big Story They Missed
by Rod Dreher

The Good of Religion
What the Facts Show About Religion, Marriage & Society
by William L. Saunders

Political Orphans
How the Democratic Party Left Traditional Believers Behind
by James Hitchcock

Cutting the Cord
A Jesuit Says Goodbye to the Abortion Party
by Terry Mattingly

Religious Leftovers
How the National Council of Churches Lives Off the Agenda of the Democratic Party
by Mark Tooley

The Not-So-Good Samaritans
Aristotle, the Preservation of Families & the Duties of the State
by Patrick Henry Reardon

The Problem of War
C. S. Lewis on Pacifism, War & the Christian Warrior
by Darrell Cole



When Jesus Says the Wrong Thing
David Mills on Qualifying Christian Language

Looking for Mrs. Miniver
Rod Dreher on Clerical Pacifism

Why They Hated Pinocchio
Frederica Mathewes-Green on Real versus Disney Children

Requiem for the Comic Book
Gillis J. Harp on the Debasing of Boyhood Innocence

The Problem with St. Skip
Robert Hart on True Humility



Every issue of Touchstone also contains short commentaries by our editors, notices of books you should know about, and our spirited letters section.