Lessons from a Bear of Very Little Brain
Sam Torode on Children's Literature
In four years of college, the most important thing I did was read Winnie-the-Pooh. Many of you will be surprised by my saying this, and it is with no small shame that I admit it. How, you ask, could I have made it through childhood, and all the way into college, without reading Winnie-the-Pooh?
But perhaps my experience is not so unique. When my grandparents reminisce about childhood, they recall the tales of Mother Goose and the Brothers Grimm, and books like Treasure Island and The Wizard of Oz. When my contemporaries reminisce about childhood, they recall episodes of Sesame Street and The Smurfs, or G.I. Joe and The Transformers.
For us, the classics of children's literature were largely usurped by television. Not that we didn't read—certainly, our parents and teachers forced us to read—but we did not take much joy and delight in reading, for books lacked television's power to stimulate our senses and engage our emotions.
Not being widely read in the children's classics, then, it was only at the beginning of my sophomore year in college that I discovered A. A. Milne, the British poet, essayist, playwright, and creator of Winnie-the-Pooh. At that time, my friend Dave and I began a tradition of reading stories aloud to each other. We started by sitting out-of-doors after classes and reading G. K. Chesterton's Father Brown mysteries.
Though Chesterton is always delightful, Father Brown proved a bit hard to follow while enjoying the breeze on a lazy fall afternoon. At Dave's suggestion, we took up Winnie-the-Pooh. For me, the experience was nothing less than an epiphany.
Edward Bear, known to his friends as Winnie-the-Pooh, or Pooh for short, was walking through the forest one day, humming proudly to himself. He had made up a little hum that very morning, as he was doing his Stoutness Exercises in front of the glass: Tra-la-la, tra-la-la, as he stretched up high as he could go, and then Tra-la-la, tra-la—oh, help!—la, as he tried to reach his toes.
The words flowed on, sweet as honey. Milne proved an eloquent and sophisticated writer, and the adventures of Pooh perfectly delightful absurdities. This, I exclaimed, was literature.
We knew that this was an experience we could not keep to ourselves. Within a week, Dave and I appeared before the dean and explained why an official student organization was needed to encourage the reading aloud of Winnie-the-Pooh. Reluctantly, he granted us permission to proceed, expressing grave doubts as to whether college students would really be interested in sitting on the floor and being read to like children. We knew otherwise. And so the A. A. Milne Society was born.
Every other week, the meeting of the A. A. Milne Society commenced with robust greetings of "Hallo!" and "Happy Thursday!" Weary students, joined by a few faculty members, reclined on the floor, sitting or lying on plush carpet squares.
Establishing the proper mood, a student would recite a poem from Milne's When We Were Very Young or Now We Are Six. This was followed by a chapter from one of the two Pooh books, Winnie-the-Pooh and The House at Pooh Corner, always read by a professor or administrator. Concluding each session would be another selection of verse, presented by a student.
(Lest there be any misunderstanding, allow me to make clear that A. A. Milne's Pooh is in no way to be confused with Walt Disney's so-called Pooh. The A. A. Milne Society accepted only the four texts mentioned above as canonical, and members were firmly instructed to bring no Disney Pooh paraphernalia to its meetings.)
Those afternoons spent listening to my professors and fellow students read A. A. Milne are among my fondest memories of college. In particular, I think of the many occasions when professors brought along their children to hear the stories. And I shall never forget our society picnic, at which we read chapter IV of The House at Pooh Corner, "In Which Pooh Invents a New Game and Eeyore Joins In," and then played Poohsticks ourselves. But far more than providing an amusing break from studies, the A. A. Milne Society actually furthered our education in profound ways that are only now becoming apparent.
Above all, the A. A. Milne Society taught us to take delight in literature, to read and listen for the sheer joy of it. Sadly, most English teachers possess a superhuman ability to make great literature seem dull. Primarily, they accomplish this through various methods of critical analysis. By explaining the "meaning" of "texts," revealing their nature as ideological creations ("structures of oppression," for example), reducing beautiful writing to abstract rules of grammar, and deciphering poetic symbolism as if it were mathematical code, English teachers transform living works of art into so many corpses waiting to be dissected.
Such methods and systems not only render literature dull, they are also counterproductive of true education. As James S. Taylor wrote in his study of the philosophy of education, Poetic Knowledge, "there can be no real advancement in knowledge unless it first begins in leisure or wonder, where the controlling motive throughout remains to be delight and love."
Sitting on carpet squares and listening intently: this is the proper posture for receiving literature. Not analyzing, or using, literature, mind you, but receiving it. C. S. Lewis, in An Experiment in Criticism, made this distinction: while the unliterary reader "uses" literature, the literary reader "receives" it, allowing the work to move him in new directions, expanding his view of the world.
"The student who opens his heart to Homer, Plato, St. Augustine, the author of the Song of Roland, Dante, Chaucer, and Shakespeare, doesn't get, he gives," wrote John Senior in The Restoration of Christian Culture. "He learns to love these authors whose Beauty, Truth, and Good shine through the dark divine and human matter of their works like swarms of stars in the honey-combed night of time; he gazes on them with the thrilled fear we call 'awe' or 'wonder,' the way a lover gazes upon his beloved, who would be shocked and ashamed at anyone who asked what he was going to get out of her!"
In addition to having delight, love, and wonder, we need to have leisure to be truly educated. As Taylor noted, the Greek word for leisure is skole and the Latin is scola, which became school in English. Leisure, then, means contemplation and refreshment, not "free time" to be "killed" by entertainment. Passive entertainment—the sort afforded by television, video games, and the myriad other distractions available on today's college campus—is in fact antithetical to leisure. Leisure, of course, as represented by the carpet square, was central to the A. A. Milne Society.
Passive entertainment poisons the wells of learning; it dulls our faculty for receiving and appreciating art and literature. Each of us knows the lyrics to a thousand pop songs, but how many poems do we know by heart? The radio has made us deaf to the music of poetry. To spend one's free time reveling in popular music, watching television, and going to the movies, and then to attempt to read Shakespeare for a class assignment—this is an exercise in futility.
It is akin to drinking Coke all day, while intermittently attempting to develop a taste for fine wine. Like the palate, the mind must be cleansed if we are to develop good taste. As silly as they often are, by teaching us to delight in literature, to read and listen for the sheer joy of it, the poems and stories of A. A. Milne enhanced our ability to enjoy good literature, by cleansing the mind and purifying the imagination.
John Senior, speaking from many years of experience as an educator, wrote that "the seminal ideas of Plato, Aristotle, St. Augustine, St. Thomas, only properly grow in an imaginative ground saturated with fables, fairy tales, stories, rhymes, romances, adventures—the thousand good books of Grimm, Andersen, Stevenson, Dickens, Scott, Dumas, and the rest." Among those "thousand good books" are the works of A. A. Milne—along with C. S. Lewis's Chronicles of Narnia, Kenneth Grahame's The Wind in the Willows, Laura Ingalls Wilder's Little House series, and the other children's classics.
Next to Hamlet or The Divine Comedy, Winnie-the-Pooh is fluff. Yes—but it is exquisite fluff. Beautiful fluff. Fluff that prepares us to encounter greater authors and more profound works. Better to read it late—even in college, even in old age—than never.
While this issue was in production, Art & Design Editor Sam Torode became engaged to Bethany Patchin (author of "The Largest Career of All," Touchstone, May 2000). A version of this article originally appeared on Boundless Webzine.
Sam Torode is a freelance writer and artist who lives in rural Wisconsin with his wife Bethany and their two young sons. A former designer of Touchstone, he and Bethany are the authors of Open Embrace: A Protestant Couple Rethinks Contraception (Eerdmans).
Not a subscriber? Subscribe to Touchstone today for full online access. Over 30 years of content!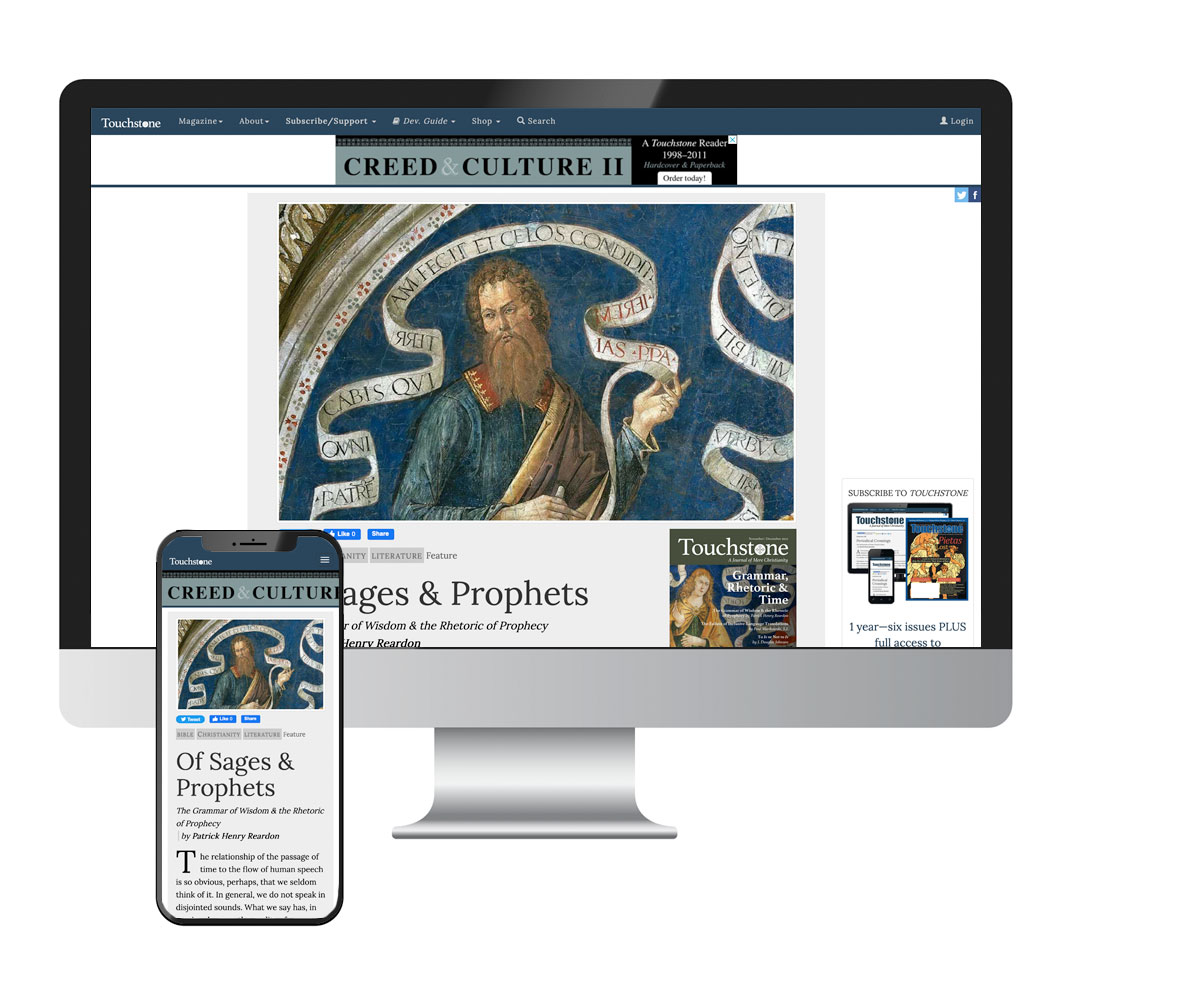 Get a one-year full-access subscription to the Touchstone online archives for only $19.95. That's only $1.66 per month!
Purchase Print &
Online Subscription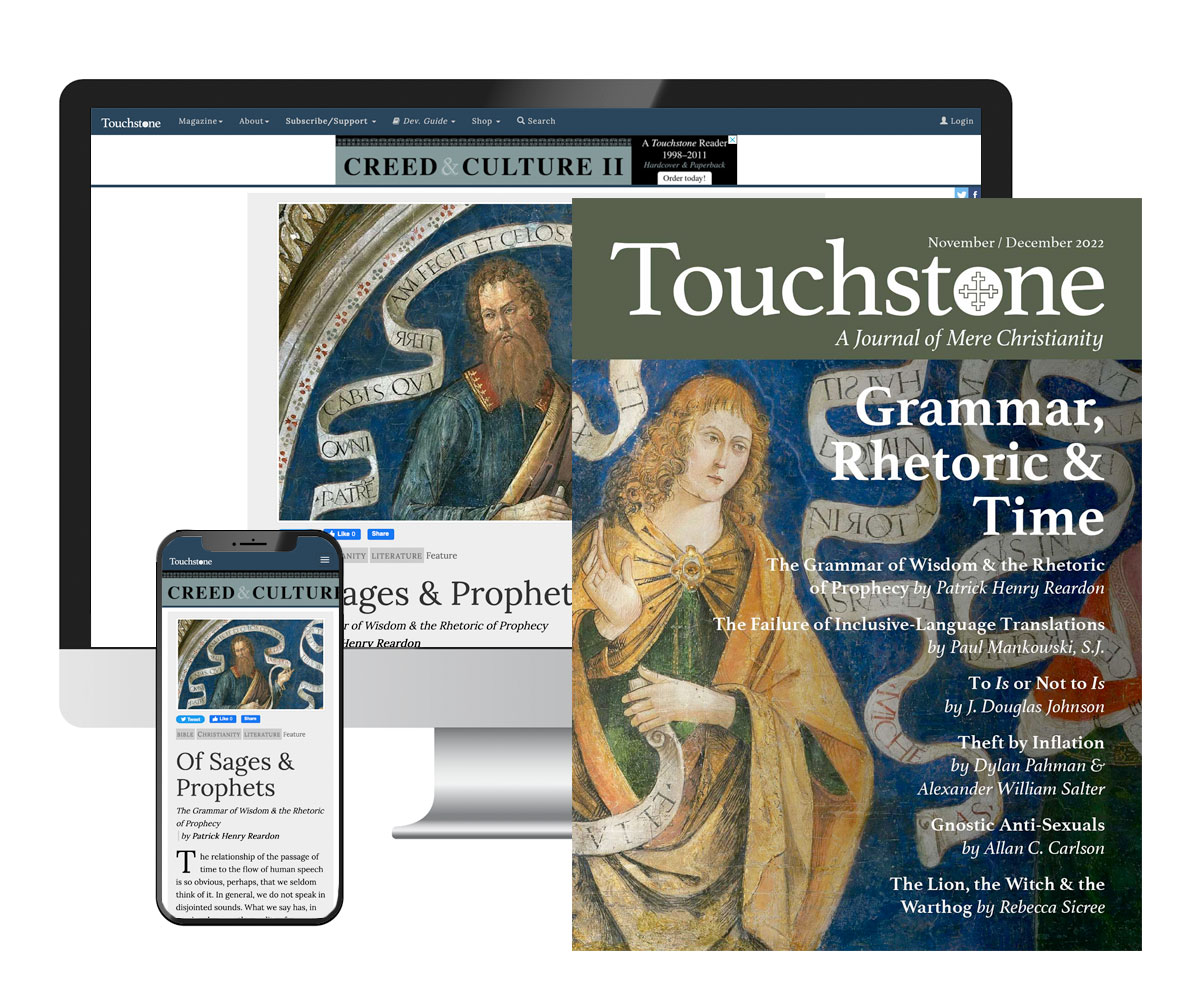 Get six issues (one year) of Touchstone PLUS full online access for only $29.95. That's only $2.50 per month!
Transactions will be processed on the secure server of The Fellowship of St. James website, the publisher of Touchstone.
Your subscription goes a long way to ensure that Touchstone is able to continue its mission of publishing quality Christian articles and commentary.
more from the touchstone online archives