For complete online access to
new issues of Touchstone, subscribe today!
---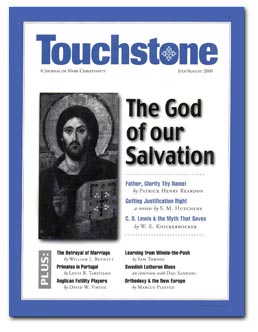 Truthless Conversations
by Patrick Henry Reardon

The Betrayal of Marriage
by William J. Bennett



Practical Christianity
Men in Full
by Thomas S. Buchanan



Continental Strangers
Reflections on Orthodoxy's Uncertain Role in Europe
by Marcus Plested



Getting Justification Right
Getting the Gospel Right
by R. C. Sproul
Union with Christ
Carl E. Braaten and
Robert W. Jenson, eds.
A review by S. M. Hutchens

Deep Waters
God of the Depths
by Michael Howard
A review by Richard Kew



Primates in Portugal
A Cautionary Example & a Cautious Hope for the Anglican Communion
by Louis R. Tarsitano

Father, Glorify Thy Name!
The Patriarchal Shape of Trinitarian Theology
by Patrick Henry Reardon

The Myth That Saves
C. S. Lewis & the Doctrine of Theosis
by W. E. Knickerbocker, Jr.



Lessons from a Bear of Very Little Brain
Sam Torode on Children's Literature

Why I Chose to Uninvite Bishop Spong
Dave Moore on Dialogue with Heretics

Anglican Futility Players
David Virtue on Pointless Dialogue



Swedish Dissent
Life as an Orthodox Churchman in the Church of Sweden



Every issue of Touchstone also contains short commentaries by our editors, notices of books you should know about, and our spirited letters section.