Feature
One Big Ad Campaign
How the Media Try to Separate Your Children from Your Values by Rod Dreher
When I was a kid growing up in a small Southern town in the 1970s, I felt sorry for the Klein family. The Klein kids were popular and likable, involved in sports, band, and all kinds of activities. They were middle-class like most everybody else, though their dad was kind of an oddball—he had a ponytail, which was scarcely less frightening to us than if he'd had an actual tail growing out of his backside—but what really caused universal pity for the Kleins was—wait for it— they didn't have a television at home.
I'm not exaggerating when I tell you that I thought about this a lot, and that it was the subject of concern throughout our elementary school. We didn't even have a Klein in our class, but we still worried about them. Look at Laura and Tommy, holding up so well, seeming so normal and cheerful, even though they can't watch Happy Days, Laverne & Shirley, and Welcome Back, Kotter. You couldn't even blame it on their religion. They were Episcopalians.
Nobody knew why their parents were such screwballs, but the playground consensus at Bains Elementary School was that those kids had a mean, crazy Mama and Daddy. A childhood without the Fonz—why, that was no childhood at all.
A Real Childhood
Today, my wife Julie and I are pretty much following in the footsteps of Mama and Papa Klein. We have a TV, it's true, but we use it sparingly, critically, and intentionally—and we give our son Matthew, who is five, little access to it. The television is a rarely used appliance. It is not the family hearth.
As a child in whose home—a morally conservative home, I should add—the television was on constantly, this is something I couldn't have foreseen. And it is something that earns my wife and me pinched-lipped disapproval from my family members back home. They seem to believe that we are fussy, countercultural weirdos who want to raise our kids in the domestic equivalent of a monastery.
And you know what? They're right. We want our boys to have what is increasingly rare in America today: a real childhood. If you remember nothing else from this article, remember this quote from the late media critic Neil Postman: "If parents wish to preserve childhood for their own children, they must conceive of parenting as an act of rebellion against culture."
Postman, a New York University professor and left-wing secularist curmudgeon whose thinking ought to be embraced heartily by thoughtful Christian parents, enunciated a truth I learned through my years as a professional journalist, including having spent most of my career as a film and television critic. He wrote:
But most rebellious of all is the attempt to control the media's access to one's children. There are, in fact, two ways to do this. The first is to limit the amount of exposure children have to media. The second is to monitor carefully what they are exposed to, and to provide them with a continuously running critique of the themes and values of the media's content. Both are very difficult to do and require a level of attention that most parents are not prepared to give to child-rearing.
This is the gospel truth. Getting control of your family's media habits is one of the most difficult challenges of parenting. But we simply have no alternative, not if we wish to be responsible stewards of our children's souls. Somebody is going to raise your children: if not you, then the popular culture. You have to decide which it's going to be.
---
What Is Childhood?
Before we discuss threats from the media and strategies to counter them, it's important that we understand what we are fighting to preserve. As Christians, we know that the world is a broken and cruel place, and children ought to be given the gift of remaining unaware of its sorrows until they are emotionally and psychologically mature enough to understand them.
But this kind of childhood is only possible when adults are able to keep secrets from children. Postman argued that it is no coincidence that the modern concept of childhood came into being as literacy was becoming general in the West. When adults were able to communicate generally among themselves without being understood by children, who could not read, or out of whose hands it was relatively easy to keep unsuitable reading material, then it became possible to construct childhood as a time of innocence.
The beginning of the end came with the advent of electronic media: radio, then television, and now the Internet. No special skills or training are needed to decipher what is said or shown in these media. All a child needs is access, both through technology and inattentive or permissive parents.
I am old enough to remember the dirty thrill of discovering with my boyhood friends somebody's father's stash of Playboy magazines. We thought we had really discovered one of the prime secrets of manhood. We could never have hoped to have bought one of those things ourselves, and it was only because somebody's careless father neglected to hide the magazines sufficiently well that we boys got a gander at what grown men gawked at. In other words, we had to work hard to get even a glimpse of the forbidden.
Today, a boy only needs an Internet connection and a little bit of privacy to access vastly more revolting material than we kids did 25 years ago. Children today are far more sexually aware than anyone over thirty was at their age, and it is almost entirely because of the media, and a culture that, despite its pretensions, prefers consumer choice over children. In an age of globalized media, I do not see any prospect for reining in any of this.
There are too many powerful commercial interests arrayed against the idea of government action to restrict media content. We have collectively decided that commercial interests, and the interest of individuals to obtain as wide a variety of information as they wish (short of child pornography, for now) matters more to us than protecting childhood, and society. Besides which, if there weren't large audiences for this stuff, it wouldn't be produced.
That last point is usually deployed by defenders of the media status quo as their trump card: We're just giving the people what they want. There is something to that, of course, but it's not nearly so simple. What the media defenders don't tell you is that our media today function to condition the public to want what they have to sell, whether it's a product, or sex, or rebellion, or what have you. In other words, they are indeed giving the people what they want, but they're also giving the people the desire for the thing in the first place.
I believe, then, that the most fundamental thing for countercultural parents to do is to start thinking of all media in marketing terms: that nearly everything you see on TV, at the movies, and in print is part of one big ad campaign designed, whether consciously or not, to separate you and your children from your values.
Marketing Values
Whenever I talk with Christian friends about the media and its deleterious effect on traditional values and family life, we inevitably talk about sex and sexuality. That's understandable, because disordered sexuality is the root of so much social chaos and misery. But we should look deeper, at why the media are such powerful shapers of our culture's consciousness, and why, in turn, so many of us are susceptible to the product—sex—that the media put on offer.
The fact is, the media target children from the earliest age, attempting to format their responses to make them more open to product pitches. It sounds paranoid, but in this case paranoia is only prudence. On our first child's first birthday, his aunt sent him a book for him to play with in his hi-chair. It was a cardboard book with the Cheerios logo on the cover. The book featured rudimentary games the child could play with his Cheerios, which amounted to nothing more than placing each Cheerio in a designated hole, or on a marked spot.
The point of the book, though, was to condition the toddler (and his parents) to prefer Cheerios cereal. We threw the book away. Not long after that, The New York Times Magazine published a story about the growing trend in marketing: targeting toddlers with—what do you know!—branded products like Cheerios books, hoping to hook them at virtually a preconscious state.
Insidious? Of course. Wicked? You bet. Commonplace? Absolutely. Believe me, marketers know what they're doing. Let me share with you some results from a presentation the kids' cable channel Nickelodeon made last year to its advertisers, trying to persuade them of the value of advertising to children:
• Kids are learning what it means to be a consumer and are learning about brands. The average 10-year-old has memorized 300–400 brands.

• Kids think brands are important.

• They feel brands connote something beyond the product, and are willing to ask for them.

• Parents are willing to buy them. Seventy-two percent of moms say that they will purchase a brand that their children prefer even when it differs from their own preference.
Those four facts tell us a great deal about the challenge facing us as Christian parents. Children today are absorbing the marketing messages media are sending them. This is measurable when talking about product brands. That children feel that brands connote something beyond the product tells us that they have accepted as true the story line the advertiser has attached to his product.
And nearly three out of four mothers yield to their children's demands. As one mother told Fortune magazine, store brands are unappealing; if she substituted the supermarket brand of sandwich cookies for Oreos, her kids would throw a fit.
Pitching to Your Brain
Even more disturbing are results of a study published recently in the scientific journal Neuron. Brain researchers at Houston's Baylor College of Medicine found evidence that brand knowledge can influence your preferences by activating brain circuits having to do with memory, decision-making, and self-image. This draws attention to a highly controversial new field of advertising, called "neuromarketing," in which advertisers attempt to pitch their appeals to light up the appropriate brain circuitry.
The New York Times, in reporting the Baylor study, cited a previous experiment in which UCLA researchers probed the comparative brain responses of both Democrats and Republicans to campaign commercials using images of the September 11 attacks. They found that the brains of Democrats registered more fear. Think how useful that information is to those wishing to manipulate votes. There is no reason to believe that advertisers, as well as anyone creating media product who wishes to modify the audience's behavior, won't make use of this kind of research in crafting a more effective—that is, more manipulative—product.
Now, how did we let advertisers and those who create media product conquer our children's minds? According to that same Nickelodeon presentation:
• 100 percent of teens and adolescents surveyed watch TV.

• 23 percent watch premium cable channels.

• Nearly all homes have either a VCR or DVD player.

• 82 percent have a computer in their home, and 75 percent go online.

• 100 percent have read a magazine in the past six months, and 71 percent have read or looked through a magazine in the past month.
The media are a pipeline into your child's mind. They shape character to an extraordinary degree. Whether they're selling Oreos or oral sex, the effect can be expected to be much the same. Either you will raise your child, or the media culture will. It is not enough to shield your child from sex and violence in the media, and to assume that you've done your job.
The entire format of the medium is pedagogical, intended to teach your child consumerist values, values that are antithetical to Christian ones. It's the nature of the beast.
What Do We Do?
So, what do we do now? I believe it is vain to hope, at this point in history, to reverse this decline. American culture has decided what it wants, and that's not what we have to offer. Not long ago, John Paul II spoke of "shadows" falling over our culture and society. There can be no doubt that we are well into the dusk of a new Dark Age, though I believe the true measure of our descent can be taken not by what we do in our bedrooms, but by what we do in our biotech labs.
The only rational thing we as conservative Christians can do is to turn our homes into a kind of monastery, to take measures to keep our own children as free as possible from the corrupt morals and reasoning on offer in the media, and work to preserve moral sanity and to tinder the light of truth for a better time, though possibly not our own lifetimes, or those of our children.
I don't wish to give the impression that we must wall ourselves off entirely from the outside world, as many monastic communities do. That is their calling, but it is not ours—not entirely.
There has to be some of that, but what I mean in the main is that we should take seriously our homes as the central institution in our children's lives, and think of them as places where countercultural Christian values are intentionally lived and celebrated, and kept alive for a better time. If we think of our homes as monasteries, we abbots and abbesses will be much more inclined to preserve the integrity of our domestic cloisters by keeping a discerning eye on who and what passes through the doors, so to speak.
Neil Postman wrote that parents today feel overwhelmed by the tidal wave of information washing over them and their families, and don't trust their own ability to make judgments about the use of media for their children. Many parents, like my own a generation ago, just give up. We must not surrender. Rather, we must embrace the fact that we will be permanent outsiders, if we are to be faithful to our God and to the sacred responsibility of our sons' and daughters' soulcraft.
Limit the Exposure
Protecting your child from the media is one of the most difficult tasks any parent faces today—but also one of the most necessary. Let's take Postman's first suggestion: Limit the amount of exposure children have to media.
Should all families be like the Kleins, and ban television entirely? I think that's not a bad idea, though one should also take care to monitor what the children are exposed to on the radio, on the Internet, and in print media. When our son Matthew, who is now five, learned to read, my wife and I suddenly became aware of how much unacceptable material—usually having to do with homosexuality—came into the house via the newspapers and newsmagazines.
My view is that especially when they are young, children are much better off with as little exposure to television as possible. Yet we do not live without TV in our household, mostly because I have to have access to cable news channels for the sake of my job.
It would be dishonest of me to say that we don't let our son watch TV at all. But we choose carefully what he watches, limiting his viewing to noncommercial TV or video (and on the occasions when he watches a commercial TV show, we stand by to mute the commercials when they come on), and we only let him watch about two hours or less each week. It helps, too, that his mother and father have little interest in TV programming, and practice what we preach.
And when we do let him watch, we watch with him. Matthew is interested in space, and I thought a recent series of NOVA programs on PBS might be good for him. It had to do with how the earth was formed, and the review indicated that human evolution was going to be part of the series. I sat down with him to watch the first episode, and though evolution didn't come up in that particular program, I explained the scientific facts the program presented in terms of God's creative action.
TV may be a vast wasteland, but there are islands of sanity there, and there's no reason Christian families shouldn't partake of that kind of programming, within reasonable limits. The thing that we as parents must do is help our children to identify and understand the messages coming through the media, and to put them in the context of what we know to be true.
Technology is a real help to discerning parents. TiVo has become the advertisers' nightmare, partly because of the control it gives viewers over what they watch and when, but especially because it has a function to let the viewer instantly fast-forward over commercials. If you are determined to be a television-watching family, TiVo is your friend. And there are more and more family-friendly home videos becoming available. You might convince your church, or a group of parents, to pool some money to build a lending library of DVDs and videotapes that children and families can watch.
Mistaken Parallels
Some Christians believe the answer is to create a separate but parallel media structure, one dedicated to producing TV programs and films with a "pro-family," "Christian" message. One doesn't want to discourage people who feel called to try this, but I think it's generally a mistake.
As Marshall McLuhan famously said, "The medium is the message." What he meant was that television itself—and more broadly, the visual medium—is not a neutral conduit of information and values. Put in pejorative terms, the problem is not that TV and movies propagate bad values, the problem is TV and movies, period.
Unlike the print medium, TV is unreflective, dramatic, emotional. It does not operate according to principles of linear thought. It is emotional, not rational. It encourages immediate reaction, and rewards instinct and simplicity. By its very nature, television is the enemy of abstract thought. Those whose thinking processes are formed by television and its rhythms—as with contemporary music, about which everything I say concerning television can also be said—will be given over to instant gratification and sentimentality.
This, by the way, is why television advertising is so effective; it flies below the radar of rationality. Postman argues that the world presented to us by television, by the very nature of the medium, is not one of coherence and continuity, but of fragmentation. Increasingly, this is the world we actually live in.
Furthermore, TV encourages passivity and receptivity, not active engagement. Many of us come in from a hard day's work, and find relief in sitting in front of the television vegging out for an hour or so. That's fine, but when it becomes a way of life for ourselves or our families, we're in trouble.
Critical Children
Now, despite our best efforts, it is simply impossible to prevent any media, or all but the media that we choose, from reaching our child. As you work to shield your child from media and its harmful messages, you must also build the child's character, and his critical faculties. The parental exoskeleton can only work for so long; as recent studies have demonstrated, when the child enters adolescence and the early teen years, his peers are the greatest influence on his values.
You can help build critical media faculties in your children in several ways.
First, talk with them often and explicitly about what we as Christians believe to be true. Give them a clear and fundamental understanding of reality, and reinforce that as best you can, in natural ways. This provides them with the grounds on which to judge what is presented to them.
Second, watch TV and listen to music with them. Help them understand what they are seeing and hearing. Relate it to your own values. Ask them questions to get them to think critically about what they're experiencing—and when I say "critically," I don't mean only thinking about what's wrong with the program or book, but what's right with it. Get them in the habit of not taking for granted that what's on TV is true.
This is especially true for advertising, which we try to avoid letting Matthew see at all. We were worried about how effective we were at this until this past Sunday. We were in a Starbucks near a local university, when Matthew struck up a conversation with two young women studying for midterms. Matthew asked one of them what she was studying, and she said, "Advertising. Do you know what that is?" "Yes," he said. "That's when you try to get me to want something I don't need." We all had a good laugh, but Julie and I were relieved that at least some of what we've been trying to teach him is taking root.
Third, teach them to love good things and to be watchful on their own. Julie and I are rarely more proud of Matthew than when he'll come to us on the occasion of a PBS program going off, and say, "I turned the TV off because I knew you wouldn't want me to watch the next program." We make sure to praise and reward him for this behavior. It is said that character is what you do when no one is looking.
If we as parents want to have any hope of succeeding in our teaching role, we have to work hardest on building the character of our kids, so they will guard their own hearts when we are not around to do it for them.
Crunchy Communities
I would also encourage you to find, as best you can, communities of Christian parents who are raising their kids with the same basic values with regard to media. This is hard to do, and none of us can take for granted that those at our church feel the way we do about these things.
I wrote a story for National Review a couple of years ago about consciously countercultural conservatives, so-called "crunchy cons." In my research, I interviewed a home-schooling Presbyterian mother of seven in Midland, Texas. The family had moved to Midland to plant a church there. They had no television. Freaks, in other words.
The mother told me that they had never lived in a place that was more overtly Christian and Republican—and yet this family, as traditionalist Calvinists and GOP activists, were cultural aliens. The mom told me that all their neighbors were Christian conservatives, yet they let their kids watch as much TV as they wanted, and were utterly captive to consumer culture, buying their kids the newest, snazziest sneakers, jeans, what have you. Despite what the neighbors professed, said the mom, they were living no differently from nonbelievers in important ways.
My wife and I have found that home schooling has been a good way to meet parents with values like ours. Matthew goes to a half-day church kindergarten program for home-schooling parents, and spends his afternoons being home schooled by his mom. We've become socially involved with other parents in the program, and their kids play with Matthew. We're building a community and a peer group for our kids, giving our sons and daughters playmates without having to worry about compromising our moral instruction of them.
If not for this home-schooling group, I don't know what we would do. In fact, we left New York City for Dallas in part because we knew how much more difficult it would be to raise religiously observant, morally conservative kids in a culture in which people like us were aliens. There is nowhere in America where parents who strictly limit or forbid television won't be aliens, but some places are better than others.
As I mentioned earlier, we live now in a new Dark Age, a period of decadence, passion, dissolution, and cultural fragmentation. Our moving to Dallas, and the other choices my wife and I have made for ourselves and our children, amount to a kind of cloistering. We don't choose to be Amish. We want to be salt and light to the world.
But we know we cannot do that—that no Christian can do that—without building some pretty high and thick walls to keep the barbarians out, and inside those walls to train a new generation of monks and warriors to prepare for the Renaissance that will one day come, though we probably won't be around to enjoy it.
A Monastic Elite
In Europe's Dark Ages, the Irish monasteries kept alive the Christian faith and the humane traditions of the West until such time as the soil was fertile for their re-implantation and flourishing. That is what we Christian parents must do. And we must be prepared to suffer the honest scorn and puzzlement of the world for it. Even our own families may not understand what we're up to—Julie and I get along great with our extended families, but for the most part they don't understand what we're doing, don't approve of it, and think of us as elitists.
Which we are. But the times in which we live offer Christian parents a stark choice: Either you raise your kids strictly, or the culture will do it for you. You have to stand firm.
Let our homes be the new monasteries, from which renewal will come. Let the light we tinder within their walls—the light of Christ, and of reason—be the glow from our hearths, not the deadening electronic glow of the television set. •
---

Helps for Parents

Parents who want to learn more about the challenge posed by media to the integrity of their families will want to read Neil Postman's prophetic and indispensable The Disappearance of Childhood. His Amusing Ourselves to Death is also useful, though it offers a more general critique of the way media dulls our moral judgment.

Marie Winn's well-known 1970s book, The Plug-In Drug, which focuses not on the content of television programming but on the effect the medium itself has on children, was re-released in 2002 in an updated edition to critique the role computers play in distorting childhood development.

I strongly believe that parents are better off exposing their children to as little television as possible. However, most parents are not willing or able to be strict prohibitionists (My wife and I aren't). We do let our oldest child, who is five, watch certain science shows and non-commercial children's programming, but only if we have previewed it first or watch with him—and we only let him watch two hours or less each week.

TiVo, which allows you to digitally record programs and skip commercials, can be a parent's best friend—but we watch so little TV in our house that we can't justify the expense. Satellite TV providers offer technology that allows parents to lock some channels off to children and other unauthorized viewers.

The local library can be a source of quality children's programming on videocassette or DVD. We've found that most children's programming at chain video stores is contemporary junk, but independent video stores sometimes stock a wide variety of films from the days when Disney was a reliable brand. If you have limited resources, online rental services like Netflix can be a lifeline.

The conservative Parents Television Council website ( www.parentstv.org) offers weekly ratings of many prime-time programs, based on their suitability for family viewing. While this can be a useful tool, moms and dads should not forget that the main problem with television is not the content but the medium itself, and, just as importantly, that parents teach their children lessons about the importance, or lack thereof, of entertainment media by how much they themselves consume.

Finally, the Internet and downloadable pop music present a much more difficult set of challenges, one that can only be dealt with by strict parental monitoring and enforcement, and by raising children of character. There isn't a filtering software program in the world that's more effective than purity of heart.

— Rod Dreher

---

Not for Kings

Television brings to my mind King Lemuel's mother's warning against strong drink (Prov. 31:4). She never says it is an evil in itself, but she does say that it is "not for kings." I have come to believe that television should be avoided by those who wish to cultivate strong, independent minds because it tends, in its driving inexorability, to suppress the critical, dialectical processes necessary to good thinking. It works against the habit of thinking, especially thinking against the stream, by making it too hard.

One watches television passively; there is no meaningful interaction. It is like entering a river and being carried along to wherever it takes you. Print media do not have the same power. Or rather, one should say that the power of that medium has almost entirely to do with the message, and very little to do with the medium itself. A man may be ruined by reading bad books, but in that event, his own will is far more actively involved than if he had been seduced by the power of the electronic imaging media. The first case is like that of someone who of his own deliberate choice joins a gang of cutthroats, the second more like a sheep led to slaughter.

My argument is a practical one: Television is not bad in itself, but very few people are able to use it in a manner that does not harm them in subtle but significant ways. Intellectuals and the spiritually acute, in my experience, tend to be more sensitive to its effect on their minds than others, and have been the only people I know who have removed it from their homes.

None of them have done this for directly religious or moral reasons—because television is evil, or has "too much trash" on it—but because it wastes their time, compromises their critical faculties, and has the disturbing tendency to flatten out, well, let us call them the natural peaks and valleys of the mind—the mental geography we must maintain to comprehend and negotiate the Real.

Fearful Power

I fear the power of television, especially when watched for a number of hours every day (as it usually is), to normalize its world in our minds—especially the minds of children, whose cognitive life is still inchoate and malleable. Television becomes their tutor, giving them a mental landscape, and with it a significant portion of the mind's constitution, it does not have the qualification to bestow. I think its mere power to do this should be seriously considered as undesirable, apart from the question of whether that mind might be bad or good.

There are only a few institutions that traditionally have the natural power, and whose legitimacy has been recognized among believers, to bestow a "mind," to form the cognitive world and define our fundamental reactions to it—the family first, then the Church, then other institutions (such as the school or the guild) whose formative and informative powers are subordinate to the greater ones of the home and its religion. Television, I believe, has the power to form a cognitive world, especially in the large number of children whose lives are unhappy and who seek escape, to be a pedagogue to the child, and a master to the grown-up child.

Not that it must inevitably do this, for television, like liquor and tobacco, can be controlled, and its powers limited, by taste or discipline. I believe, though, from my observations of church people, that television is a narcotic from which, if it were removed, many would suffer withdrawal pains, and that their minds have been formed by it to an extent that would disturb them deeply if they were aware of its effects. Living like lotus-eaters, more than they know in the midst of the medium, they have little conception of its power over them.

It has gone a long way in helping them to become far more conventionally modern people than they think themselves to be. I might go so far as to say that whatever the Christian faith has done to change their lives and thought, the media in which they immerse themselves, the television more than any, works strongly against it—not toward a dramatic anti-conversion, of course, but as a slow corrosive.

After the nature of this power has come to be understood, then one can move on to the question of whether the mind television propagates is desirable or not. I can hardly argue that if one keeps a television to watch beneficial or at least innocuous fare, he has surrendered his mind to the malign forces of Demon Broadcasting, or even that it is necessarily bad if one uses TV for occasional "mere entertainment." I suspect, however, that most Christians do not use television this way, that their use is much the same as everybody else's, and that the viruses it carries have infected their systems pretty thoroughly.

Given our proclivities to allow this to be so, it is an intelligent and reasonable thing to dispose of television, and for those who are tempted by it, it is not only intelligent and reasonable but also good and necessary, just as it is good and necessary for those who are given to drink not to drink at all. And I would repeat what I said before about television's subtle effects on the life of the mind and spirit—that those who would be acute will tend to avoid television. It is a mind-altering drug. It is not for kings.

— S. M. Hutchens

---

Trash & Carrey

If you want to protect your children, protect yourself. I saw between five and ten movies every week when I was the chief film critic for the New York Post, and many of them were in some way morally objectionable, or at least problematic. I tried hard to maintain my moral equilibrium while doing my job and thought I was doing pretty well at it.

After I left full-time film reviewing, I maintained a part-time gig doing reviews for the Catholic weekly Our Sunday Visitor. I no longer had to see everything that came down the pike but could pick and choose, and I tried to limit myself to movies I expected to be of high quality or that families and general audiences would want to see.

I went from seeing thirty movies a month to three or four. I'd been off the fulltime movie beat for two months when I saw The Grinch, starring Jim Carrey. I was appalled by its frequent double entendres, and marveled at the gall of putting adult sexual references in a film aimed at children.

I wondered, however, if I would have been able to discern this in my previous life. I decided that no, I probably wouldn't have. Before we had our firstborn, I used to take my wife with me to the critic's screenings from time to time, and I was often startled by how deeply affected, and even offended, she was by a film's sexual or violent content.

After I removed myself from that world, though, it became clear to me that she didn't have a problem; I had the problem. I filled my days and evenings with Hollywood films—some of them of quite a high aesthetic level—and without my being aware of it, my own defenses were compromised— even as I thought I was being properly vigilant.

It can happen to you. You cannot hope to see the threats to your own children in the media if you reserve to yourself the right to expose yourself indiscriminately to morally problematic films and television programs. I am not at all saying that adults cannot or should not watch movies and TV shows meant for adults, and featuring sexual and violent content.

I am saying that we should be scarcely less discriminating about our own intake of this stuff than we are about our children's.

— Rod Dreher

---
Rod Dreher is a contributing editor to Touchstone. He is a senior editor and blogger at the American Conservative and author of How Dante Can Save Your Life: The Life-Changing Wisdom of History's Greatest Poem, The Benedict Option: A Strategy for Christians in a Post-Christian Nation, and Live Not by Lies: A Survival Manual for Christian Dissidents. He is Eastern Orthodox and lives with his wife, Julie, in Baton Rouge, Louisiana. They have three children.
• Not a subscriber or wish to renew your subscription? Subscribe to Touchstone today for full online access. Over 30 years of publishing!
---

Purchase Print &
Online Subscription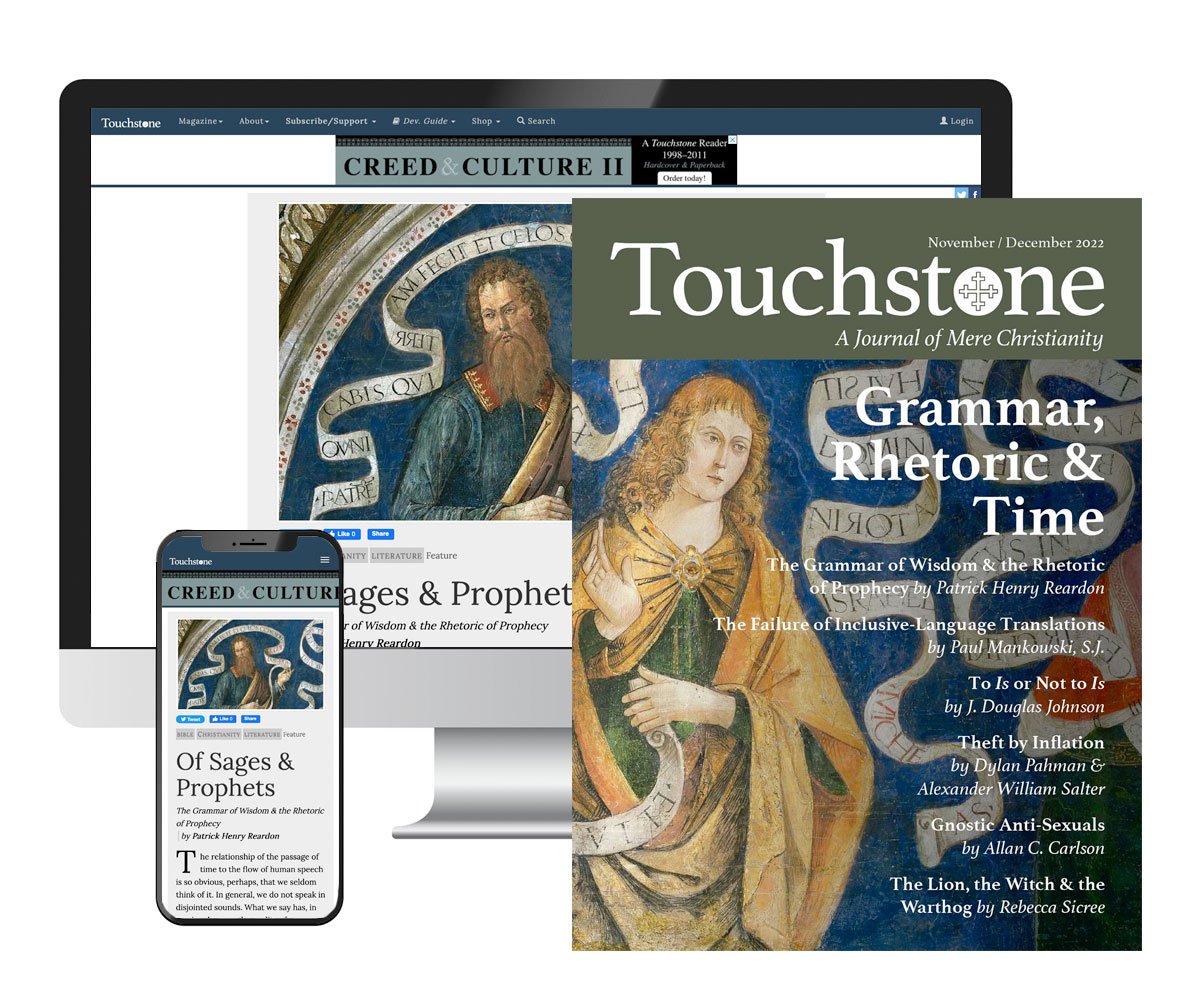 Get six issues (one year) of Touchstone PLUS full online access including pdf downloads for only $39.95. That's only $3.34 per month!
---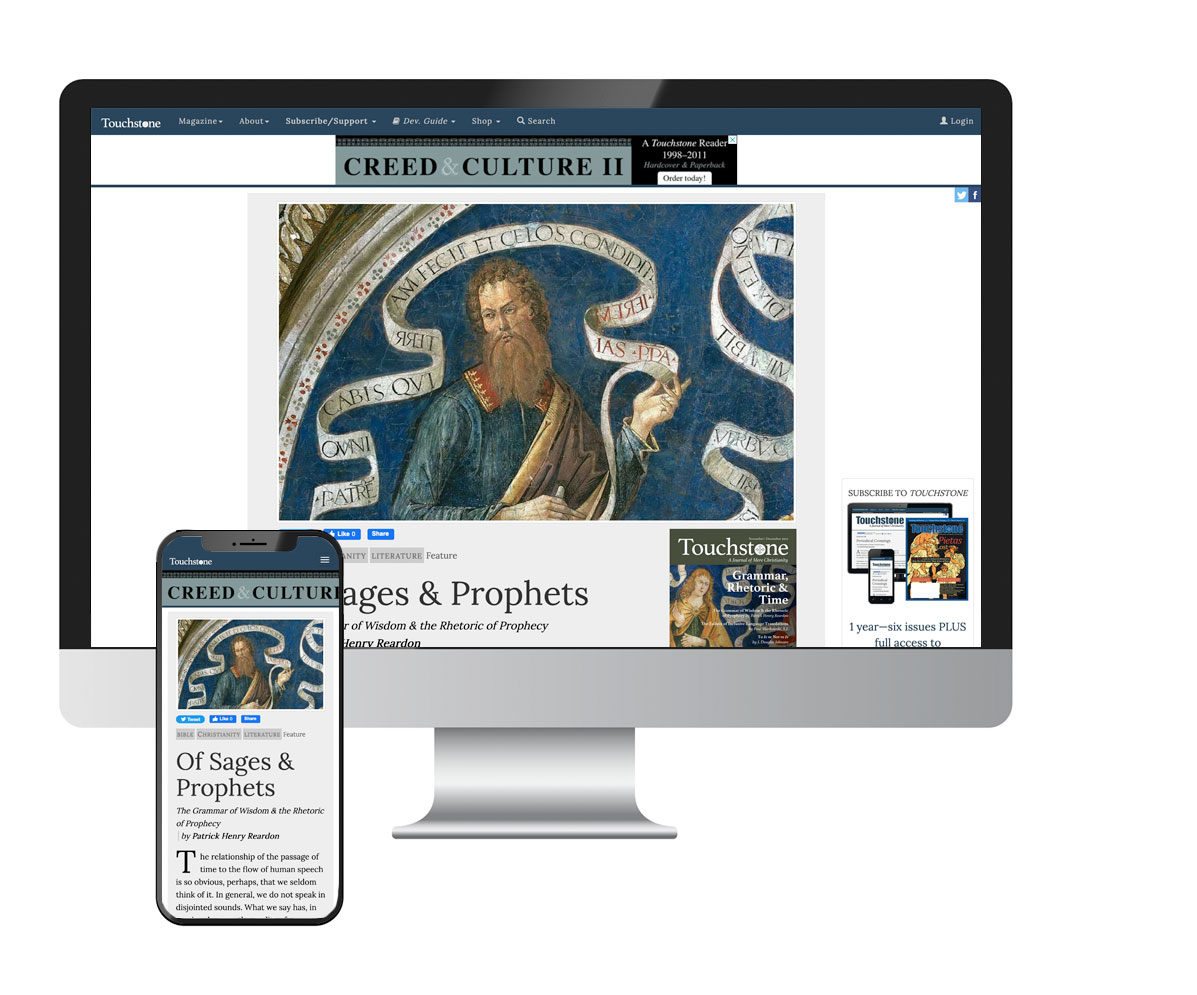 Get a one-year full-access subscription to the Touchstone online archives including pdf downloads for only $19.95. That's only $1.66 per month!
---
GIVE Print &
Online Subscription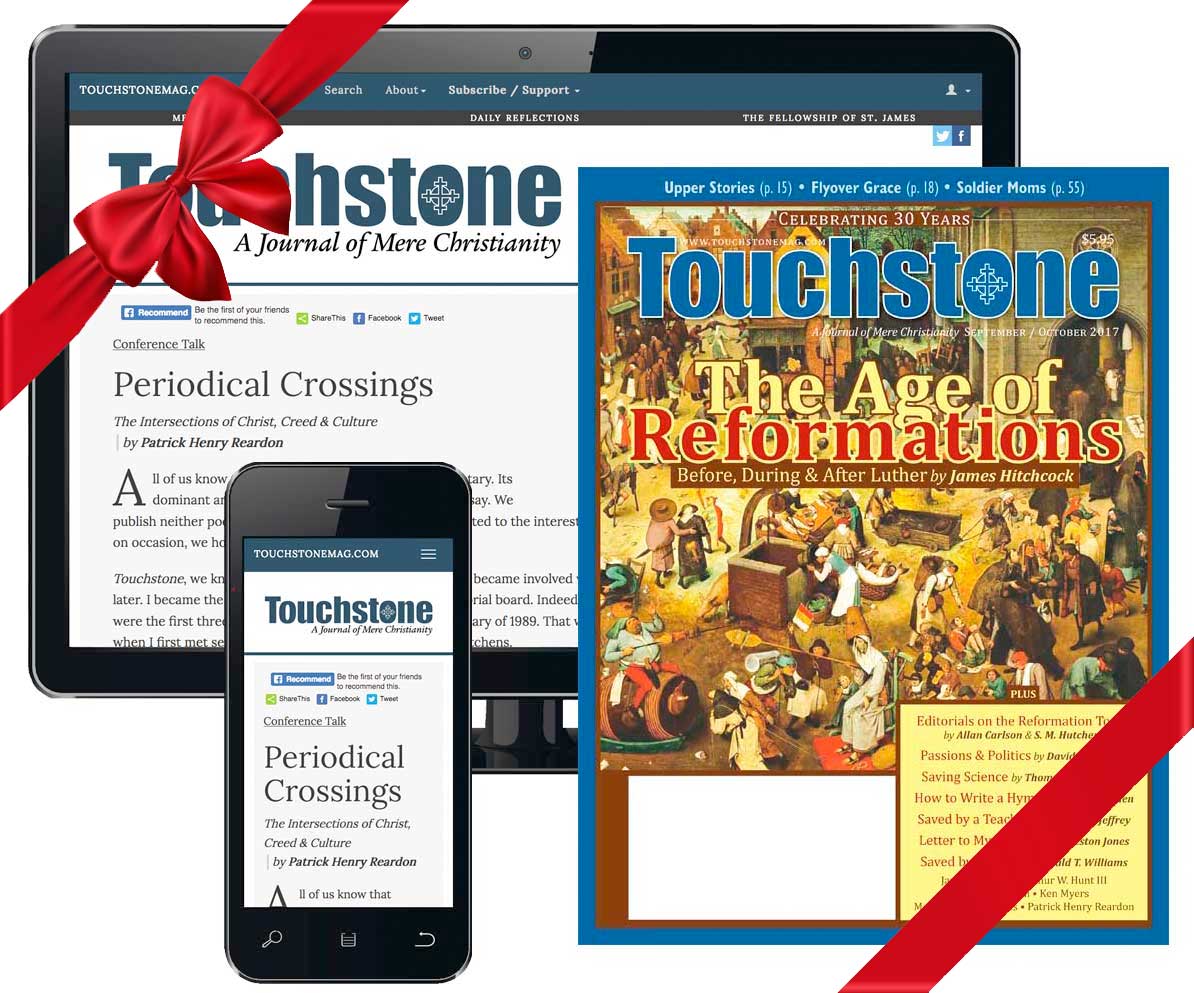 Give six issues (one year) of Touchstone PLUS full online access including pdf downloads for the reduced rate of $29.95. That's only $2.50 per month!
---
Transactions will be processed on a secure server.
Order Touchstone subscriptions in bulk and save $10 per sub! Each subscription includes 6 issues of Touchstone plus full online access to touchstonemag.com—including archives, videos, and pdf downloads of recent issues for only $29.95 each! Great for churches or study groups.


Your subscription goes a long way to ensure that Touchstone is able to continue its mission of publishing quality Christian articles and commentary.
more from the online archives
calling all readers
Please Donate
"There are magazines worth reading but few worth saving . . . Touchstone is just such a magazine."
—Alice von Hildebrand
"Here we do not concede one square millimeter of territory to falsehood, folly, contemporary sentimentality, or fashion. We speak the truth, and let God be our judge. . . . Touchstone is the one committedly Christian conservative journal."
—Anthony Esolen, Touchstone senior editor
Support Touchstone