Anglican Futility Players
David Virtue on Pointless Dialogue
For the background to this story, see Louis Tarsitano's "Primates in Portugal" in this issue.
A strange quiet seems to have fallen upon the Episcopal Church and the wider Anglican world in the wake of the Primates' Meeting in Oporto. The primates' message, which many expected would be a sizzler for the Episcopal Church, fizzled as well as sizzled. The primates issued a warning to the Episcopal Church, but gave it a year's grace period to get in line, though what they would do if it didn't was left unsaid.
The Episcopal bishops met a short time later and, to the surprise of some, issued no response whatever. Presiding Bishop Frank Griswold said at the end of their meeting that the Episcopal Church will not come into line with Lambeth's sexuality resolution. That, he said, would be "unrealistic." No conservative bishop was heard to say that, unrealistic or not, it was necessary.
An Odd Silence
So this odd sort of silence has descended, as conservative Episcopalians wait for some sign of what orthodox and Evangelical prelates overseas and at home will do or say, and what leadership they will give, if any.
In light of Griswold's comments, and the continuing approval of homosexuality in many Episcopal dioceses—many ordaining openly homosexual men and women, some even letting them "marry"—will foreign primates still grant the year's grace, or will they act sooner? Will they act if this summer's General Convention approves of homosexuality in some way? Will they ever act? If they act, what, exactly, will they do? And will like-minded Episcopal bishops support them?
These are only a few of the questions that come to mind. They remain unanswered, and in the current vacuum, there is the usual amount of (largely futile) scurrying around among conservatives and liberals alike.
Beginning already, for example, is a feverish build-up to the General Convention in July—as if this were going to change anything. The Standing Commission on Liturgy and Music has proposed that the "blessing" of homosexual relationships be left to each bishop and diocese to decide. The plain fact is that, even if the convention rejects this proposal for "local option," the blessing of homosexual relationships will in fact continue to be left to each bishop and diocese as, unofficially, it has been for a number of years.
In other words, the expectation that the convention will not approve same-sex blessing rites is quite irrelevant. Same-sex union ceremonies, which have been occurring in the Episcopal Church for a good while, will keep occurring. Not only Bishop Griswold, but also the president of the homosexual lobby Integrity, Fr. Michael Hopkins, have recently assured us that there is no going back on the homosexualist agenda.
Both are supported in this by the president of the House of Deputies, Pamela Chinnis, who will not recuse herself from chairing any discussions on homosexuality at the General Convention this July in Denver, even though she has clearly "outed" her pro-homosexual preferences by opposing Griswold's call for a Year of Jubilee (let's not talk about sex) to ease tensions at the national level. Tensions remain and sex is on the agenda.
New Commandments
Yet, for the supremely gullible on this question—and for those David Mills calls "the terminally optimistic"—there is in the current muddle something called the New Commandment Task Force.
This splashy new "reconciliation" effort includes not only the founder of Integrity, Dr. Louie Crew, but also lesbian priest Elizabeth Kaeton of Newark, New Jersey, and the Reverend Ed Bacon, rector of the notoriously "gay-friendly" All Saints' Church in Pasadena, California. On the other side we have a number of conservatives, the most famous being the Reverend Brian Cox and the Reverend Richard Kew.
Its methods are based, in the words of the press release, on "the reconciliation and group process principles taught by the Reconciliation Institute, located in Santa Barbara, California," founded and directed by Fr. Cox. He has written extensively on reconciliation, and in particular contrasted those he calls "bridge-burners" and those he calls "bridge-builders."
When you read his description of these groups, you suspect that (from his point of view) people like me and the editors of Touchstone fall into the first category. Bridge-burners "are not prepared to brook any compromise," while "bridge-builders are prepared to reach out to the other party and to live in an institutional framework that is less than ideal. Bridge-burners place a higher value on truth over unity, whereas bridge-builders see a more nuanced interrelationship between them."
The panel draws its biblical identity from two New Testament passages: John 13:34f. ("I give you a new commandment, that you love one another. By this everyone will know that you are my disciples, if you have love for one another") and John 15:12, which repeats the command to "love one another" but adds the thought about laying down one's life for one's friend.
Love, it seems, really does conquer all, even abject theological incompatibility. Not surprisingly, Bishop Griswold, purveyor of the notions of "pluriform" (or conflicting) truth and of the Church as a "force field" in which contradictions happily coexist, is willing to throw money at this group to get it off the ground.
To understand this new effort, one has to go back to last November, when a group of twenty-two Episcopalian laity, clergy, and bishops met in Seattle to search for "Solutions to Potential Schism." While the group did not fully complete its search, its members did convince themselves, though not everyone else, that there must be better ways than arguing or dividing to deal with serious disagreements.
Far More in Common
Episcopalians, their press release declared, "have far more in common than what is in dispute." They do have in common, I'll admit, a brand name and a pension fund.
The release included a joint statement from Dr. Crew and Fr. Cox in which they said, "We hope to be of useful service to our Lord and our Church in this effort. We ask all church members to pray for this work, to treat each other with love, and to help the Church become better united in doing what God is calling the Episcopal Church to do."
What it is that both sides have in common, and what God is calling them to do together in the Episcopal Church, the press release did not say, perhaps wisely. What they assume, apparently, is that it is something in which they can be united, which is not an assumption the New Testament justifies—unless, of course, one takes one verse (a new commandment, say) and abstracts it from all the rest.
Quoting Bishop Griswold, the "Seattle 22" opined that "No human being has an infallible perception of what God wants." Evidently, no one suggested that Scripture and the Church's 2,000-year interpretation of it might be an infallible guide to what God wants on certain matters of faith and practice. No, today, there is only subjective interpretation of these authorities, to which is added as an equal authority one's personal story—the salient ingredients of Griswold's theory of "pluriform" truths.
The release also quotes Bishop Griswold as saying that "When disagreements are deeply felt, the evil one [presumably Satan, assuming Bishop Griswold actually believes in Satan] can take hold of our feelings and use them in ways that create mistrust and division." However, he has said that he will not remove his name from John Spong's Koinonia Statement (an explicit repudiation of the Christian moral tradition), and that he will not tell his bishops not to marry persons of the same sex. Local Option would prevail on this issue, as well as on the continued ordination of noncelibate homosexuals to the priesthood.
Of this task force the Presiding Bishop says, "This team will help us learn to conduct ourselves in a more loving manner. Its regional meetings will contribute new ways of approaching our potentially divisive issues in a manner that will build up the body in love and minimize the sense of frustration and loss felt by those whose points of view are not fully realized."
No "War-War"
When I queried one of the Evangelical players in this little drama about the impossibility of mixing oil and water, truth and error, right and wrong, I was told that it was better to "jaw-jaw" rather than "war-war."
No one likes or wants "war." But we would be hard-pressed to believe that reconciliation in the minds of John or the other apostles had anything to do with approving sodomy in the church or with helping two groups with widely divergent views of biblical sexuality agree to disagree while holding the church (the institution, that is) together at all costs. "Let not these things even be named among you as becometh saints," was Paul's response to sexual sin.
This task force will not, of course, promote legislative answers. That is not in the spirit of the Episcopal Church or (so thinks the New Commandment Task Force) the Scriptures. Its purpose is to provide a "safe place in the church for those of differing theological persuasions, without compromising the direction given in Jesus' New Commandment," writes Crew.
Apparently, love means never having to say you're sorry. But no, it means that we find ecclesiastical hidey-holes in which it is "safe" to be in total denial of the reality of the divisions within the Episcopal Church. It provides a place where disagreements about what God has or has not told us are merely "deeply felt" but should not ever lead to an actual division. And sadly, it provides a place where conservatives can hide from the fact that this sort of "dialogue" assumes a rejection of much that their own theology demands.
Love, in the Johannine sense, is not a license to agree to disagree, dialogue, negotiate, promote reconciliation, cover up, bless, pander, broker in, or make up to sin. You cannot serve two masters. The homosexualists are jeopardizing their eternal souls by thinking they can and "teaching others so to do."
The Evangelicals on this task force are fishing in empty streams. They refuse to learn the lesson that the truth of the gospel stands in judgment even on institutional loyalty.
David Virtue has served as a staff writer for several Christian organizations and publications and is the author of two books on Christian faith and justice. He lives with his wife Mary in West Chester, Pennsylvania, where he is a freelance writer. They are practicing Episcopalians.
Not a subscriber? Subscribe to Touchstone today for full online access. Over 30 years of content!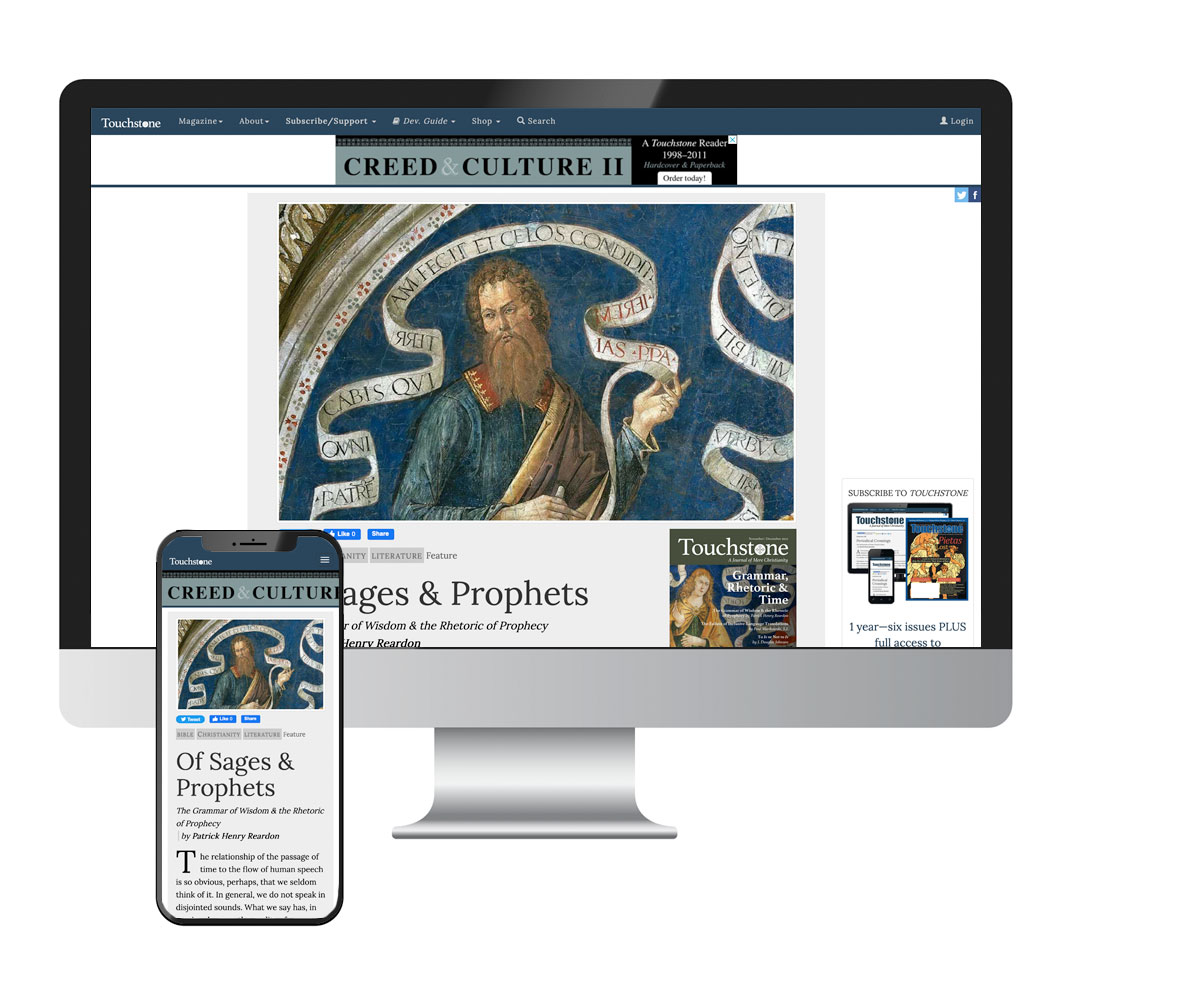 Get a one-year full-access subscription to the Touchstone online archives for only $19.95. That's only $1.66 per month!
Purchase Print &
Online Subscription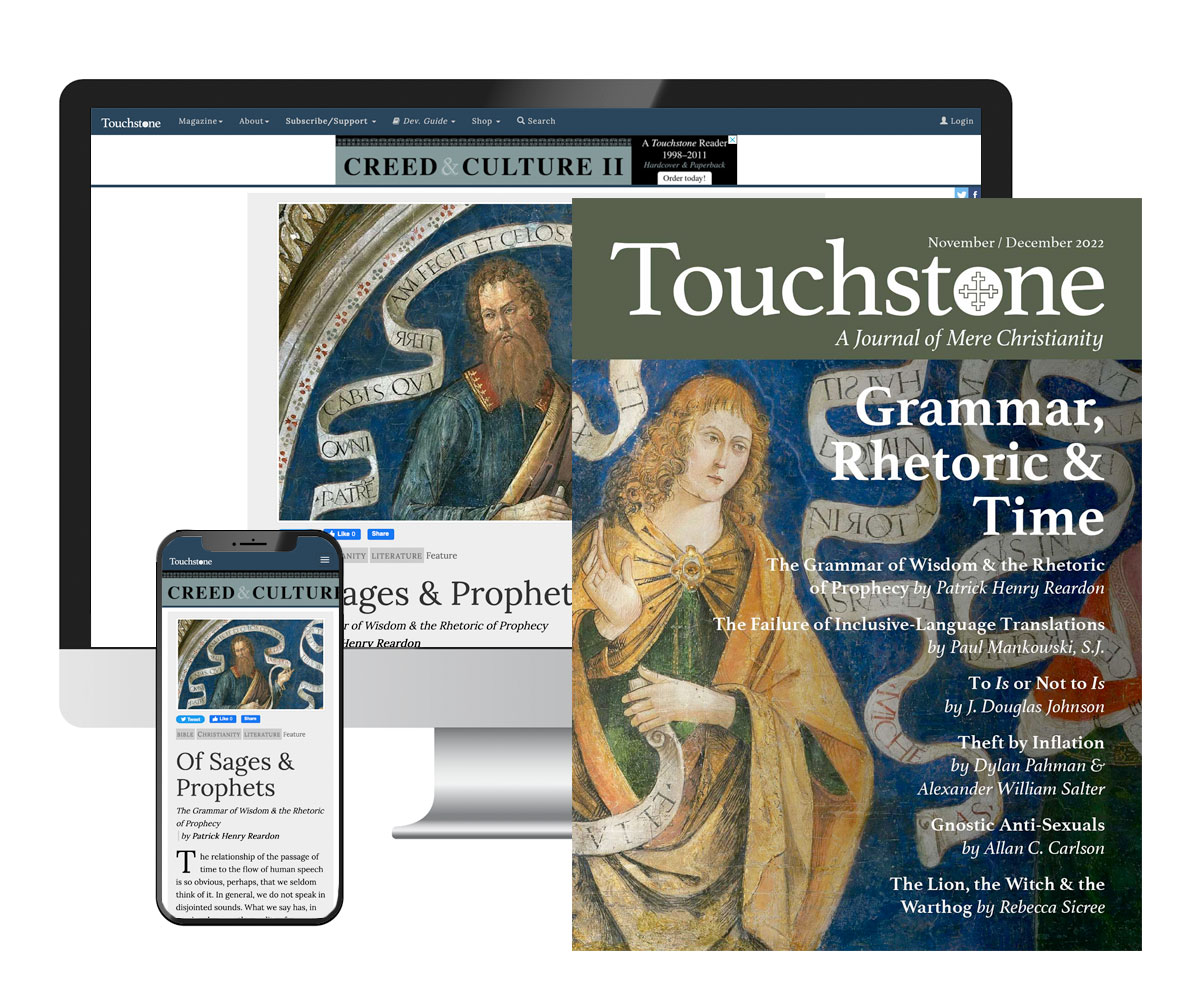 Get six issues (one year) of Touchstone PLUS full online access for only $29.95. That's only $2.50 per month!
Your subscription goes a long way to ensure that Touchstone is able to continue its mission of publishing quality Christian articles and commentary.
*Transactions will be processed on the secure server of The Fellowship of St. James website, the publisher of Touchstone.
from the touchstone online archives