For complete online access to
new issues of Touchstone, subscribe today!
---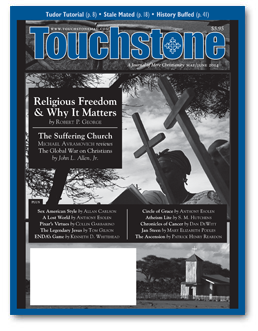 Stand Firm
by Anthony Esolen



Mortal Remains
God's Shadow
by S. M. Hutchens

Contours of Culture /
From Heavenly Harmony
A Tudor Tutorial
by Ken Myers

Illuminations
A Circle of Grace
by Anthony Esolen

A Thousand Words
As the Old Sing, So Pipe the Young
by Jan Steen
by Mary Elizabeth Podles

As It Is Written...
The Essential Ascension
by Patrick Henry Reardon



Not Bunk
Why Study History? Reflecting on the Importance of the Past by John Fea
A review by Graeme Hunter

More Sheep for Slaughter
The Global War on Christians: Dispatches from the Front Lines of Anti-Christian Persecution
by John L. Allen, Jr.
A review by Michael Avramovich



Religious Freedom & Why It Matters
Working in the Spirit of John Leland
by Robert P. George

Sex & the American Experience
Facts versus Stereotypes About Love & Marriage in the Land of the Free
by Allan Carlson

The Gospel Truth of Jesus
What Happens to Apologetics If We Add "Legend" to the Trilemma "Liar, Lunatic, or Lord"?
by Tom Gilson



Gone & Forgotten
Anthony Esolen on a Lost World & Our Alien Nation

Aslan Knows Best
Dan DeWitt on the Chronicles of Cancer in the Life of C. S. Lewis

Virtue Reanimated
Collin Garbarino on the Subversive Conservatism of Pixar

Stale Mated
Brantly Millegan on Why Defending Life & Marriage Has Gone Badly

ENDA's Game
Kenneth D. Whitehead on Deviant Sexual Behavior as a Civil Right



Every issue of Touchstone also contains short commentaries by our editors, notices of books you should know about, and our spirited letters section.