For complete online access to
new issues of Touchstone, subscribe today!
---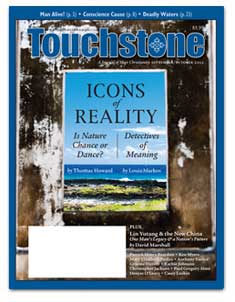 The Man Alive
by Patrick Henry Reardon

No We Can't
by James M. Kushiner



Communiqué
Conscience Cause
by Anna Franzonello
& Daniel McConchie

Contours of Culture /
From Heavenly Harmony
The Five Books of Peterson
by Ken Myers

First Books
Sorted by Subject
by Kathie Johnson

Illuminations
Ascending & Descending Glory
by Anthony Esolen

A Thousand Words
Albrecht Dürer's Noli Me Tangere
by Mary Elizabeth Podles

As It Is Written...
The New Healing
by Patrick Henry Reardon



Fishtown vs. Belmont
Coming Apart: The State of White America, 1960-2010
by Charles Murray
A review by Denyse O'Leary

Believe It or Not
The Language of Science and Faith: Straight Answers to Genuine Questions
by Karl W. Giberson
and Francis S. Collins
A review by Casey Luskin



Changing Times & Permanent Things
An Inquiry into "Progressive" Ideas in Light of the Moral Universe
by Thomas Howard

Detectives of Significance
Sherlock Holmes, Umberto Eco & the Search for Meaning
by Louis Markos

Lin Yutang & the New China
Is One Man's Legacy a Reason to Hope for the Nation's Future?
by David Marshall



Believe Free or Die
Patrick Henry Reardon on Mathematical Certainty & the Liberty of Faith

United in Reverence
Christopher Jackson on Christian Orthodoxy & the Self-Revelation of God

Easy Burden
Graeme Hunter on the Blessings & Challenges of Homeschooling

Unsafe Sacrament
Paul Gregory Alms on Death in Baptism as a Necessary Prerequisite to Resurrection



Every issue of Touchstone also contains short commentaries by our editors, notices of books you should know about, and our spirited letters section.