For complete online access to
new issues of Touchstone, subscribe today!
---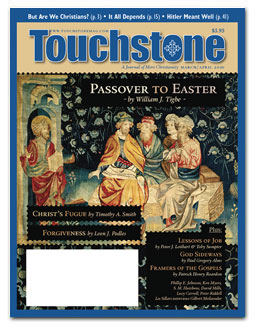 But Are We Christians?
by S. M. Hutchens



The Leading Edge
Atheist Crusaders
by Phillip E. Johnson

Contours of Culture /
From Heavenly Harmony
Musical Reprise
by Ken Myers

Communiqué
Soulmates & Deficits
by David Mills

Communiqué
Too Happy Together
by Peter Riddell

Communiqué
Uneasy Messenger
by Jeff Walton

As It Is Written...
Framers of the Gospel
by Patrick Henry Reardon



England Swings
Fires of Faith: Catholic England Under Mary Tudor by Eamon Duffy
A review by William J. Tighe

England Sings
Singing and the Imagination of Devotion: Vocal Aesthetics in Early English Protestant Culture by Susan Tara Brown
A review by Lucy E. Carroll

Life's Furor
Hitler's Ethic: The Nazi Pursuit of Evolutionary Progress by Richard Weikart
A review by Joe Keysor



There Is Forgiveness
But There Are No Shortcuts on the Road to Reconciliation
by Leon J. Podles

Passover to Easter
On the Origins of the Primary Feast of the Christian Church
by William J. Tighe

Subject to Death & Life
Paul Celan's Todesfuge, J. S. Bach & the Passion of Christ
by Timothy A. Smith



Media Wineskins
S. M. Hutchens on the Electronic Book & Its Kin

Job's Progress
Peter J. Leithart on Maturity for a Rising Generation

It All Depends
Philip Rempel on Randomness & the Providence of God

God Sideways
Paul Gregory Alms on How Jesus Comes Amid Distractions



Bioethics & Dignity
A Q&A with Gilbert Meilaender



Every issue of Touchstone also contains short commentaries by our editors, notices of books you should know about, and our spirited letters section.