For complete online access to
new issues of Touchstone, subscribe today!
---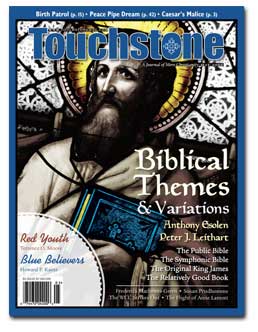 State of Separation
by Anthony Esolen
& David Mills



Book Returns
Tuning Out the OK Chorale
by Susan Prudhomme

As It Is Written...
The Sacred Name
by Patrick Henry Reardon



Bottom of the Ninth Assembly
The Recent World Council of Churches Assembly & the End of the Ecumenical Movement
by George Conger



The Symphonic Bible
Sanctified Vision:
An Introduction to Early Christian Interpretation of the Bible
by John J. O'Keefe and R. R. Reno
A review by Ryan J. Jack McDermott

The Public Bible
The Bible and Its Influence
Cullen Schippe and Chuck Stetson,
general editors
A review by C. T. Maier

Pure King James
The New Cambridge
Paragraph Bible
edited by David Norton
A review by Robert Hart

Flighty Plan
Plan B: Further Thoughts On Faith
by Anne Lamott
A review by Franklin Freeman

Pale Male
Manliness by Harvey C. Mansfield
A review by Gerald J. Russello

Peace Pipe Dream
The Right To Be Wrong:
Ending the Culture War over Religion in America
by Kevin Seamus Hasson
A review by Amanda Witt



Divine Light from Kings
Evangelical Ecumenism & the Gospel in the Story of Israel Divided
by Peter J. Leithart

Liberalism as Religion
The Culture War Is Between Religious Believers on Both Sides
by Howard P. Kainz

Not Harvard Bound
Some of America's Most Promising Youth Are Seeking an Even Higher Education
by Terrence O. Moore



Caedmon's Edge
Anthony Esolen on the Fair Advantage of a Medieval Bible Translator

The Relatively Good Book
B. J. Hutto on the Liberal Protestant Bible Translation

Poor Excuse
Frederica Mathewes-Green on Remembering That Even the Poor Can Go to Hell

Birth Patrol
Paul J. Cella III on the Fears of Those Who Worship the Means but Hate the Ends



Every issue of Touchstone also contains short commentaries by our editors, notices of books you should know about, and our spirited letters section.