For complete online access to
new issues of Touchstone, subscribe today!
---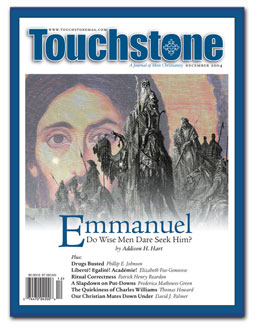 Green Hornets' Nest
by S. M. Hutchens



The Leading Edge
Casualties of the Drug Lords
by Phillip E. Johnson

Practical Christianity
The Holiness of Unknowing
by Thomas S. Buchanan

As It Is Written...
The Heart's Guarantee
by Patrick Henry Reardon



Speaking Out Down Under
Divided Christians in Australia Are Engaged in a Culture War of Their Own
by David J. Palmer



Mystical Modernity
The Making of
the New Spirituality
by James A. Herrick
A review by Carl E. Olson

A Mind in Full
Total Truth by Nancy Pearcey
A review by Angus J. L. Menuge



The Divine Divider
Judgment & the Meaning of "Emmanuel" in Matthew's Gospel
by Addison H. Hart

Emmanuel Is with Us
A Sidebar in Addison H. Hart's "The Divine Divider"
by Patrick Henry Reardon

Food & Drink for the Least of These
The Pope Speaks Up for Those on Medical Death Row
by Kenneth D. Whitehead

What About Charles Williams?
The Secret of the Enigmatic Inkling Revealed
by Thomas Howard



Ritual Correctness
Patrick Henry Reardon on Enduring Liturgical Experts

The Bookish Virtues
Perry Glanzer on Public-School Character Education

Liberté! Egalité! Académie!
Elizabeth Fox-Genovese on the Recovery of Academic Freedom

Meet Your Mocker
Frederica Mathewes-Green on Ridicule, Rebuke & Responsibility



Every issue of Touchstone also contains short commentaries by our editors, notices of books you should know about, and our spirited letters section.