The Bishop's Progress
Brahmin Prophet: Phillips Brooks and the Path of Liberal Protestantism
by Gillis J. Harp
Lanham, Maryland: Rowman & Littlefield Publishers, Inc., 2003
(256 pages; $32.95, paperback)
reviewed by C. FitzSimons Allison
The historian Allen Guelzo has observed that the Episcopal Church has been "served by self-protective biography." In Brahmin Prophet, Gillis Harp shows how true that is in regard to Phillips Brooks. Previous biographers of the dominant figure of the late-nineteenth-century Episcopal Church—A. V. G. Allen, William Laurence, Raymond Albright, and E. Clowes Chorley—largely ignored the romantic influence on and the denigration of doctrine in Brooks's theology.
Harp's significant contribution is not to detail again the biographical incidences in Brooks's life, fully done by Allen, but to give us for the first time a thorough and masterly description and analysis of Brooks's theology. The subtitle, "The Path of Liberal Protestantism," of this diligent (784 unobtrusive and helpful footnotes) work indicates something of its profound importance. Harp, a professor of history at Grove City College, shows that Brooks was an example, agent, and symptom of Liberal Protestantism's loss of its confessional roots and doctrinal structure, and subsequently of its influence in American culture.
Leaders of the Broad Church movement—the name used then for what we now call Liberal Protestantism—generally abhorred any identification with church "party," but by the end of the century their party had become the dominating one in the Episcopal Church, a position it maintains over a century later. The once powerful Evangelical party was moribund and virtually gone. The Anglo-Catholics could only muster fifteen Episcopal votes against Brooks's consecration as bishop of Massachusetts, and their objection was not so much to his theology and doctrine as to his polity, particularly his denigration of the Apostolic Succession they claimed for Anglicanism. Brooks made no secret of denigrating the idea, along with that of papal infallibility.
What were the doctrinal issues that brought Brooks away from his mother's staunch Evangelical Anglicanism? Harp shows that he departed from it even while at Virginia Seminary, in correction to the claims of other biographers that he faithfully absorbed the distinctive confessional affirmation of Evangelical theology he found there. The influence of his days as an undergraduate at Harvard and his distinctive inclination to feeling rather than reason made him theologically uncomfortable at Virginia from the very beginning.
"What emerged was a Romanticized and moralistic form of Christian belief that was underwritten by an exceedingly pragmatic view of dogma," Harp writes. He shows how the romantic climate of the Gilded Age influenced Brooks's negative attitude toward doctrine and dogma and led him to a confidence in "the divinity of humanity" and in man's historical progress. Previous treatments of Brooks have failed to observe the serious consequences of his claim of "an uncreated humanity" in the Trinity, which Harp clearly exposes.
However much Brooks was influenced by his age, he was clear that "we ought to make, not be made by the spirit of the times," yet his belief in the divine image of human nature gave him the confidence that this could be done. He was equally contemptuous of appeals to inherited authority, whether the Roman Catholic magisterium, Anglo-Catholic apostolic authority, or the traditional Protestant reliance on Scripture as "God's word written." There was no place in his theology for the Reformation confessions or the magisterial doctrine of justification by grace through faith.
What then was the final authority for Brooks? "In conscience, not authority must be the final warrant of all Christian truth," he declared. Without an infallible church or an inerrant Bible, he asked, "Then what remains? I answer Individualism. Let us not fear that name of which some people have such terror." Harp shows how this confidence in individual conscience "is linked to Brooks' deep faith in human progress and in basic human goodness."
Phillips Brooks was truly a magnificently talented man, an incomparably effective preacher, and an unrivaled icon of Episcopal ministry of his day. It is ironic to contrast his incomparable popularity in England and America with the present theologically and spiritually anemic (though politically still dominant) Liberal Protestant movement in the Episcopal Church.
In a time characterized by a lack of appreciation of doctrine, dogma, and confessions, Brooks and his influence flourished. But such an optimistic religion could not continue to flourish. The accelerating negativity of the skeptical approach to Scripture, the realization of the pathological capacities of conscience, and the loss of the inflexible moral commitments that he favored over right belief, left the Liberal Protestant tradition that Phillips Brooks symbolizes bereft of any prophylaxis against the tide of secular times.
Seldom has any work on one man carried such widespread, and currently needed, understanding of history. Phillips Brooks was indeed example, agent, and symbol of the path Liberal Protestantism was to take. Brahmin Prophet is truly a prophetic book.
C. FitzSimons Allison is the retired Episcopal bishop of South Carolina and the author of The Cruelty of Heresy (Morehouse) and other books. He is one of the founders of the modern Evangelical movement in the Episcopal Church.
Not a subscriber? Subscribe to Touchstone today for full online access. Over 30 years of content!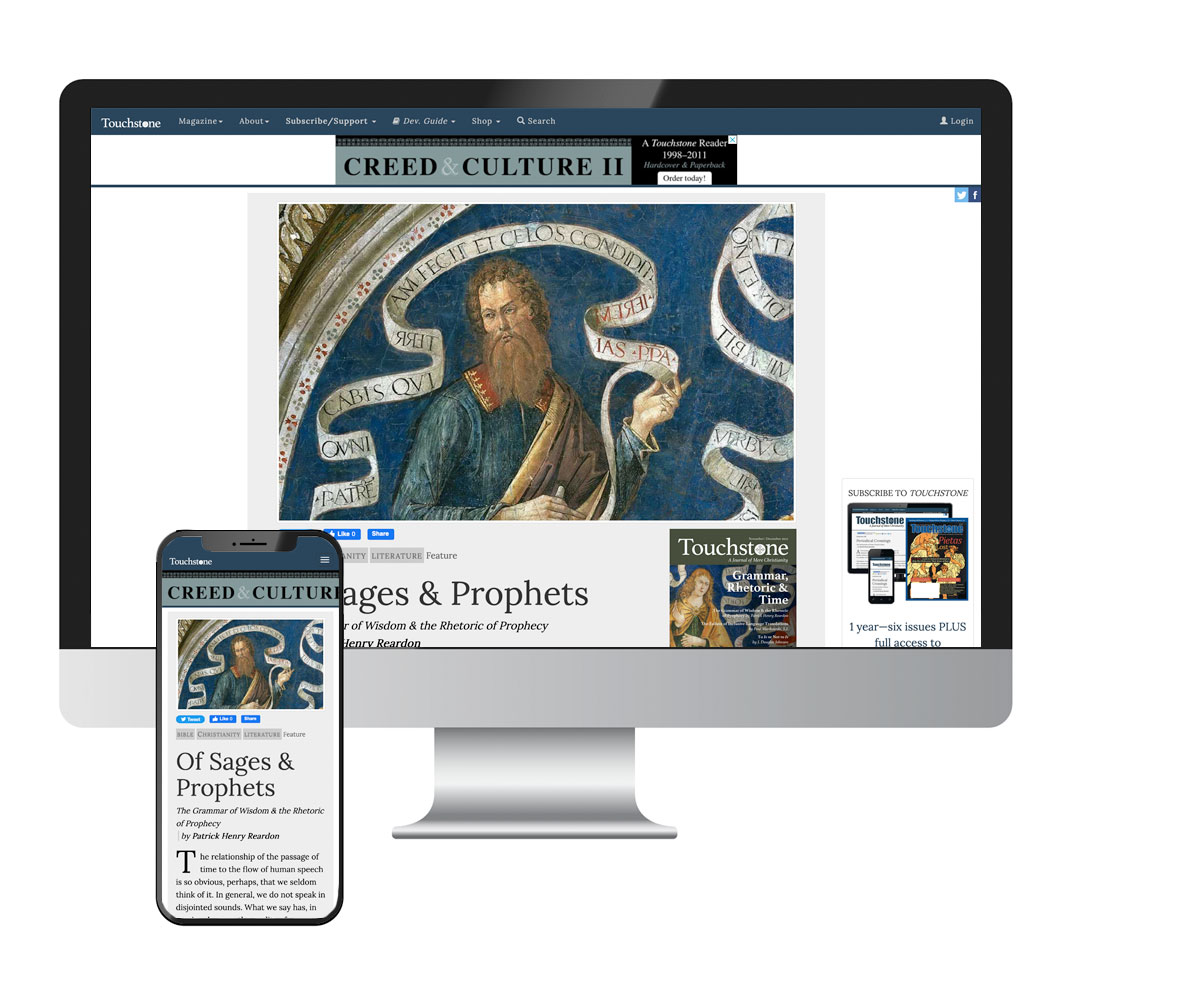 Get a one-year full-access subscription to the Touchstone online archives for only $19.95. That's only $1.66 per month!
Purchase Print &
Online Subscription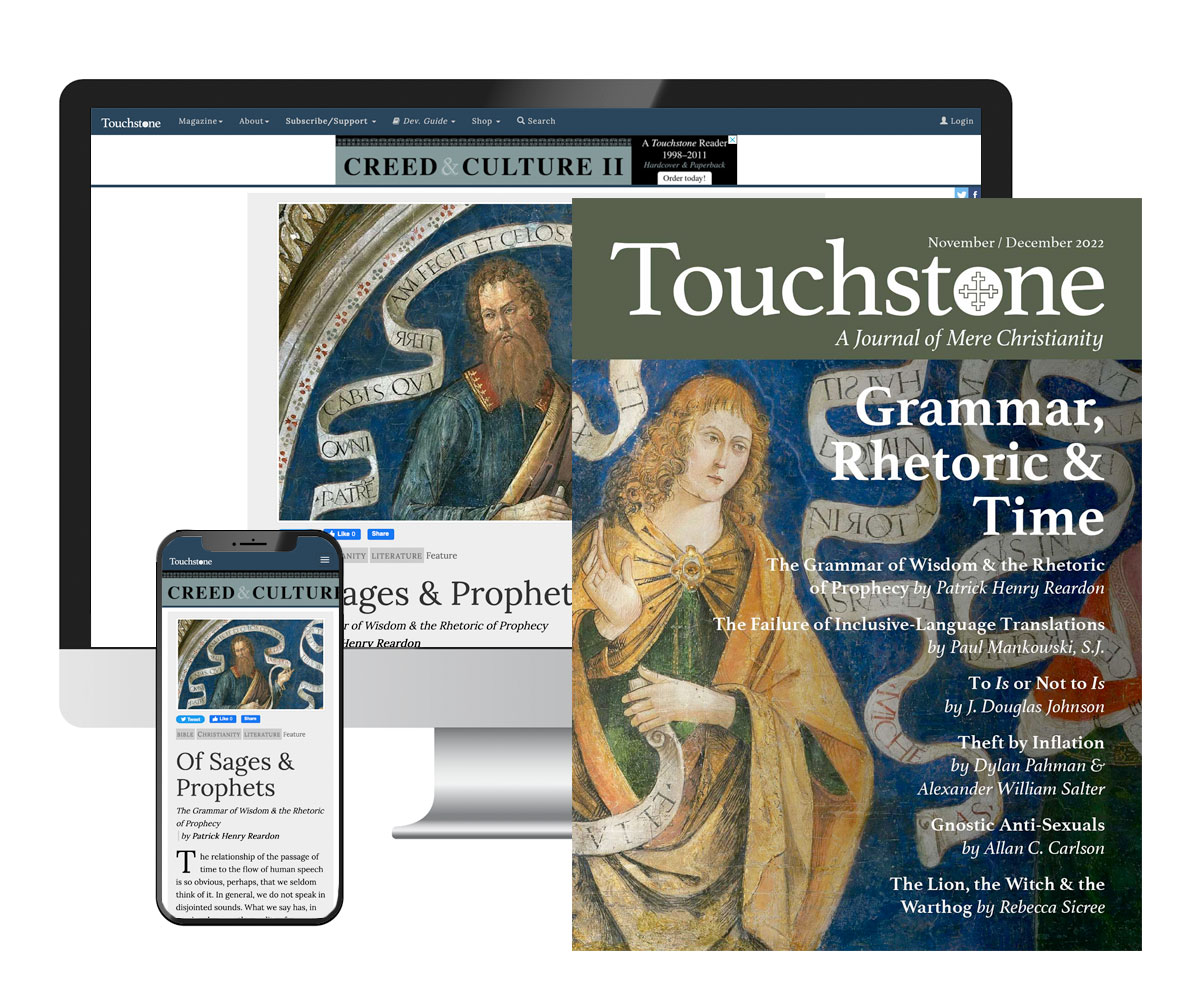 Get six issues (one year) of Touchstone PLUS full online access for only $29.95. That's only $2.50 per month!
Your subscription goes a long way to ensure that Touchstone is able to continue its mission of publishing quality Christian articles and commentary.
*Transactions will be processed on the secure server of The Fellowship of St. James website, the publisher of Touchstone.
from the touchstone online archives