"Prayer Rhythms" Redivivus
The Anglican Breviary
South Korea: Hanku Asia, Inc., 1998
(2,000 pages; $60.00, cloth [available from: Daniel James Lula, 222 Cherry Street, West Newton, MA 02465])
reviewed by Addison H. Hart
Last year, Christianity Today ran a cover story entitled "Learning the Ancient Rhythms of Prayer." It was a cursory look at the current recovery of the Daily Office, especially by Protestants, which has resulted in the recent publication of a surprising number of contemporary office books. Among these volumes, one finds Venite: A Book of Daily Prayer, edited by Robert Benson (Tarcher/Putnam, 2000); The Prymer: The Prayer Book of the Medieval Era Adapted for Contemporary Use, translated by Robert Webber (Paraclete Press, 2000); and the three-volume The Divine Hours, edited by Phyllis Tickle (Doubleday, 2000 and 2001). Such efforts and their success are indicative of a desire among many Christians for an objective, Word-and-Psalter-centered, traditional, and ancient form of prayer.
My own sincere belief in the importance of the Daily Office was influenced by, among others, the late Anglican spiritual writer, Martin Thornton, whose books (in particular, Pastoral Theology: A Reorientation; Christian Proficiency; and English Spirituality) made a convincing case that the classical shape of a sound Christian piety is the regular (regular in the sense of a "rule of life") commitment to the three essentials: Eucharist, Private Devotion, and the Daily Offices. If one practices this "threefold rule," he will be adequately nourished, inwardly transformed, and possess the right God-given balance of objective and subjective elements in his spiritual life. Such a rule is as old as the faith itself.
Of the three ingredients, the Daily Office—praying the Psalms and listening to the Word—has the distinction of standing objectively above and beyond ourselves and our worst tendencies to become emotionally self-serving in prayer, a condition to which many subjective and often sentimental "devotions" lead. Rather, the Office lifts us up to the ongoing prayer of the Church, addressing us with authority even as we address the Lord. Its beauty and benefit to us is its very objectivity.
The new office books will be useful to those seeking to enter for the first time into this most neglected discipline of our spiritual heritage. Without making too fine a point of it, for some these books will prove entirely sufficient—and that is not something to gainsay when one considers that for too long the Daily Office has been largely forgotten. For others, however, the new books will not be sufficient, nor can they be for those who desire to pray the whole Psalter. The new books tend in most cases to present poorly rendered, often feminized, and invariably abridged Psalters—in fact, often badly hacked, diced, neutered, and sterilized Psalters (as, sadly, is also the case with the current Roman Breviary, the Liturgy of the Hours, breaking as it does in this way with two millennia of Catholic tradition). They betray an untraditional and modern squeamishness where the Psalms—which Jesus himself prayed in their entirety—are concerned. This in turn is the result of years of forgetting in the West how Christians have traditionally prayed the Psalms within the Church—in persona Christi.
For those looking for an English-language office book of true stature and dignity, with an unexpurgated Psalter, and completely faithful to the Western Catholic (indeed, the Roman) tradition, one can be profoundly thankful for the reprinting of—of all things—the long-lost and only dimly remembered Anglican Breviary. If one were to remove the word "Anglican" from the title page and spine, and place a copy of this book before any knowledgeable Roman Catholic of the traditional variety, the latter would immediately recognize it as a magnificent translation of the old Latin Breviary. Its "Anglican" character would become unmistakable soon enough, though, upon closer examination; for its Psalter is the unequalled Coverdale rendering of the Vulgate Psalms, its scriptural readings are taken from the incomparable King James Bible, and some of its collects are stately Cranmerian versions of the Latin originals. In other words, it is the finest English-language office book available. It contains more than enough to satisfy and spiritually nourish the one who earnestly uses it—at least, that is, for someone who isn't hopelessly bound to sanitized Psalms and "contemporary" (i.e., wooden, flat, cloddish) English.
If the Catholic movement within Anglicanism could only boast the production of this unique volume as its sole achievement, this would in fact be quite a notable one. At a time when Anglo-Catholicism appears to be a spent force, this book is a reminder of what was best in it and what is invaluably worthy of salvaging from it. Christians of all stripes would be doing themselves a favor to purchase, read, and perhaps use regularly the Anglican Breviary.
The volume was originally published in 1955 by the Frank Gavin Liturgical Foundation, the publishers also of the controversial Anglican Missal, and it was the fruit of literally decades of scholarly labor. The Reverend Frank Gavin had himself suggested such a work as early as 1916. That the Anglican Breviary is back in print at all is due to the persistent efforts of a recent Harvard Law School graduate, Daniel James Lula. Having discovered this elusive volume, which had become too "dated" for the liturgical sensibilities of the secular sixties and consequently went out of print, Lula was determined to see it republished and made available to those wanting a traditional, rich, and beautifully rendered office book. Having failed to convince any publishing house, including the now defunct Preservation Press, of the value of reprinting it, Lula looked into the possibility of reprinting it himself.
As he explains it, "I had little money, but decided to try anyway. I interviewed numerous US printers, who all gave exorbitant price quotes from $75,000 and up for just several hundred copies. This was prohibitive. Then I met a traditional Anglican in South Korea on the Internet, who said that he knew a printer (Hanku Asia, Inc.) that, because of the 1998 currency crisis, could print a 'short run' of the Breviary for about one-third of the lowest American quote." By early 2001, a second printing was necessary to keep up with requests for copies. Lula says that he remains "committed to keeping this book in print for as long as there is a demand." It is a well-bound, 2,000-page volume with red-and-black text, and its $60 price tag (which includes the cost of shipping and handling) is quite reasonable. For those who purchase the book and find themselves initially overwhelmed by the old-fashioned rubrics, Lula offers navigational assistance over the Internet.
Frankly, there is not another English-language office book to match this one. Those who wish seriously to pray the Daily Offices in a manner in keeping with the full extent of our tradition could do no better than to have it close at hand, and from it truly to "learn the ancient rhythms of prayer."
Addison H. Hart is retired from active ministry as parish priest and university chaplain. He is the author of Knowing Darkness: On Skepticism, Melancholy, Friendship, and God and The Yoke of Jesus: A School for the Soul in Solitude (both from Eerdmans). His forthcoming book is a study of the Sermon on the Mount. He lives and writes in Norheimsund, Norway.
Not a subscriber? Subscribe to Touchstone today for full online access. Over 30 years of content!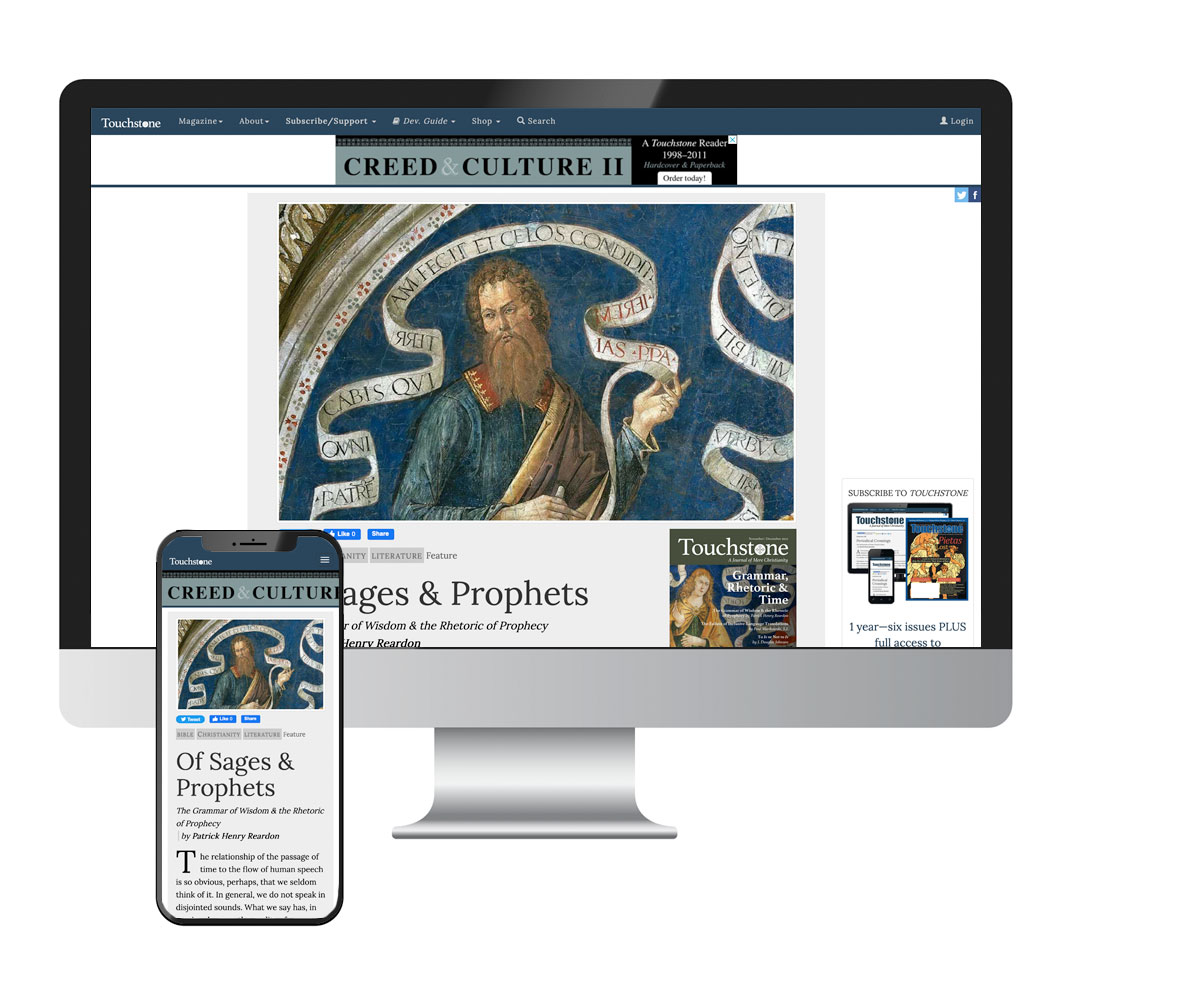 Get a one-year full-access subscription to the Touchstone online archives for only $19.95. That's only $1.66 per month!
Purchase Print &
Online Subscription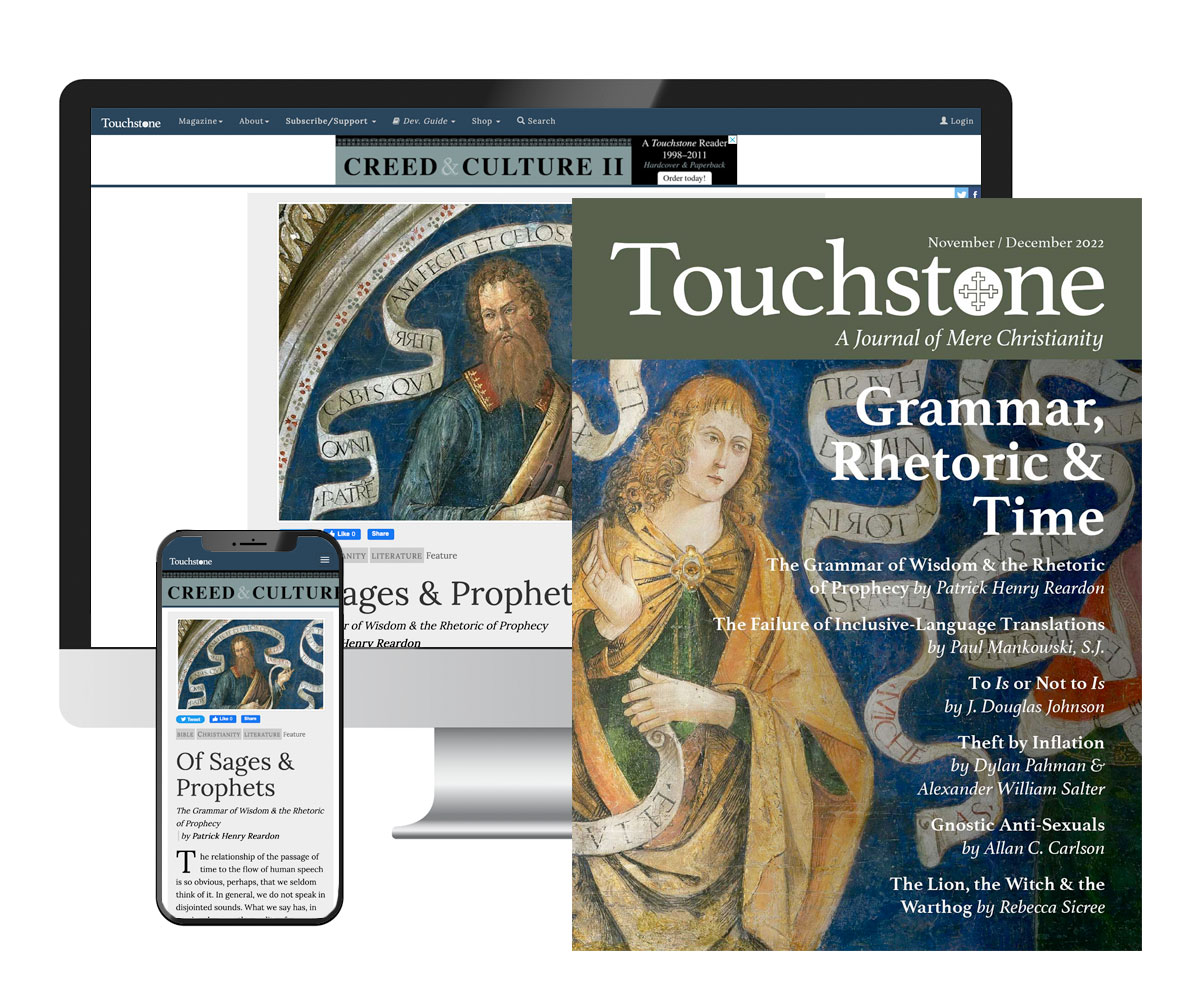 Get six issues (one year) of Touchstone PLUS full online access for only $29.95. That's only $2.50 per month!
Your subscription goes a long way to ensure that Touchstone is able to continue its mission of publishing quality Christian articles and commentary.
*Transactions will be processed on the secure server of The Fellowship of St. James website, the publisher of Touchstone.
from the touchstone online archives