For complete online access to
new issues of Touchstone, subscribe today!
---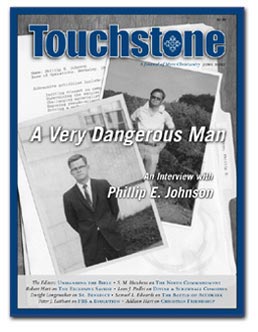 Unmanning the Bible
by S. M. Hutchens



The Matter At Hand
Comedies—Screwball & Divine
by Leon J. Podles

As It Is Written...
The Harsh Word of Ahijah
by Patrick Henry Reardon

Practical Christianity
The Privilege of the Perfect
by Thomas S. Buchanan



Catholic Redeemer, Protestant Trinity
An Ecumenical Experiment in Education
by Jeremy Lott



Everyday Morality
Books by John Kekes
A review by Preston Jones

"Prayer Rhythms" Redivivus
The Anglican Breviary,
South Korea: Hanku Asia, Inc., 1998
A review by Addison H. Hart

Unpacking Grimms
The Owl, the Raven, and the Dove
by G. Ronald Murphy
A review by Dale Nelson



Everyday Grace
St. Benedict—Apostle of the Incarnation
by Dwight Longenecker

"I Have Called You Friends"
An After-Dinner Conversation on Christian Friendship
by Addison H. Hart



With Every Good Intention
S. M. Hutchens on the Ninth Commandment

Company Men Who Work Iniquity
Samuel L. Edwards on Lessons from the Battle of Accokeek

A Neglected Opportunity
Robert Hart on the Criticisms of Dominus Iesus

Virtual Evolution
Peter J. Leithart on Media & the Nature of Science



Berkeley's Radical
An Interview with Phillip E. Johnson



Every issue of Touchstone also contains short commentaries by our editors, notices of books you should know about, and our spirited letters section.