From the Editor—Friday Reflections
March 30, 2018
Were We There?
The Company We Keep at Golgotha
by James M. Kushiner
"Were You There?" is a beloved spiritual about Good Friday. We know many of the people who were there. There were Roman soldiers, commanded by a centurion, and two thieves crucified with Jesus.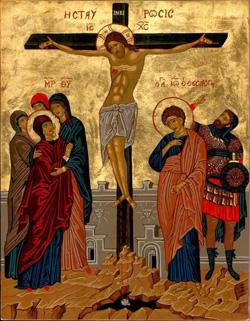 Simon of Cyrene, according to Matthew, Mark, and Luke, was compelled to carry the cross; he was there. Matthew says that many of Jesus' followers who were women were "there" (ekei), "looking on from afar." Among them, according to Matthew, were Mary Magdalene, Mary the mother of James and Joseph, and the mother of sons of Zebedee. Mark adds Salome. Luke says that "all [Jesus'] acquaintances and the women who had followed him from Galilee stood at a distance and saw these things."
Then John says that Mary Magdalene and Mary the wife of Clopas were standing, not at a distance, but "by the cross," along with Jesus' mother. They must have moved closer, perhaps, following Mary when she arrived at Golgotha, perhaps after they had. People, including the jeering mob, were moving about during the hours this all took place.
A verse from the Orthodox Lenten Triodion says, "When she beheld Thee nailed upon the Cross, O Christ, . . . in her love Thy Mother suffered with Thee as none but a mother can, for she knew Thee as her Son."
Driven by such maternal love, Mary drew near her Son, but not by herself, for she was accompanied by John. Her crucified Son took notice—"Jesus saw his mother, and the disciple whom he loved standing near"—and said, "Woman, behold your son!" And then to his disciple, "Behold, your mother!"
Nowhere in sight were the other Twelve disciples. The sixth-century poet Romanus pictured the Virgin on the way to Calvary saying:
"You are on your way, my child, to unjust slaughter,
and no one suffers with you. Peter is not going with you, he who said,
'I will never deny you, even though I die!'
Thomas has left you, he who cried out, 'Let us all die with him!'
The rest, too, your own and your companions
who are to judge the tribes of Israel; where are they now?
Not one of all of them, but you alone, my child,
One on behalf of all, are dying. Instead of them you have saved all.
Instead of them you have made satisfaction for all,
my Son and my God."
In becoming flesh of the womb of the Virgin Mary, Jesus took his place in the physical fabric of humankind. He shared DNA with Mary and with her ancestors (and ours!). Luke outlines Jesus' human ancestry back to Adam.
Jesus came to redeem all his fellow human flesh and raise it up, so he brought his—and our—flesh to the Cross. "He bore our sins in his body on the tree, that we might die to sin and live to righteousness. By his wounds you have been healed." (1 Peter 2:24)
His death in the flesh is also our healing. In Romanus's poems, Jesus speaks to Mary of Adam's illness, death, due to his sin; he goes, he tells her, to heal Adam and Eve. Romanus imagines Jesus saying to His Mother, speaking of all her forebears, including Adam and Eve:
"...you will see how, like a physician, I undress and reach the place where they lie and I treat their wounds,
cutting with the lance their calluses and their scabs.
And I take vinegar, I apply it as astringent to the wound,
when with the probe of the nails I have investigated the cut,
I shall plug it with the [purple] cloak.
And, with my cross as a splint,
I shall make use of it, Mother, so that you may chant with understanding,
'By suffering he has abolished suffering,
my Son and my God'."
Peter was not there in person "when they crucified my Lord," nor was Paul. Yet Adam and the whole human race was there, carried in the body of Jesus on the Cross. Paul counted himself "crucified with Christ." We were there. Every one of us. But only those who accept that Cross and embrace it, thus dying to the world, are given the power to enter through the portal of the Cross into Paradise. The only way to truly know Christ and the power of his resurrection? You had to be there, just like the Good Thief was—he saw the opening and seized it! The other thief was somewhere else. The choice is always ours.
Wishing a Blessed Holy Week to the Orthodox, and Triduum and Easter to the rest.
Yours for Christ, Creed & Culture,



James M. Kushiner
Executive Director, The Fellowship of St. James
---
—James M. Kushiner is Executive Editor of Touchstone: A Journal of Mere Christianity, and Executive Director of The Fellowship of St. James.