From the Editor—Friday Reflections
April 5, 2019
The Two Gatherings of Verona
A Non-Meeting of Minds on Life & the Family
by James M. Kushiner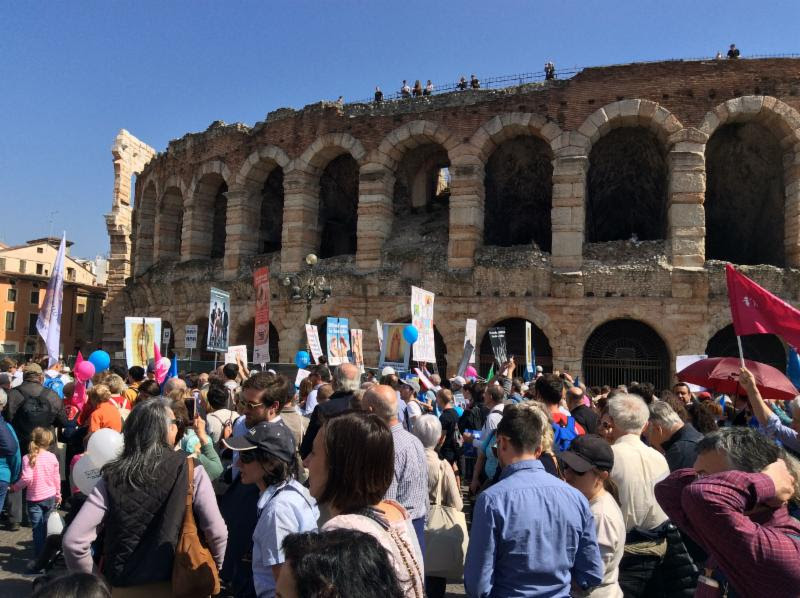 I planned but failed last Friday to file a report from Verona, Italy. Blame it on not having a wi-fi connection at the right time or travel fatigue by the time I did. The World Congress of Families in which I was participating was intense. After all, according to CNN, this "international alliance of far-right politicians, conservative activists and religious leaders have united in hate." Hate can just tire a man out.
The Congress of hate was supported by Verona's mayor, Federico Sboarina, one of the speakers on the program, which also included Italy's Interior Minister Matteo Salvini, Lorenzo Fontana, Minister for Families and Disabilities, and Education Minister Marco Busetti. Verona, the "City of Love," home of Romeo and Juliet, began its descent into hatred last fall when, with the support of the city council, it declared itself a pro-life city.
Father Fortunato Di Noto, from Sicily, spoke of the children who are aborted, trafficked for organs, or trafficked for sex. He has been fighting child pornography for 30 years. There are "child-lover" and "little boy lovers" websites where users vote on their favorite videos. The numbers of videos of child porn: 415 (up to 2 yrs); 449,237 (3-7 yrs); 670,312 (8-12 yrs). For his trouble, the priest is under police protection. The audience gave him a standing ovation.
Reportedly 20,000 protestors from all over Europe rallied against this Congress on Saturday. They were kept at a distance from the Palazzo della Gran Guardia, the Congress's venue, by police barricades. A police helicopter circled the area Saturday afternoon monitoring the unfriendly crowd.
Inside, the Congress heard unplanned speeches by a gay politician and a radio talk show host who supported abortion and gay marriage. They said that, while they disagreed with the views of the congress, they vigorously supported its right to present traditional views on the family, sex, marriage, and abortion, and to do so without interference. They respected our views and our right to speak about the "natural family." That's liberty and freedom of speech, so they disagreed with those who had denounced the conference and called for its suppression.
Indeed, the emphasis of the conference was on the blessing of children, on not killing them in the womb, and the beauty of family life for the flourishing of culture and society's vitality. (I would flee an angry mob, a hateful gathering. Demons, they say, are usually present.)

Much of protest, really, boils down to sex. "Sex" may be viewed as something to "get" or to "give." Man may either be primarily a consumer or a giver. The Christian is called to be a giver. Sex is the means for giving life. One of God's greatest gifts is each human person, who is made in the image of God. In "the least of these" we are given a blessed task to fulfill, the care of a child. Disposing of such a creation of God is a grave rebellion and insult to our Maker.
On Sunday afternoon, at least 20,000 people joined a march to say Yes, Pro Vita & Famiglia, beginning at the plaza near the Congress. There were young men and women and children, grandmothers and grandfathers, and single people. No barricades were needed to protect others from the marchers. I neither saw nor heard anger or hatred.
Afterwards, in a Cineplex on the plaza, we attended the first European screening of Unplanned, the true story of Abby Johnson, pro-life activist and former director of a Planned Parenthood Clinic in Texas.
In the film, Johnson's character expresses genuine concern for women while serving as director and more concern for women after she fully realizes what she and Planned Parenthood have been doing. At no point is hatred a driving force. She sees, then speaks, the truth, because of love.
Unplanned is worth watching, but it is not for impressionable children. It is powerful for young people and adults who need to see the truth about life. If you can, see it soon. It's unforgettable. Just like children, most of whom are truly unplanned, yet unforgettable.
Yours for Christ, Creed & Culture,



James M. Kushiner
Executive Director, The Fellowship of St. James
---
James M. Kushiner is Executive Editor of Touchstone: A Journal of Mere Christianity, and Executive Director of The Fellowship of St. James.