From the Editor—Friday Reflections
May 25, 2018
Stones of Glory
War Memorials & Cemeteries Point Up
by James M. Kushiner
Memorial Day, an American observance, is May 28 this year. In my childhood, Memorial Day usually meant a visit to the cemetery on Woodward Avenue in Detroit, to visit and remember family members who had died, especially my grandpa James, who died when I was four.
Memorial Day began especially for the remembrance of those slain in war, a day on which graves were decorated, hence its original name, Decoration Day.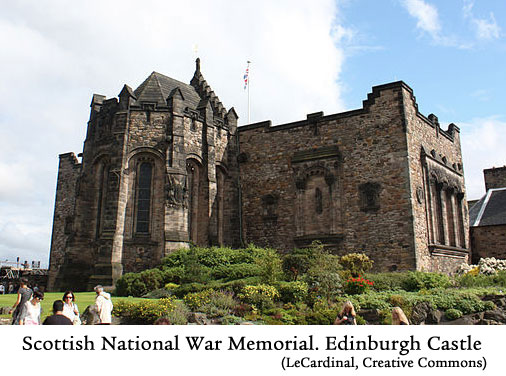 In 1998, while visiting my ancestral home Scotland, I paid my respects at the Scottish War Memorial, in Edinburgh Castle. In the regimental book of the Royal Scots Fusiliers I found the names of two relatives killed in action. One, James, was killed at Loos in 1915, the other, Donald, at Caen in 1944. James was a private, Donald, a lieutenant. James's body was never found; his name is listed with thousands of others on the war memorial at Loos. Donald's remains are buried in a military cemetery in Normandy in a grave tended by a French citizen.
My grandpa James served in WWI as part of the RAF, but stationed in Northern Ireland, he saw no battle. But the war was not as far away as I had imagined. In February 1918, in the waters between Northern Ireland and the Isle of Islay, Scotland (population 6,000), an American troop ship, the SS Tuscania, was sunk by a German U-boat. (Details are from a BBC story.)
Survivors of the sinking found safety on Islay. But there were hundreds of bodies to be buried. The island had no electricity, no air service, few motor vehicles, and one civil authority-a police sergeant on a bicycle, with three constables. After the first sinking, they recovered, identified, and buried the remains of nearly 200 Americans. The islanders "worked tirelessly to bury the dead with dignity."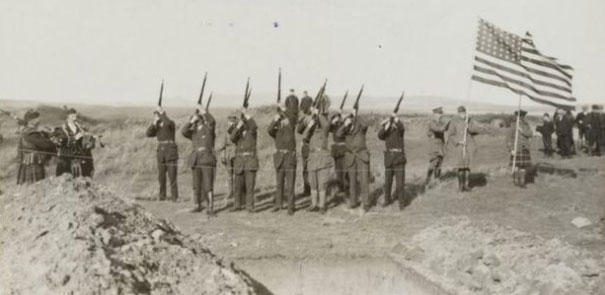 "They did not have an American flag for the funerals, so a small group of locals hand-stitched one from materials they had—working late into the night."
There was more to come to Islay. In November, HMS Otranto carrying American soldiers, many of them from Georgia, sank after a collision in a storm. Hundreds of victims were never recovered, and hundreds more were painstakingly identified and buried by the islanders.
All but one of the soldiers' bodies were exhumed after the war and returned for burial in the States. Private Roy Muncaster "was left to rest where the people of Islay buried him," at the request of his family.
In the summer of 1944, Marine veterans of Guadalcanal, on a return trip there to prepare for the invasion of Peleliu, wanted to visit the cemetery to pay respects to their comrades who died fighting alongside them. E. B. Sledge records in his memoir With the Old Breed that the veterans he knew (for some unspecified reason) "were not allowed to make the trip to the cemetery, and there was a great deal of understandable bitterness and resentment on their part because of this."
The interment of our soldiers and the building of memorials spring out of deep place in the soul, where we stand in silent reverence for those who willingly gave of their lives for their nation, their comrades, their families.
It's been 9 years since I took my father to D.C.'s WWII Memorial. I remember him slowly walking around, but only now do I realize that he must have been thinking of his comrades who never came home alive. Some are buried in Nettuno, Italy, others in France. He alone could walk the stones of the memorial with those comrades in his memories. I could only watch.
What strange creatures we are that we journey to a field of cut stones, engraved with the names of those who lie beneath the grass, buried in the earth and stand in reverence, in memory and prayer. We remember, but more importantly, the Lord of all remembers, even those whose bodies have not been found-yet.
In Christendom, it became the rule to treat the bodies of our dead with great respect without a thought of ritual uncleanness. For Christ overturned the uncleanness of death, making our cemeteries into hallowed ground, bearing many signs of hope pointing to his Final Victory.
Yours for Christ, Creed & Culture,



James M. Kushiner
Executive Director, The Fellowship of St. James
---
—James M. Kushiner is Executive Editor of Touchstone: A Journal of Mere Christianity, and Executive Director of The Fellowship of St. James.