For complete online access to
new issues of Touchstone, subscribe today!
---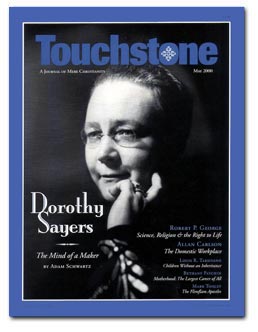 Children Without an Inheritance
by Louis R. Tarsitano



Practical Christianity
Ecclesiastical Math
by Thomas S. Buchanan



The Flimflam Apostles
The Jesus Seminar Goes on a Mission
by Mark Tooley



A Lonely Poet
Emily Dickinson and
the Art of Belief
by Roger Lundin
A review by Patrick Henry Reardon



The Domestic Workplace
Feminism, Careers & the Family: Who Has Gained? Who Has Lost?
by Allan Carlson

God's Reasons
Science, Religion & the Right to Life
by Robert P. George

The Mind of a Maker
An Introduction to the Thought of Dorothy L. Sayers Through Her Letters
by Adam Schwartz



Boundary Keepers
Louis R. Tarsitano on the Duty of Professionals

A Student's Garden of Terrors
David M. Whalen on Fearing Rightly

The Largest Career of All
Bethany Patchin on Motherhood



Every issue of Touchstone also contains short commentaries by our editors, notices of books you should know about, and our spirited letters section.