For complete online access to
new issues of Touchstone, subscribe today!
---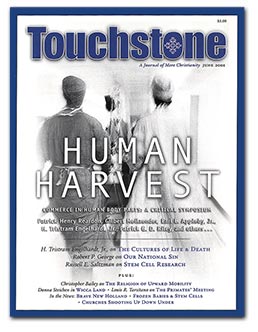 Complicit Voters
by S. M. Hutchens

Religion Without Salvation
by James Hitchcock



As It Is Written...
Abner's Tough Decision
by Patrick Henry Reardon

Practical Christianity
On Shamefulness
by Thomas S. Buchanan



No Governing Legal Authority?
What to Make of the Primates' Meeting
by Louis R. Tarsitano



The Wiccan Myth
Goddess Unmasked
by Philip G. Davis
A review by Donna Steichen

Styles of Honor & Duty
The Midshipman Quinn Collection
by Showell Styles
A review by Patrick Henry Reardon



Human Harvest
Commerce in Human Body Parts: A Critical Symposium
With contributions by
Earl E. Appleby, Jr.,
John Eudes Bamburger,
Paul A. Byrne,
H. Tristram Engelhardt, Jr.,
Mark Haverland,
Gilbert Meilaender,
Patrick Henry Reardon
& Patrick G. D. Riley



Life & Death After Christendom
The Moralization of Religion & the Culture of Death
by H. Tristram Engelhardt, Jr.



Our National Sin
Robert P. George on the Past, Present & Future of Abortion

Mary Tyler Moore's Autograph & What I Did with It
Russell E. Saltzman on Stem Cell Research

The Church of Moloch (Reformed)
Christopher Bailey on the Religion of Upward Mobility



Every issue of Touchstone also contains short commentaries by our editors, notices of books you should know about, and our spirited letters section.