For complete online access to
new issues of Touchstone, subscribe today!
---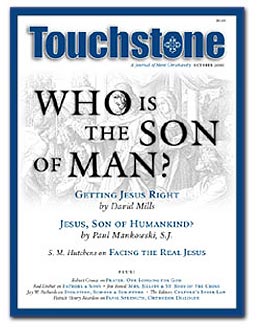 Culture's Inner Law
by Patrick Henry Reardon

Facing the Real Jesus
by S. M. Hutchens



The Leading Edge
The Ghost in My Machine
by Phillip E. Johnson

As It Is Written...
The Cities of Refuge
by Patrick Henry Reardon

Practical Christianity
The Cardinal Virtue of Temperance
by Thomas S. Buchanan



Primacy & Conciliarity
Addison H. Hart on Orientale Lumen V
by Addison H. Hart



The Evolving Debate over Origins
B. B. Warfield: Evolution,
Science and Scripture,
Selected Writings
edited by Mark A. Noll and
David N. Livingstone
A review by Jay W. Richards

A Cross for Human Thought
The Mystery of the Trinity
by Boris Bobrinskoy
A review by R. Andrew Newman



Getting Jesus Right
How Heresy Seduces the Sincere
by David Mills

Heavenly Avarice
The Theology of Prayer & Aspiration
by Robert Crouse

Jesus, Son of Humankind?
The Necessary Failure of Inclusive-Language Translations
by Paul Mankowski



Holding My Own in New York
Rod Dreher on Fathers & Sons

Dialogue & Papal Strength
Patrick Henry Reardon on Rome & the Orthodox Church

Mrs. Jellyby & St. John of the Cross
Jim Forest on Activism & Prayer



Every issue of Touchstone also contains short commentaries by our editors, notices of books you should know about, and our spirited letters section.