For complete online access to
new issues of Touchstone, subscribe today!
---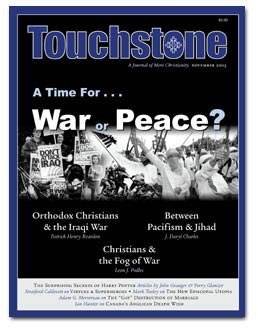 Christians & the Fog of War
by Leon J. Podles

The Evangelical & the Academy
by S. M. Hutchens



As It Is Written...
The Laughter of Isaac
by Patrick Henry Reardon



Episcopal Road to Nowhere
ECUSA's "Gay" Bishop Is Not Christianity's Future
by Mark Tooley

Declining Spirits
The Self-Inflicted Wounds of the Anglican Church
by Ian Hunter



Wayfaring Between Two Infinities
The Life You Save
May Be Your Own
by Paul Elie
A review by Addison H. Hart



Not So Quiet on the Eastern Front
Orthodox Christians & the Iraqi War
by Patrick Henry Reardon

Between Pacifism & Jihad
The Just-War Tradition Today
by J. Daryl Charles

The Alchemist's Tale
Harry Potter & the Alchemical Tradition in English Literature
by John Granger



The Surprising Trouble with Harry
Perry Glanzer on Harry Potter & Public-School Moral Education

Supermen & Virtues
Stratford Caldecott on the Appeal & Value of Superheroes

NRISEV Update
Christopher Bailey presents: The Preface to the New Revised International Standard English Version

Defining Marriage Down
Adam G. Mersereau on the Strategy of "Gay" Activists for "Gay Marriage"



Every issue of Touchstone also contains short commentaries by our editors, notices of books you should know about, and our spirited letters section.