For complete online access to
new issues of Touchstone, subscribe today!
---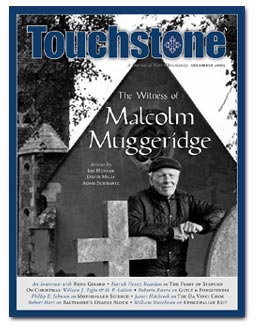 Ecumenical Exclusion
by David Mills



The Leading Edge
Mothballed Science
by Phillip E. Johnson

As It Is Written...
The Stoning of Stephen
by Patrick Henry Reardon



The Very Last Straw?
Conservative Episcopalians Rally in Texas
by William Murchison



A Brightly Burning Christian
God and the World
by Joseph Cardinal Ratzinger
A review by Carl E. Olson

A New Christian Everyman
The Hidden Key to Harry Potter
by John Granger
A review by Robert Trexler



Seeing Thro' the Eye
The Prophetic Legacy of Malcolm Muggeridge
by Ian Hunter

Vanity Fair's Thanatos Syndrome
Malcolm Muggeridge, Modern Capitalism & the Culture of Death
by Adam Schwartz

Years the Locusts Have Eaten
Malcolm Muggeridge's Chronicles of Wasted Time as an Apology of Love
by David Mills



Calculating Christmas
William J. Tighe on the Story Behind December 25

Fantasy Faith
James Hitchcock on the Resurgence of Gnosticism

Dead Kids on the Block
Robert Hart on the Wages of Vice

Speechless in New England
Karl Stephan on Breakfasting with Cultural Antagonists

What the World Needs Always
Roberto Rivera on Levity, Guilt & Forgiveness



Violence & the Lamb Slain
An Interview with Rene Girard



Every issue of Touchstone also contains short commentaries by our editors, notices of books you should know about, and our spirited letters section.