The Harsh Word of Ahijah
The similarities between Samuel and Ahijah are truly striking. Both of them prophets from Shiloh, both were likewise appointed to designate new kings for Israel: Saul in the case of Samuel, Jeroboam in the case of Ahijah. Both of those kings, each of whom reigned roughly twenty years, proved to be failures. Finally, toward the end of their reigns, the same two prophets, both of them now quite old, were once again commissioned to announce the downfalls of the aforesaid kings and the impending changes of dynasty. Thus, Samuel prophesied the rise of David (1 Samuel 13:14), and Ahijah foretold the coming of Baasha (1 Kings 14:14).
Although the story of Samuel, because of its greater length and the richer detail in its telling, is doubtless the better known of the two, the account of Ahijah is no less dramatic and every bit as memorable.
Ahijah first appears on the biblical scene late in the reign of Solomon. By way of preparing for his appearance, Holy Scripture tells of the evils attendant on Solomon's rule (11:1–9) and the external political enemies who rise to challenge his kingdom (11:14–25). It is at this point that the Bible introduces young Jeroboam, whom Solomon has appointed an overseer for the northern tribes. As Jeroboam leaves Jerusalem to undertake his new responsibilities, he is met by the prophet Ahijah, who abruptly proceeds to tear his clothing into twelve parts. Having thereby gained his total attention, Ahijah explains to the young man that these twelve parts represent Israel's twelve tribes, and he goes on to prophesy that Jeroboam will govern ten of those tribes, leaving only two tribes for the dynasty of David (11:26–39). All of this prophecy is fulfilled in the events that immediately follow the death of Solomon (11:30—12:16).
We do not again hear of Ahijah for a long time, nor does the Bible give us reason to suppose that Jeroboam further consults the prophet for advice in the governance of the realm. Unlike David, whose reign benefited from the prophetic counsel of Nathan, Jeroboam puts all thought of God behind him (14:9). On one occasion, when he is accosted by an anonymous prophet from Judah, Jeroboam asks for the man's prayers but pays no heed to his prophetic warning (13:1–9). Furthermore, if Jeroboam had conferred with the prophet Ahijah, whom God sent to him in the first place, he likely would not have erected those two golden calves at Bethel and Dan, thereby doubling the ancient infidelity of Aaron. (Compare 12:28 with Exodus 32:4,8.)
No, Jeroboam does not place himself under the judgment and discipline of the prophetic word. He is one of those men who want God on their side without being on God's side. Craving the divine aid without the divine ordinance, Jeroboam will not consult Ahijah again for many years.
When he does so, it is because his son is sick, and he sends his wife to the prophet in hopes of obtaining a favorable word. Jeroboam sends her, moreover, in disguise, evidently too embarrassed to let Ahijah know who it is that seeks that word. The prophet himself, by this time, has grown very old, and his sight is failing.
Foolish Jeroboam, thinking to deceive the prophetic vision. Ahijah had been able to read the signs of the times during the reign of Solomon, but Jeroboam now fancies he can deceive the old seer with such a clumsy ruse. Inwardly guided by the Almighty, Ahijah reads the situation perfectly, and the Lord himself dictates "thus and thus" what he is to say.
The awful asperity of Ahijah's word to Jeroboam is enhanced by the ironies of the scene. At the doorway, deeply anxious for her sick child, arrives this woman clothed in a hopeless disguise. At her footfall, before one syllable escapes her lips, she is already detected by an old blind man, greeting her with a harshness hardly surpassed on any page of Holy Scripture (14:6–16), informing her, not only that the child will die, but that he will be the last in the family even to find his way to a grave. All the others will be devoured by dogs and birds. Mercy now is found no more, nor tenderness, but terrifying, unspeakable finality. God's last word to Jeroboam, the man who "made Israel to sin," is a kind of paradigm of damnation itself: "Depart from Me, you cursed, into the everlasting fire." Ahijah speaks for the God who reads hearts and is not mocked.
Patrick Henry Reardon is pastor of All Saints Antiochian Orthodox Church in Chicago, Illinois. He is the author of Christ in the Psalms, Christ in His Saints, and The Trial of Job (all from Conciliar Press). He is a senior editor of Touchstone.
Not a subscriber? Subscribe to Touchstone today for full online access. Over 30 years of content!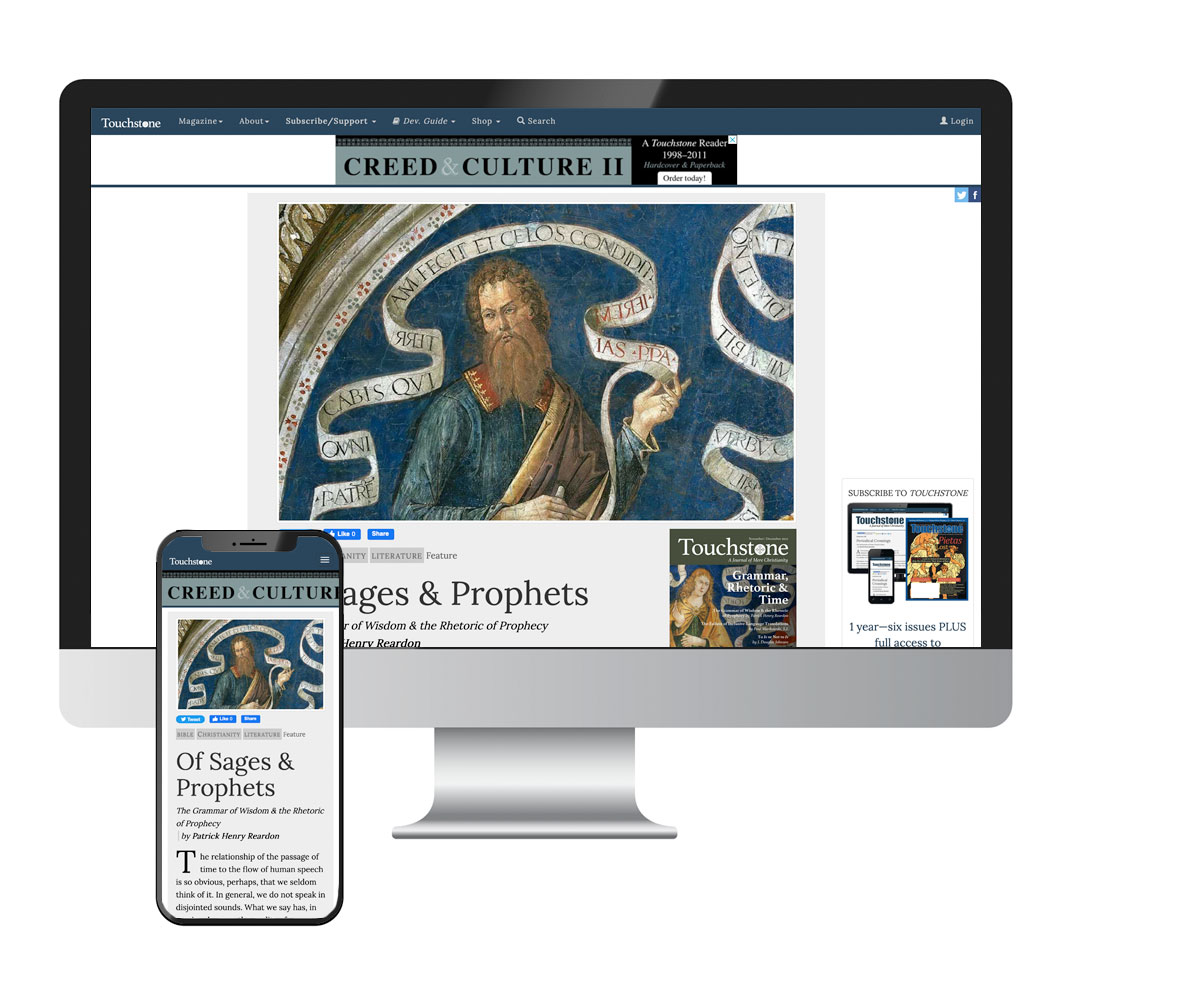 Get a one-year full-access subscription to the Touchstone online archives for only $19.95. That's only $1.66 per month!
Purchase Print &
Online Subscription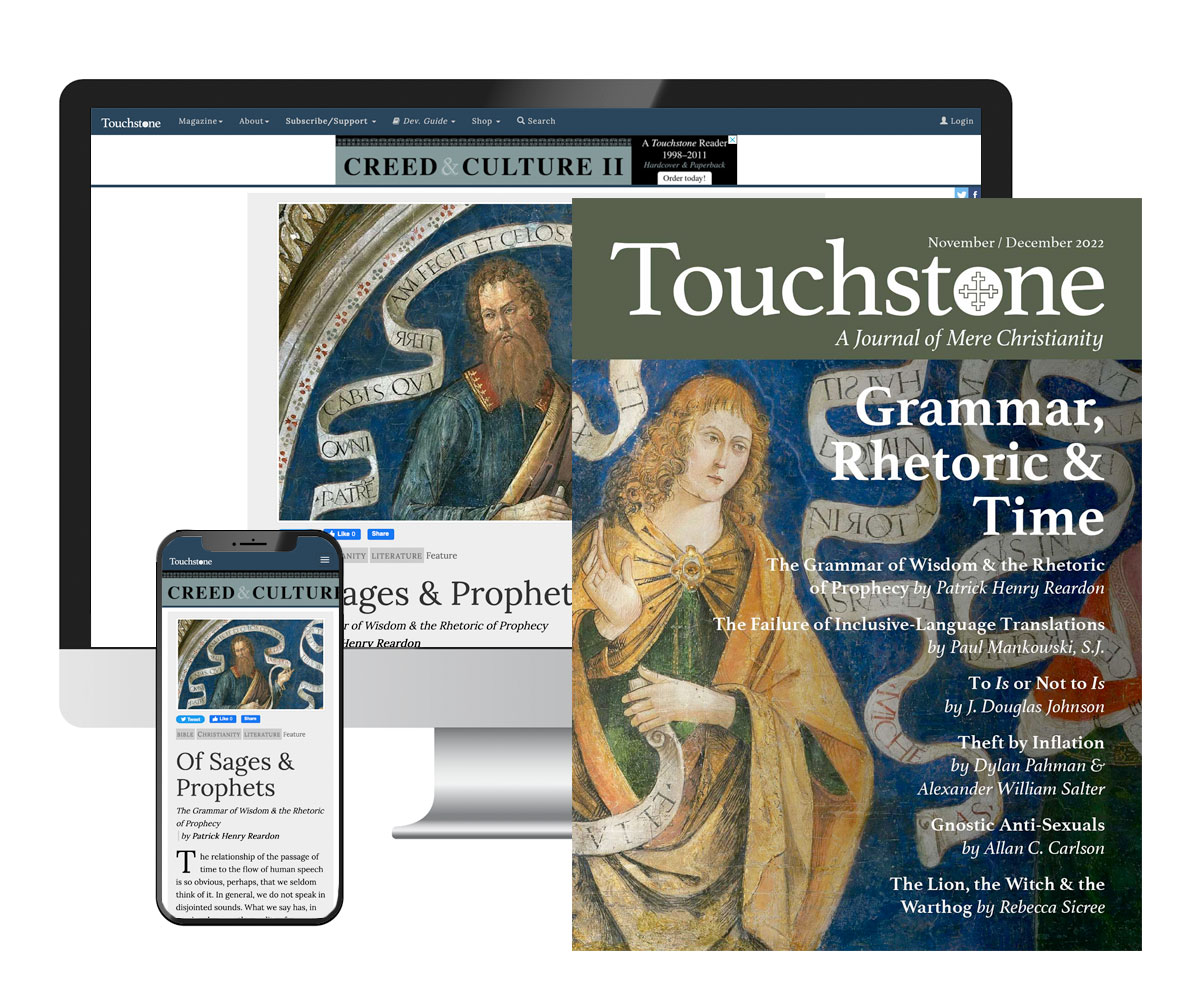 Get six issues (one year) of Touchstone PLUS full online access for only $29.95. That's only $2.50 per month!
Your subscription goes a long way to ensure that Touchstone is able to continue its mission of publishing quality Christian articles and commentary.
*Transactions will be processed on the secure server of The Fellowship of St. James website, the publisher of Touchstone.
from the touchstone online archives