For complete online access to
new issues of Touchstone, subscribe today!
---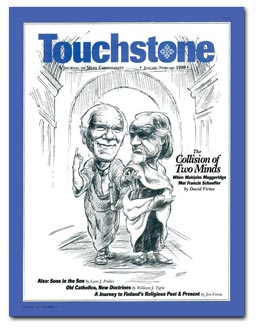 The Sword & the Scalpel
by David Mills



Practical Christianity
Christian Halakah
by Thomas S. Buchanan



Those Curious Lutherans
The Comforts of Northfield Theology
by S. M. Hutchens



Mainstream Gothic
Nightmare on Main Street
by Mark Edmundson
A review by Robert W. Grano

Tracing the Path to Impasse
Biblical Interpretation
by Gerald Bray
A review by Patrick Henry Reardon



Sons in the Son
God and Man in Early Christianity
by Leon J. Podles

Old Catholics, New Doctrines
The Demise of the Union of Utrecht
by William J. Tighe

The Collision of Two Minds
Malcolm Muggeridge Meets Francis Schaeffer
by David Virtue

A Finland Diary
A Journey into the Religious Past & Present of Finland
by Jim Forest



Living by Mercy
Louis R. Tarsitano on Christian ?Self-Help?

Connecting the Invisibles
Eugene Peterson on Faith & Art

Real Virtue for Early Adolescents
Raymond J. Brown on Raising Children

Reflections on "Revising Our Pledges of Allegiance"
James J. Condra on "Christian America"



Every issue of Touchstone also contains short commentaries by our editors, notices of books you should know about, and our spirited letters section.