For complete online access to
new issues of Touchstone, subscribe today!
---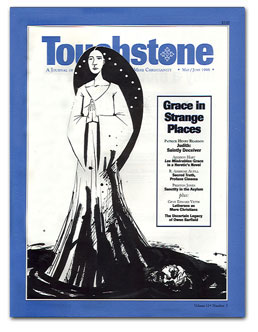 Sex Cathedra: Theology from the White House
by James Hitchcock



Practical Christianity
The Three-Hour Plan
by Thomas S. Buchanan



The Uncertain Legacy of Owen Barfield
Owen Barfield: Man and Meaning
Documentary video (VHS)
produced by G. B. Tennyson
for OwenArts Productions
A review by Dale Nelson



Prayer & the Work of God
Reflections on the Daily Office & the Prayer of the Heart
by Robert Louis Wilken

Evangelical Catholics & Confessional Evangelicals
The Ecumenical Polarities of Lutheranism
by Gene Edward Veith

Sentiments Abstractly Christian
Victor Hugo, Les Misérables, and the Catholic Imagination
by Addison H. Hart

Sacred Truth, Profane Cinema
Another Look at the Film Priest
by R. Ambrose Aufill

Apocryphal Judith, Saintly Deceiver
Judith, Tradition, & the Christian Reader
by Patrick Henry Reardon



Crazy or Christian?
Preston Jones on a Personal Encounter



Every issue of Touchstone also contains short commentaries by our editors, notices of books you should know about, and our spirited letters section.