For complete online access to
new issues of Touchstone, subscribe today!
---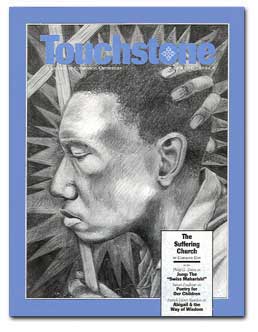 Infallibility & Ordination
by Patrick Henry Reardon

On Capital Punishment
by S. M. Hutchens



Practical Christianity
How They Love One Another
by Thomas S. Buchanan



The Ecumenical Orthodoxy of a Dominican
Scribe of the Kingdom: Essays on Theology and Culture by Aidan Nichols, O.P.
A review by William M. Klimon



The Fellowship of His Sufferings
Encountering the Suffering Church & A Call for Compassion
by Caroline Cox

A Faith Worth Disbelieving
Uncertainty About Doctrinal Truth Leads to Secularized Substitutes that Are Not Worth Believing
by Jerry L. Walls

Abigail & the Way of Wisdom
The Bible's Narrative & Wisdom Traditions Are Combined in a Story of Romance
by Patrick Henry Reardon

The Workshop of Worship
On Recovering Poetry for Our Children
by Steven Faulkner



Every issue of Touchstone also contains short commentaries by our editors, notices of books you should know about, and our spirited letters section.