For complete online access to
new issues of Touchstone, subscribe today!
---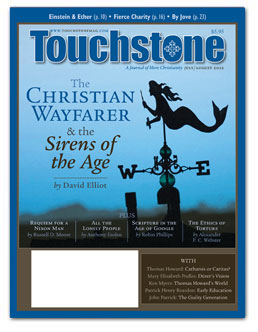 Changed Agents
by James M. Kushiner



The Leading Edge
Out from the Ether
by Phillip E. Johnson

Contours of Culture /
From Heavenly Harmony
Image & Reality
by Ken Myers

Illuminations
A Song for a Nation
by Anthony Esolen

A Thousand Words
Albrecht Durer's Vision of the Seven Candlesticks
by Mary Elizabeth Podles

As It Is Written...
Early Education
by Patrick Henry Reardon



Changing Churches
Journeys of Faith: Evangelicalism, Eastern Orthodoxy, Catholicism, and Anglicanism
edited by Robert L. Plummer
A review by Louis Markos

Hero Among the Wounded
The Humane Vision of Wendell Berry
edited by Mark T. Mitchell and Nathan Schlueter
A review by Arthur W. Hunt III



Requiem for a Nixon Man
The Redemption of Charles Colson's Loyalty
by Russell D. Moore

All the Lonely People
The Corrosive & Far-Reaching Fallout of the Sexual Revolution
by Anthony Esolen

Passing Through the Sirens
The Trials of the Christian Wayfarer in the World
by David Elliot

Scripture in the Age of Google
The Digital Bible & How We Can Read It
by Robin Phillips

Terrorism and Its Civilized Discontents
An Eastern Orthodox Ethical Reflection on Torture as Counter-Terrorism
by Alexander F. C. Webster



Shaped, Fixed & Free
Patrick Henry Reardon on the Divine Gift of Truth

Fierce Charity
S. M. Hutchens on the Christian's Duty to Be Strictly Loving

Catharsis? Caritas!
Thomas Howard on the Crucial Limits of Art's Power to Transform

The Guilty Generation
John Patrick on an Unnoticed Transformation of the Cause of Disease

Song of Jupiter
Nathanael Devlin on the Hymn That Turned His World Around



Every issue of Touchstone also contains short commentaries by our editors, notices of books you should know about, and our spirited letters section.