For complete online access to
new issues of Touchstone, subscribe today!
---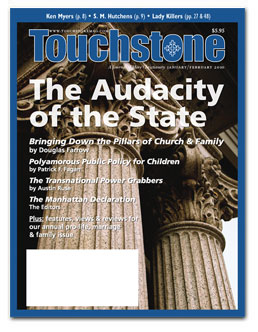 Where We Stand
by James M. Kushiner



Contours of Culture /
From Heavenly Harmony
Metaphysical Dream Weaver
by Ken Myers

Communiqué
Domestic Disturbances
by Patrick F. Fagan

Communiqué
Rulers Without Borders
by Austin Ruse

As It Is Written...
Unfair Warfare
by Patrick Henry Reardon



Academic Degradation
Theological Foundations for Environmental Ethics: Reconstructing Patristic and Medieval Concepts
by Jame Schaefer
A review by R. V. Young

Custodial State
Nation of Bastards: Essays on the End of Marriage
by Douglas Farrow
A review by Allan Carlson

Radiant Beauty
Miss Betsey: A Memoir of Marriage
by Eugene Genovese
A review by David Paul Deavel



For Words at a Loss
The Church's Response to Miscarriage & Stillbirth Needs More Work
by Michael Baum,
Andrew Kishler
& Patricia Kishler

Mothers in the Line of Fire
Women in Combat Is a Pro-life Matter of Moral Theology
by Andrew A. Sicree

The Audacity of the State
It's Bent on Bringing Down the House on the Family & the Church
by Douglas Farrow



Always the Trinity
S. M. Hutchens Answers a Question on Egalitarian Theology

Wisdom from the Table
Patrick Henry Reardon on the Foundational Culture of the Dining Room

Contradeception
Rebekah Curtis on the Public Nature of Marital Privacies

A Habitable World
Lance Nixon on Down Syndrome & the Wisdom of God



Every issue of Touchstone also contains short commentaries by our editors, notices of books you should know about, and our spirited letters section.