For complete online access to
new issues of Touchstone, subscribe today!
---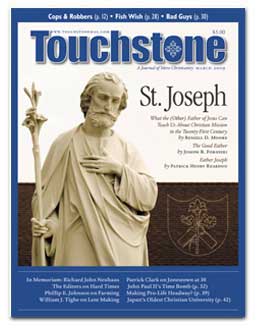 Love, Sex & Mammon
by Russell D. Moore



The Leading Edge
Thought for Food
by Phillip E. Johnson

Life Sentences
Dubious Choice
by Dennis Di Mauro

Communiqué
A Circle of Like Minds
by Jeffrey Folks

As It Is Written...
Father Joseph
by Patrick Henry Reardon



Purely Academic
Save the World on Your own Time by Stanley Fish
A review by Perry Glanzer

Faith in Place
A Cloud of Witnesses: Saints and Martyrs From the Holy Land
by Bishop Demetri (Matta) Khoury
A review by Patrick Henry Reardon

Big Boys Club
Guyland: The Perilous World Where Boys Become Men
by Michael Kimmel
A review by Howard F. Ahmanson, Jr.

Papal Explosives
Man and Woman He Created Them: A Theology of the Body
by Pope John Paul II
A review by Patrick C. Beeman



Abba, Joseph!
What the (Other) Father of Jesus Can Teach Us About Christian Mission in the Twenty-First Century
by Russell D. Moore

The Cup of the Lord
Reflections on the Difference Between Martyrdom & Suicide Thirty Years After Jonestown
by Patrick Mahaney Clark



Authority Figures
Patrick Henry Reardon on the Question That Jesus Refused to Answer

The Making of Lent
William J. Tighe on the Origins of the (More or Less) Forty-Day Fast

Cops & Robbers
Robert Hart on Why a Boy Is a Terrible Thing to Arrest

The Good Father
Joseph R. Fornieri on the Manly Character of St. Joseph



Every issue of Touchstone also contains short commentaries by our editors, notices of books you should know about, and our spirited letters section.