For complete online access to
new issues of Touchstone, subscribe today!
---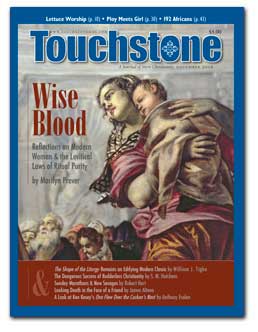 Tired of Life?
by James M. Kushiner



Illuminations
The Beat Escape
by Anthony Esolen

As It Is Written...
The Gospels & History
by Patrick Henry Reardon



African Power
How 192 Delegates Saved Methodists from Madness & Other Stories from the General Conference
by Mark Tooley

Jerusalem Crossroad
Twelve Hundred Pilgrims Meet in the Holy Land to Reclaim the Anglican Communion
by Lisa Severine Nolland



Ploy Meets Girl
Hooking Up: Sex, Dating, and Relationships On Campus by Kathleen A. Bogle
A review by Nathaniel Peters

Just As He Wasn't
The Legacy of Billy Graham: Critical Reflections on America's Greatest Evangelist edited by Michael G. Long
A review by Gerald J. Russello

Living Truth
Discerning the Mystery: An Essay On the Nature of Theology by Andrew Louth
A review by Robert W. Grano

University Study
The Baylor Project: Taking Christian Higher Education to the Next Level edited by Barry G. Hankins and Donald D. Schmeltekopf
A review by Brad Green



Wise Blood
Reflections on Modern Women & the Levitical Laws of Ritual Purity
by Marilyn Prever

The Shape of the Liturgy
Dom Gregory Dix's Imperfect Work Remains an Edifying Modern Classic
by William J. Tighe



Up a Creek
S. M. Hutchens on the Dangerous Success of Rudderless Christianity

Lettuce Worship
Frederica Mathewes-Green on Bible Lessons for the Disney Generation

Sabbath Shift
Robert Hart on Sunday Marathons & New Savages

Mortal Enemy
James Altena on Looking Death in the Face of a Friend



Every issue of Touchstone also contains short commentaries by our editors, notices of books you should know about, and our spirited letters section.