For complete online access to
new issues of Touchstone, subscribe today!
---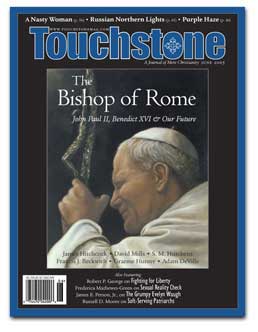 A Pope Alive
by James Hitchcock

Papal Bullseye
by David Mills



As It Is Written...
Athaliah's Motives
by Patrick Henry Reardon



Primacy Time
The Primacy of the Bishop of Rome and the Ecumenical Dialogue
by Adriano Garuti, O.F.M.
A review by Adam A. J. Deville

Islands of Prayer
Solovki by Roy Robson,
Touching Heaven by John Oliver
A review by Richard J. Mammana, Jr.



Paper Tiber
How Pope John Paul's Critics Would Tame the Church of Rome
by David Mills

Bodies of Evidence
The Real Meaning of Sex Is Right in Front of Our Eyes
by Frederica Mathewes-Green

Deadly Satire, Saving Grace
The Faith & Work of Evelyn Waugh
by James E. Person, Jr.

Soft Servants
Patriarchy, Marriage & the Future of Evangelical Christianity
by Russell D. Moore



The Pope Is Christian!
S. M. Hutchens on Disappointing Catholic Revisionists

Freedom's Fighters
Robert P. George on History's Greatest Force for Liberty & Justice

Service Men
Robert Hart on Men Who Are Not Savages

Muddle America
Joseph M. Knippenberg on Why Red & Blue States Are Really Just a Purple Haze

Vatican Bible School
Francis J. Beckwith on What John Paul II Can Teach Evangelicals

Truth in Toronto
Graeme Hunter on Papal Principles That Undermine Canadian Values



Every issue of Touchstone also contains short commentaries by our editors, notices of books you should know about, and our spirited letters section.