Mothers Courageous
Surprise Child: Finding Hope in Unexpected Pregnancy
by Leslie Leyland Fields
WaterBrook Press, 2006
(176 pages, $11.99, paperback)
reviewed by Dave Andrusko
The token pro-lifer on a panel at a gathering of professional journalists, I had explained that an abortion clinic operator's assurances that there were "limits" on the "right" to abortion were not consistent with the radical, incautious holdings of Roe v. Wade. My efforts to assure the skeptical crowd that pro-lifers did not have horns seemed to have some effect.
Then the abortion clinic owner smiled her most dismissive, condescending smile and announced that pro-lifers just didn't understand what women really went through when faced with an unplanned pregnancy. While abortionists operate in the "real world," she implied, pro-lifers had taken up residence in a dream world where all pregnancies are planned, perfect, and problem-free. We were at best hopelessly idealistic, at worst disconnected from reality.
The room was so quiet you could have heard a curette fall. Nothing I could say—whether concerning the existence of thousands of crisis pregnancy centers or concerning my extended family's own personal experience with "real-world" pregnancies—could make a dent in this peculiar claim. Only those whose answer to an untimely pregnancy is to abort could really understand the soul-wrenching experience women face.
Children Unbidden
I remembered that gathering as I read Surprise Child, Leslie Leyland Fields's unflinchingly honest account of the emotional, psychological, and spiritual struggles she endured when in her forties she became pregnant twice. While Fields would never have aborted her children, she was torn by the raging sense that there wasn't enough of her to meet the needs of rearing a fifth, and later a sixth, child.
Already the mother of three boys and a girl, Fields had finally secured a tenure-track position teaching English at a state university. Then, her life firmly on track, she was pregnant at 42. Seemingly in a blink of an eye later, she was pregnant again.
Fields intertwines an explanation of her unborn children's development and her own feelings as the pregnancies advanced with the stories of some 25 other women who also faced down their deep apprehensions about pregnancies that had come "unbidden." Knowing from the Introduction that no baby's life was taken only makes these accounts more gripping.
Surprise Child tells the stories of women who watched with dread to see whether a line would appear in the pregnancy-test stick, and when the line did appear, felt (as Fields did initially) overwhelmed by the "darkness of anxiety, resistance, and fear." They had no intention of being pregnant, or had made their peace with infertility or an inability to carry a baby to term, or had arranged their lives knowing that they would never have to change diapers again.
All were convinced "I can't be pregnant," because their boyfriend didn't want the baby, or they already had four children under five, or they were about to be the first one in their family to go to college, or their husband was deployed to Iraq, or they had an eldest child with significant disabilities, or. . . . And yet life prevailed in each case.
Acting with courage and purpose and nobility when so many tell you to abort or fail to offer support is a demanding test of character indeed.
The Crisis
Fields unequivocally upholds the sanctity of unborn human life but insists we (and especially the Church) not gloss over how life-altering, even harrowing, any pregnancy—and particularly an unplanned pregnancy—can be. "Most Christians see pregnancy as a crisis only when the woman decides to have an abortion," she writes. They think that when she decides to have the baby,
that crisis is over. And we think that Christian women would never have an abortion—this is not a crisis for them. But this is simply not true. Even knowing this child comes from God doesn't take away or change your life circumstances or even your frame of mind. Sometimes having and keeping the baby is the crisis.
Like steel tempered by fire, these women come out all the stronger. "You did not listen to those who may have urged you to end this pregnancy," she writes.
You have changed your life, sustained other losses to bring this baby to light and air. And now you have something to show for these months and sacrifices: beautiful bone and flesh and blood of your very bone. But there is more. You are more than you once were. You emerge from this birth more resilient and resourceful, wider and deeper than the woman who stared unbelieving at a test stick forty weeks ago. You've traveled so far and done so much. Rest now in all you have created and become.
The stories of these women are a testimony to the power of the human spirit and the strength that faith in a loving God provides. Leslie Leyland Fields is to be congratulated for penning a small masterpiece.
Dave Andrusko is the editor of National Right to Life News (www.nrlc.org). He has edited five books and contributed to popular and biomedical journals. He is vice chair of the Church Council of Old Bridge United Methodist Church in Woodbridge, Virginia, where he teaches adult Sunday School.
Not a subscriber? Subscribe to Touchstone today for full online access. Over 30 years of content!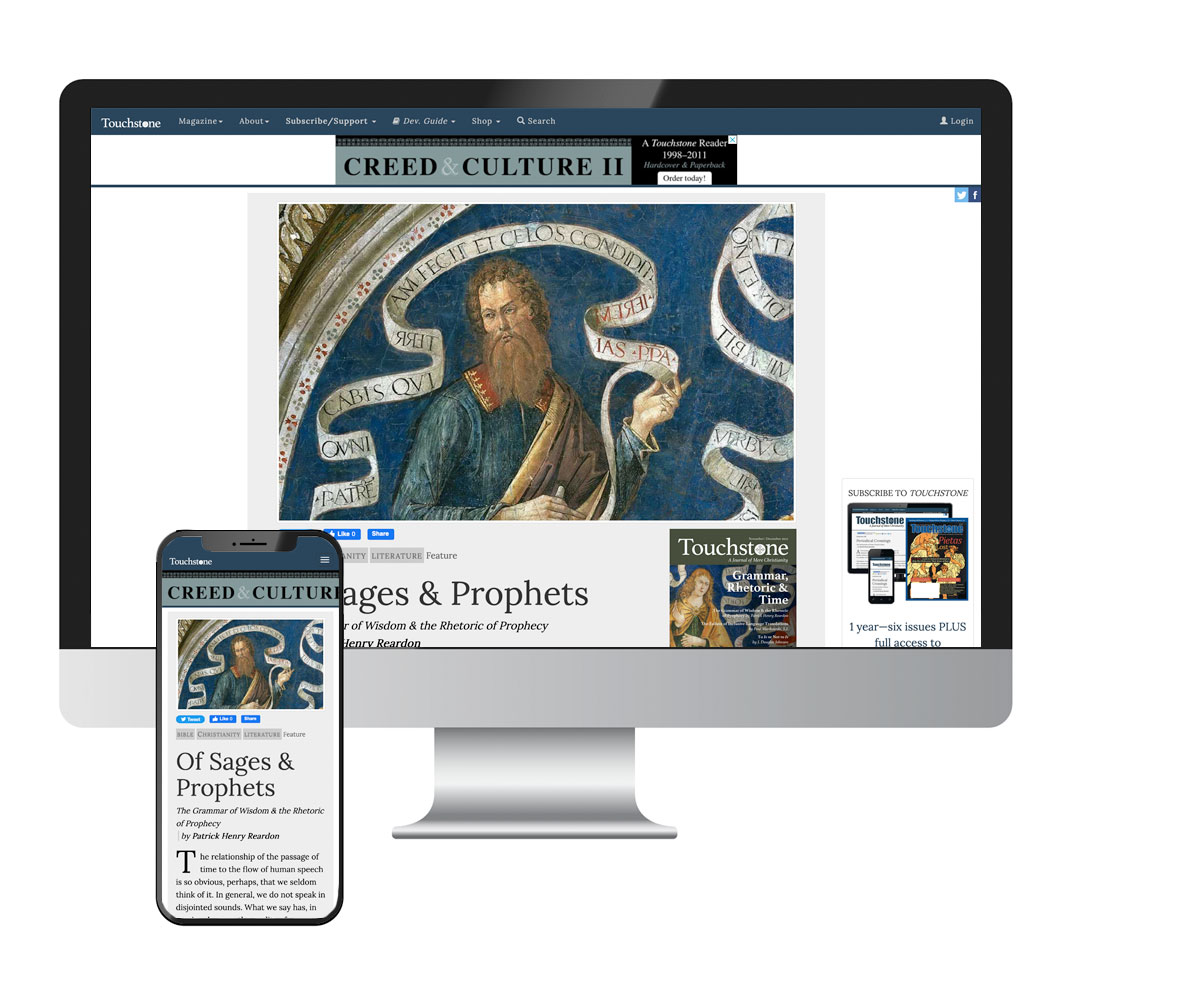 Get a one-year full-access subscription to the Touchstone online archives for only $19.95. That's only $1.66 per month!
Purchase Print &
Online Subscription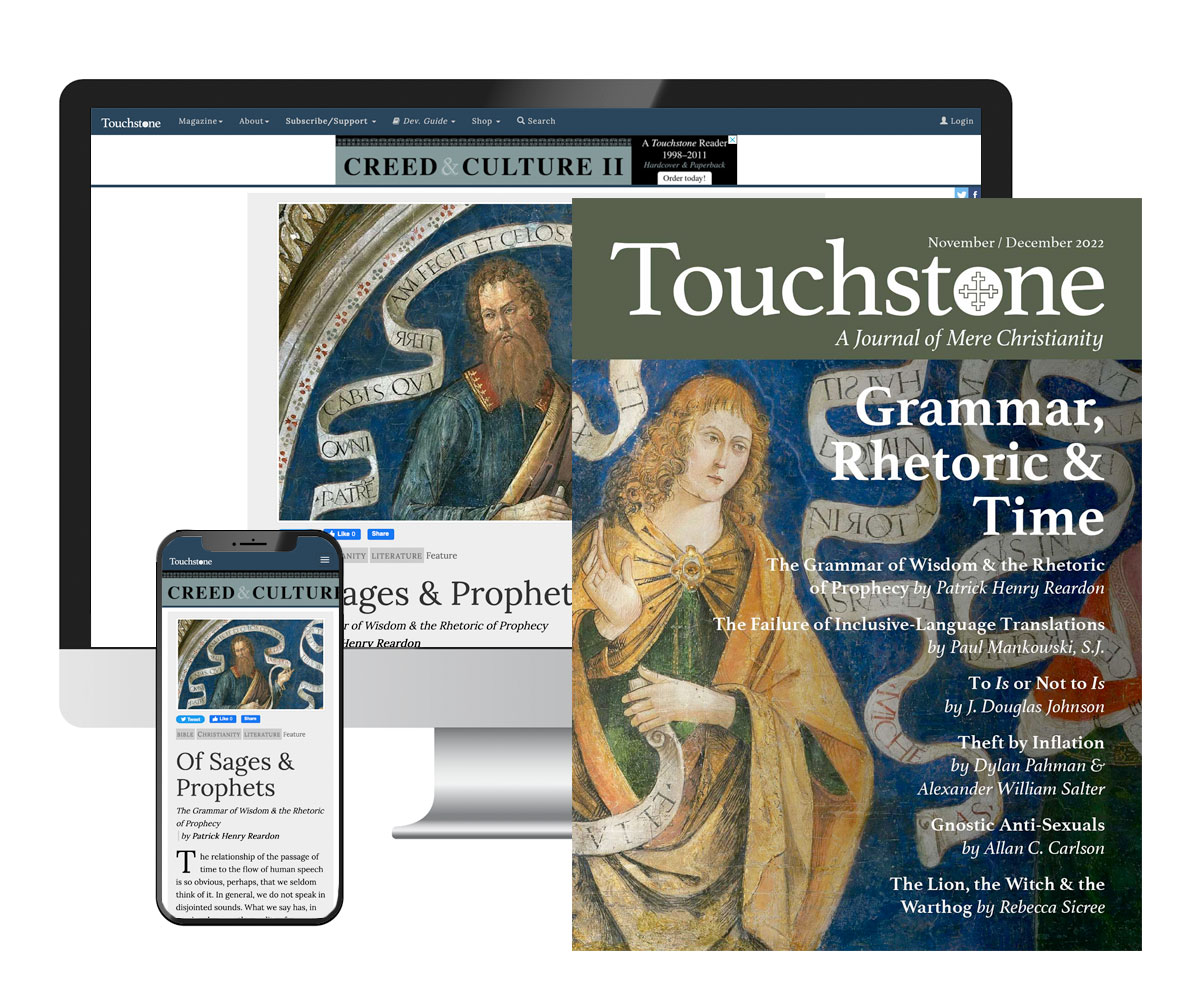 Get six issues (one year) of Touchstone PLUS full online access for only $29.95. That's only $2.50 per month!
Your subscription goes a long way to ensure that Touchstone is able to continue its mission of publishing quality Christian articles and commentary.
*Transactions will be processed on the secure server of The Fellowship of St. James website, the publisher of Touchstone.
from the touchstone online archives