Storied Houses
Emily Stimpson on the Neglected Tales Old Homes Can Tell About the World
I grew up along the Mississippi in an old Illinois river town. Remnants of the city's more prosperous days lined the riverbank: gracious old homes with turrets and gingerbread trim, all in varying states of decay. Most stood empty, save for the vagrants who set up camp inside.
I don't know how old I was when I first dreamed of rescuing those abandoned homes from their sorry fate. Not very, I suppose, since I can't remember a time before the dream. It was an impractical child's dream, with no understanding of the cost. I just knew that the homes were once lovely and once loved and that they could be again.
Not Just Buildings
The years passed. I left for college and never moved back. The dream, however, lingered. Finally, a few months before my thirtieth birthday, in another sad old river town, hundreds of miles away from the Mississippi, I bought my dream.
It is no mansion, just a simple Arts and Crafts foursquare built in 1915, but it is lovely. Kind former owners spared it from the atrocities done to most older homes during the 1960s and 1970s. When I found it, the plaster walls were intact, although badly cracked; the cedar siding flawless, just needing some paint. Leaded glass windows, original built-in cabinets in the kitchen, and gorgeous oak woodwork remained. It needed a lot of cosmetic work, but I told myself, "It will be worth it in the end."
Thousands of dollars and thousands of hours later, I am halfway through the restoration process, and, most days, I still believe that. There are days, of course, when I think the house is possessed by evil spirits determined to break me body and soul . . . or at the very least, bankrupt me. But those days are increasingly rare. In the midst of all the patching and painting, I've come to understand just why I've always loved these old houses so much.
Houses aren't just buildings. They are the stages on which men and women act out the mad drama of life. They are the theater of the family. And they tell stories—stories about the men who built them, stories about the men who inhabited them, and stories about the world in which all those men lived. The Victorian mansions I dreamed of as a child tell one story. My Arts and Crafts foursquare tells another. In the details each story differs, but in the essentials they are very much the same.
Their stories tell of other ages, ages when beauty mattered. Fine craftsmen built my house. The hundreds of lovely details that fill every corner are the work of their hands. It was their art. And it is beautiful. Intricate diamond patterns in leaded glass windows, tiny roses engraved on doorknobs, delicate wainscoting on the front staircase—all witness to the artistry of men who lived a century ago.
There is an abundance of loveliness in this house of mine. There is also poetry—a symmetry and rhythm in its design and construction unlike anything I have encountered in the homes of today. Those who built my house instinctively knew what the Church has always known: Men need beauty. Through it, we see God.
A Strong World
These old houses also tell stories of worlds that valued more than just the appearance of strength, but strength itself. My house is solid. The walls are lathe and plaster, thick and hard. The floors, windows, and doors are made with real wood; the glass in the windows is real glass.
It is authentic. True. Nothing pretends to be what it is not. Plastic laminate does not pretend to be wood, half-inch cardboard does not pretend to be plaster, vinyl siding does not pretend to be clapboard. The house breathes. It is organic. And that matters. Where there is truth, there is always strength and security.
The stories also have a bit of mystery in them. Mystery exists in the very design of my house—unexpected stairways and odd angles meet you at every turn. Traces of the families who lived here before me add to the mystery—battered children's toys buried in the backyard and letters of the alphabet scrawled inside closet walls. I don't really believe in ghosts, but something lingers in the rooms where others once walked. The Church teaches that we are never alone, that the angels and saints are always present to us. Somehow, my house bears witness to that.
But the most vivid story these old houses tell is a story of a world where homes were not designed around television sets, where children and parents gathered around the dinner table each night for food and conversation, and where neighbors spent summer evenings on each other's front porches, chatting and gossiping while their children ran through the streets. Family prayers, not the latest episode of Survivor, ended the day. Bigger was not always better. Love meant something more than quality time.
In my house, the kitchen is small, with no room for industrial-size appliances. The bedroom closets are miniscule. There is one full bath, no Great Room, and no Master Suite. But for ninety years, large families filled this house. One had five children, another eight. Despite the lack of counter space, the mothers managed to cook three meals a day. Even without jetted tubs and designer faucets, their families presented themselves respectably and on time at school and office. The closets held what was needed, nothing more.
Because they had so little space, children and parents alike learned what it meant to share. They loved through compromise and sacrifice. Someone once told me that the breakdown of the modern family began with the introduction of the second bathroom. I'm not so sure they're wrong.
Neglected Stories
If you live in one of these old homes, look around you. Stand for a minute on your front porch. If your house is of the modern persuasion, hop in the car and find the nearest historic neighborhood. Take a stroll. What you will see are books written with wood, stone, and glass.
When we neglect these books or try to turn them into something they are not, we're neglecting a story of beauty and truth, of mystery and family. We're neglecting a story of the things that make life so incredibly lovely. We're neglecting a story that the Church carries in her heart and so dearly wants us to make our own.
The very things that made my ten-year-old heart ache for those abandoned Victorians on the Mississippi now make my thirty-year-old heart ache for the men and women who thoughtlessly reject Christ's mercy and grace. Both are neglected stories, one infinitely more important than the other, but both in many ways the same and both very much true.
Keeping those stories alive is, in part, what gives purpose to the Christian life. And in my little way, with each cabinet I refinish and window I repair, that's what I'm doing—keeping stories alive, making it that much harder for the world to forget what once was. And what could be again.
Emily Stimpson lives in Steubenville, Ohio, where she divides her time between working on her old house and writing for Franciscan University?s magazine Franciscan Way. A refugee from the world of D.C. politics, Emily previously worked for Senator Jim Talent (R-Mo.) and former Attorney General Edwin Meese III.
Not a subscriber? Subscribe to Touchstone today for full online access. Over 30 years of content!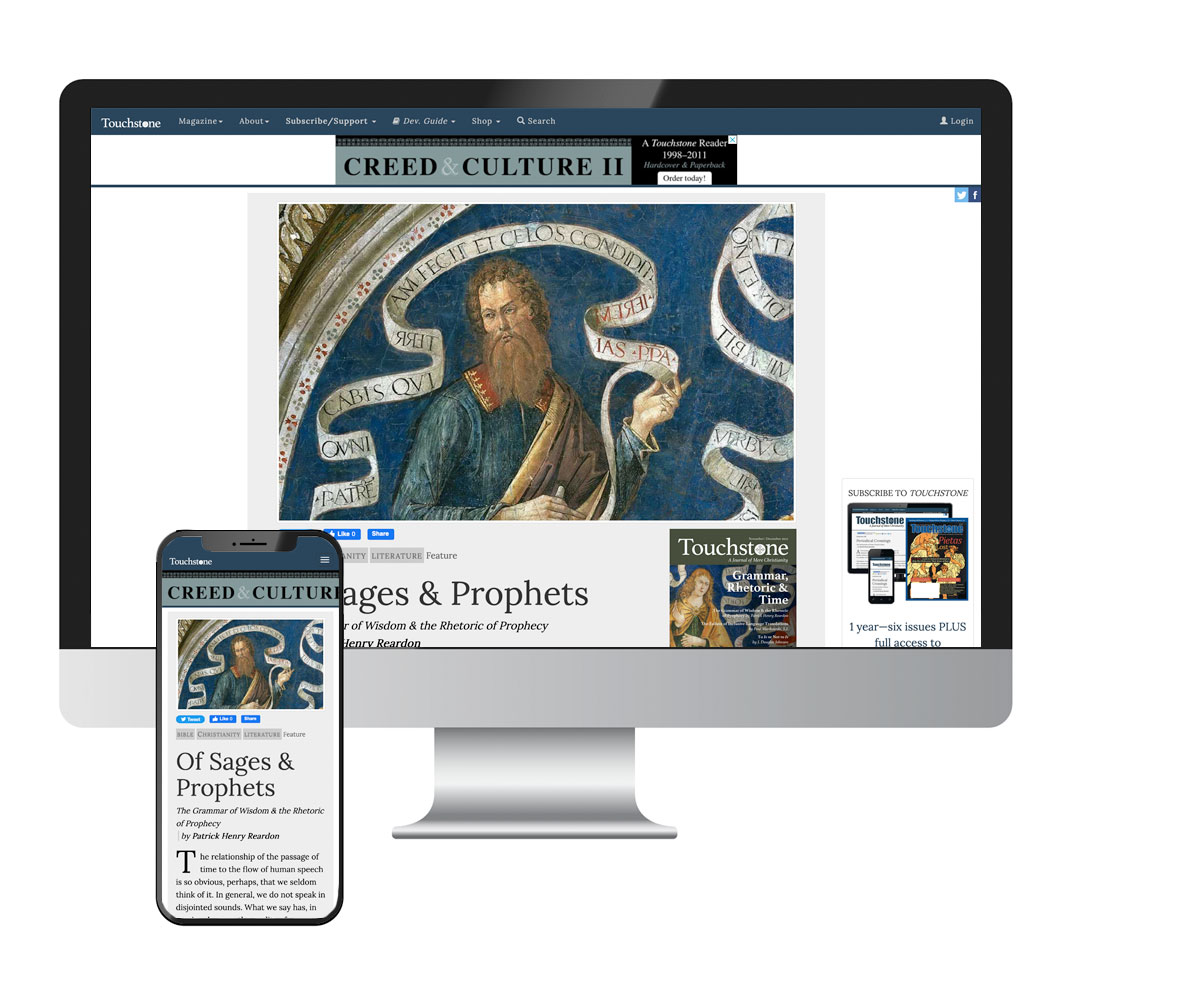 Get a one-year full-access subscription to the Touchstone online archives for only $19.95. That's only $1.66 per month!
Purchase Print &
Online Subscription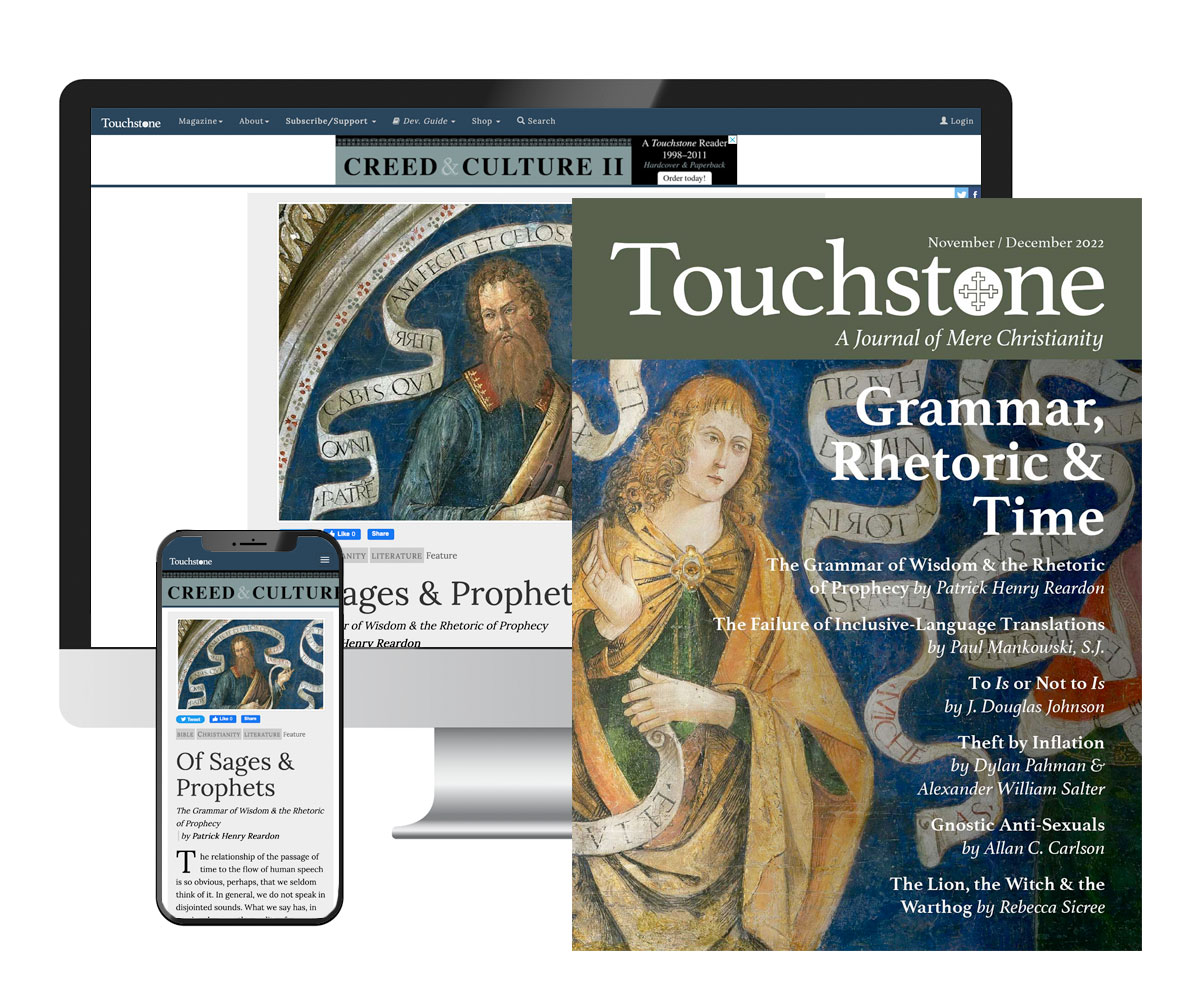 Get six issues (one year) of Touchstone PLUS full online access for only $29.95. That's only $2.50 per month!
Transactions will be processed on the secure server of The Fellowship of St. James website, the publisher of Touchstone.
Your subscription goes a long way to ensure that Touchstone is able to continue its mission of publishing quality Christian articles and commentary.
more from the touchstone online archives