Lucid Love
The Journals of Father Alexander Schmemann: 1973–1983
translated by Juliana Schmemann
Crestwood, New York: St. Vladimir's Seminary Press, 2000
(351 pages; $19.95, paper)
reviewed by L. Joseph Letendre
Between his 1951 arrival in New York and his death in 1983, Fr. Alexander Schmemann emerged as one of the best-known Orthodox Christian figures in this country. As dean of St. Vladimir's Orthodox Theological Seminary, he was pivotal in developing that school into a world-class center of Orthodox studies. His scholarly work made him a pioneer in the field of Orthodox liturgical theology and the father of a eucharistic revival within the Orthodox Church. His books and essays, most notably For the Life of the World, drew praise from a wide range of readers, including Thomas Merton. For 30 years, Fr. Schmemann recorded weekly sermons that were broadcast to Russia by Radio Liberty. Most controversially, he was involved in the negotiations that resulted in the "Russian Metropolia" being declared an autocephalous (self-governing) church by the patriarch of Moscow.
Shortly after Fr. Schmemann's death on December 13, 1983, the journals he had kept for a decade were discovered in his desk. They instantly became the objects of great curiosity and speculation. Some hoped for more insight into the life and thought of this beloved, charismatic figure. Others hoped to gain an insider's view into the ecclesiastical politics and issues of his time. Those in the latter group will be largely disappointed. The entries published—selected and translated by Fr. Schmemann's wife, Juliana—are part spiritual journal, part autobiography, and part exercise book in which Fr. Schmemann wrote down insights that might become future essays and lectures.
Summarizing these journals is not an easy task. Not only do the journals cover the last ten years of a richly lived life, they touch upon the broad range of Fr. Schmemann's interests. Besides matters of theology, liturgy, church, and seminary, there is literature, the Russian émigré experience, politics, and the issues of the day. Central to Schmemann's life and journals is the joy he took from his relationships with his wife and family, his friends and colleagues, and the people he met on his trips throughout North America, Europe, and the Middle East.
Among the persons who figure prominently in these journals is the Russian novelist Alexander Solzhenitsyn. While still in Russia, Solzhenitsyn knew Schmemann as "Fr. Alexander," the priest whose radio sermons he listened to, and "Alexander Schmemann," whose perceptive essays on his own writing he admired. It was not until Solzhenitsyn was exiled to the West in 1974 that he learned that the preacher and critic were the same man. Two months later, Solzhenitsyn invited Schmemann to Zurich, Switzerland, for what would be the first of many encounters between the two men.
In his "Zurich Notebook," Schmemann recounts his first visit with Solzhenitsyn. It is filled with Schmemann's breathless admiration for the writer: "He is the carrier, not of Russian culture, but of Russia itself" (p. 43). Nevertheless, the seeds of Schmemann's future criticisms of Solzhenitsyn are present: "The criterion of religion is the salvation of Russia. . . . S. is hearing, grabbing, choosing what he needs for his writing, the rest goes by" (loc. cit.).
Fr. Schmemann notes, with mounting aggravation, Solzhenitsyn's egotistical handling of the West. In his entry for May 30, 1975, he writes:
Another Solzhenitsyn petty scandal: he rudely refuses a TV interview, and "will never speak in the USA" because Time did not publish his letter to the editors. Narrow-mindedness, suspicion, fanaticism. How many more times will he be burned before he understands? Will he ever understand? (p. 80)
But his major criticism is Solzhenitsyn's "idolizing obsession with Russia" (p. 65). "For [Solzhenitsyn] there is only Russia. For me, Russia could disappear, die, and nothing would change in my fundamental vision of the world. 'The image of the world is passing.' This tonality of Christianity is quite foreign to him" (p. 61).
The journal records Schmemann's reactions to some of the religious and social issues that emerged in the 1970s. Some sound "off the cuff," such as his gut response to the 1976 Episcopal Convention's decision to ordain women: "A low-level egalitarianism, cowardice before the contemporary world. Nothing deep or genuine. The fact alone that there was a vote. . . !" (p. 127). Others, such as his engagement with what we now term "gender issues," are the fruit of his long experience as a thinker, spiritual father, and culture critic:
Homosexuality. The question is not whether is it natural or unnatural, since this question is generally inapplicable to fallen nature, in which—and this is the point—everything is distorted, everything, in a sense, has become unnatural. (p. 175)

A man's holiness and a man's creativity are, above all, the refusal, the denial of the specifically "male" in him. In holiness, a man is least of all a male. (p. 272)

It is totally impossible to solve anything with the world's fixation on "rights." . . . Christianity consists in being right and conceding, and in doing so letting victory triumph: Christ on the Cross and "truly, this is the Son of God." (p. 55)
Another recurring theme in these journals—and in Schmemann's writings and lectures—is his critique of the Church and his criticism of religion. As a churchman, he scrutinizes the Church with "lucid love"—a term he coined to describe Solzhenitsyn's criticism of tsarist Russia in August 1914. He is often frustrated by what he terms the "humanity" of the Church, her incarnation as a corruptible institution comprising sinful human beings in a fallen world. He laments Orthodoxy's "absence of a criteria for self-criticism" (p. 47) and excoriates his church's "morphophobia": "Orthodoxy has ceased to be interested in dogmas, in the content of faith. It is rather the denial of change. . . . A new situation is bad because it is new. This a priori denial does not allow an understanding of change, to evaluate it in the context of the faith, to 'meet' it realistically" (p. 29). However, Fr. Schmemann always criticizes the Church as one who stands within her. His journals are frequently punctuated with his exclamations of joy in the Liturgy and in his meetings and fellowship with his brother priests, and with lay people at conventions, conferences, and retreats—what he terms "contact with the essence of the Church" (p. 288). He affirms the necessity of the Church: "The humanity of the Church is a lesser temptation than a pan-spirituality, than all attempts to disincarnate the Church," he warns (p. 77). And his warnings ring prophetic: "The individual, the person who does not accept the Church distorts Christianity, transforming it into spiritual narcissism and selfishness" (p. 278).
If Fr. Schmemann's love for the Church is everywhere evident, his disdain for religion is also obvious. By religion Schmemann meant the reduced and reductionist religion of the modern secular culture: religion that has ceased to be "the essential form of life" (p. 63). Such religion is reduced to being one isolated compartment in a life lived with little, if any, reference to God. "There is no point in converting people to Christ," he writes, "if they do not convert their vision of the world and of life, since Christ then becomes merely a symbol for all that we love and want already—without Him" (p. 16). Worship is reduced to producing certain sentimental feel-ings and prayer to the cultivation of those feelings. "The spiritual people . . . reduced the Church to religion, and religion to themselves" (p. 186). The Church's mission is reduced to fulfilling the manifold tasks assigned to it by the world (secularism) and to meeting the desires and stroking the egos of its adherents (consumerism). "I sometimes have the feeling that most of the people, unknown to themselves, really live by hiding from reality . . . and find this hiding to be the essential function of religion" (p. 114). Such religion is far-removed from the life and mission of the Church: "Christianity, in its essence, is not so much the fulfillment as the denial and destruction of religion . . ." (p. 202). Against religion, Schmemann holds up what were his three favorite theological themes—the Eucharist, ecclesiology, and eschatology. (Indeed, the central role of eschatology in the thought of Fr. Schmemann merits a major theological study.)
Above all, Fr. Schmemann's journals are permeated with joy and gratitude. For Fr. Schmemann, Eucharist was not a ritual to be performed or a subject to be studied; it was a defining characteristic of the life of a Christian. In his lectures, Fr. Schmemann would state that the worst criticism of Christianity was Nietzsche's accusation that Christians "have no joy." "The source of all false religion is the inability to rejoice, or, rather, the refusal of joy; whereas, joy is absolutely essential because it is without any doubt the fruit of God's presence. One cannot know that God exists and not rejoice. Only in relation to joy are the fear of God and humility correct, genuine, fruitful. Outside of joy they become demonic. . . . Somehow, 'religious' people often look on joy with suspicion" (p. 129). Those who knew Fr. Schmemann, and those who read these journals, recognize that he lived his life in the key of joy. Six months before his death from cancer, he wrote the last entry published here: "What happiness it has all been!"
L. Joseph Letendre teaches at St. Callistus School in Chicago.
L. Joseph Letendre teaches history and writing and is a parishioner at All Saints Orthodox Church in Chicago.
Not a subscriber? Subscribe to Touchstone today for full online access. Over 30 years of content!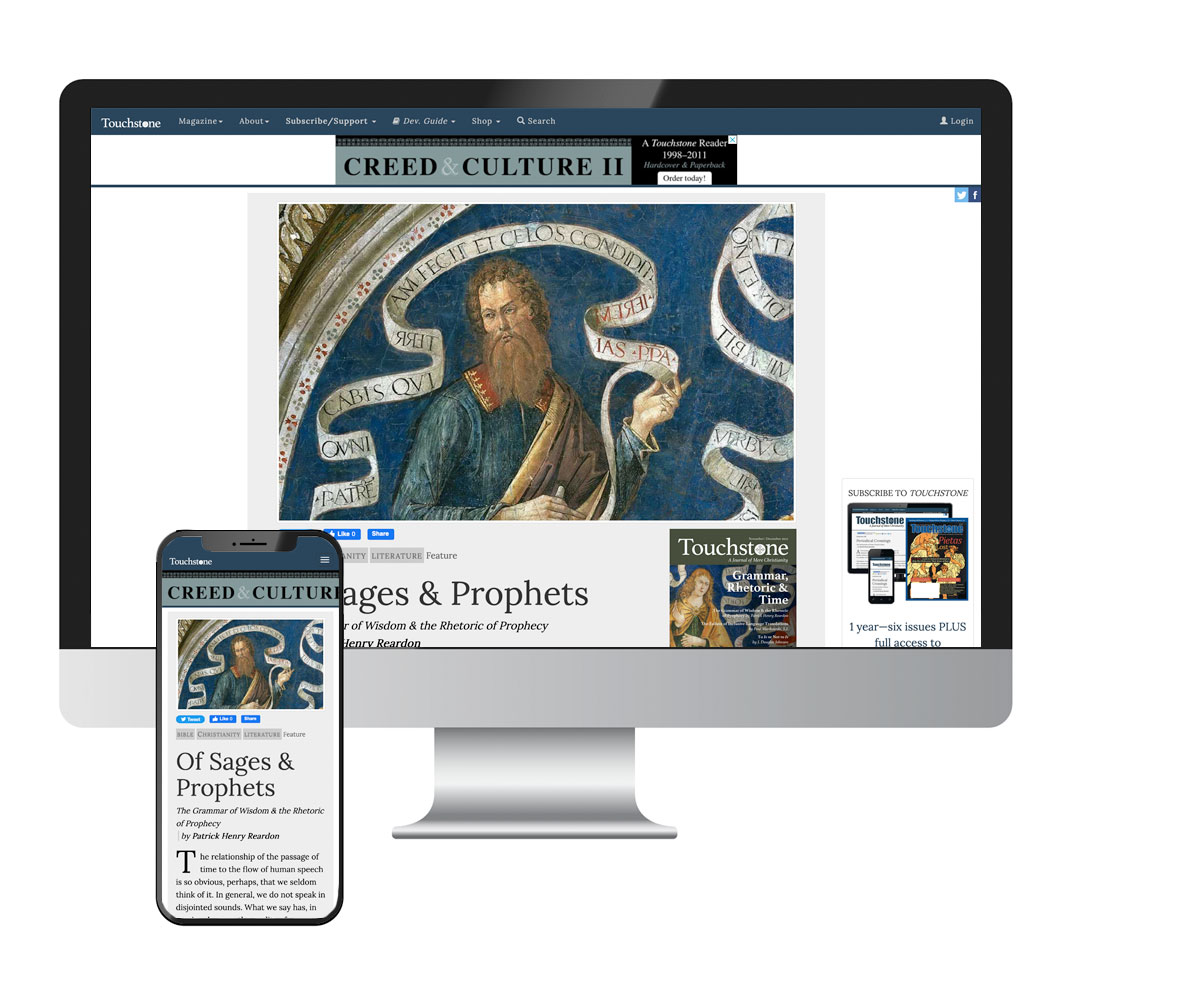 Get a one-year full-access subscription to the Touchstone online archives for only $19.95. That's only $1.66 per month!
Purchase Print &
Online Subscription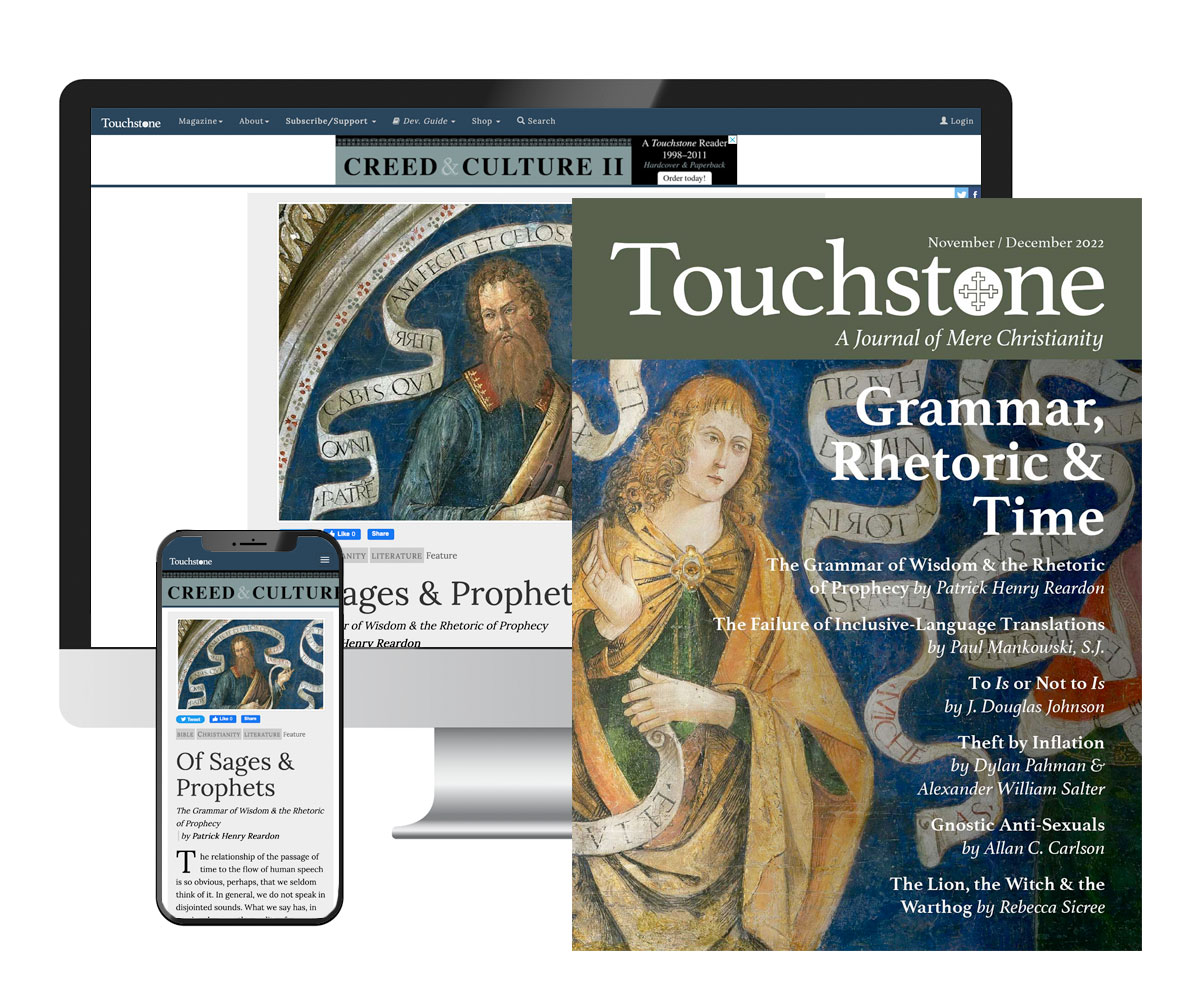 Get six issues (one year) of Touchstone PLUS full online access for only $29.95. That's only $2.50 per month!
Your subscription goes a long way to ensure that Touchstone is able to continue its mission of publishing quality Christian articles and commentary.
*Transactions will be processed on the secure server of The Fellowship of St. James website, the publisher of Touchstone.
from the touchstone online archives