The Wisdom of Chesterton
Schall on Chesterton: Timely Essays on Timeless Paradoxes
by James Schall, S.J.
Washington, D.C.: The Catholic University of America Press, 2000
(267 pages; $24.95, cloth)
by Kevin J. Doyle
G. K. Chesterton was a master of the short essay. He utilized this form to engage the reader on a deeper level about ordinary things. This style called for a brevity that was not only inviting to the reader but also convincing in its argument. Chesterton was able to do both because he dwelled on everyday topics and wrote eminently sensible opinions.
Unlike many of his contemporaries in the early years of the twentieth century, he believed the order of the world was intelligible to the mind and that this order was reasonable. Order implies a connectedness between things human and divine. Man discerns this order and directs his life accordingly. Chesterton had a wonderful capacity to recognize how the most mundane of human foibles pointed to realities greater than themselves. He, like his intellectual mentor Aquinas, spent his writing life articulating the necessary relationship between the human and the eternal.
Schall on Chesterton is a collection of original reflections inspired by the essays of the Englishman himself. Each of these selections, however, is also a reflection on what Father James Schall terms what is—reality as it has been given to us by God. Fr. Schall has written well in the past on man's abiding questions. In this volume he conveys his affection for Chesterton not simply as a man of prodigious literary talent, but as a consistent teacher of truth. Indeed, as Schall remarks in the Preface, "All good teachers, even ones that we have never met, lead us not to themselves but to the truth." Through Chesterton, Schall visits such perennial concerns as the possibility of real knowledge, the limits of toleration, the value of dogma, free will, evil, and joy. In other words, he writes about the highest things, those realities that are sensed deeply within ourselves, though we are often unable to account for them fully.
It is important to note that this book does not provide a biographical account. Schall seeks, rather, to present his subject as a man of ideas. Whether he was discussing such varied topics as children, war, or Christmas, Chesterton was by nature drawn to what each topic was essentially about. He therefore insisted on listening to popular opinion while moving beyond it. It is for this reason that Chesterton always identified himself as a journalist.
At the turn of the century the newspaper was the marketplace of ideas. The most important battles for truth, namely, those raging in the hearts of ordinary men, were being waged in the daily papers. As Schall notes, "Chesterton realized that the university or parliament or the church was most often too limited as an arena in which to confront the myriads of controversial ideas that actually surged forth from a people." It seems Chesterton was not only saying something about his chosen profession, but also about the environments in which we have authentic encounters with truth.
Schall senses how deeply Christian was Chesterton's instinct to take important questions out of the academy and into the city. Treating Chesterton's journalism in the introductory chapter does not merely put the man in context; it speaks to his genuine motivations and intellectual disposition. The author captures it well when he describes Chesterton as a man "who took the 'daily bread' of ordinary life and saw how it necessarily rose to the everlasting nourishment of the mind. This is the highest dignity toward which journalism, let alone education, can strive."
In an essay on detective stories, Chesterton describes our attraction to such tales as suggestive of our real need to differentiate between good and evil. The "cops and robbers" adventure reminds us that our world contains evil elements and that our civilization's health depends on the triumph of virtue and goodness. "The romance of the police force is thus the whole romance of man. It is based on the fact that morality is the most dark and daring of conspiracies." Schall notes that what draws us to the detective story is really the essence of Christian faith, namely, that good and evil are distinct realities about which we must formulate an opinion and according to which we must live our lives.
And in another essay on Christmas toys, Chesterton responds to the proposal that little boys not be given toy guns in an effort to "assist the disarmament of the world." Like the similar contemporary argument, it was suggested that to give a boy a plastic gun was to encourage dangerous behavior. Chesterton attacked this argument on the grounds that evil is not found in the material world, but in the individual's choice to use matter for evil ends. Schall observes in this objection Chesterton's concern that modernity is plagued by "old mistakes" reincarnating themselves for a new audience. In this case the old mistake is Manicheism, the belief that matter is inherently evil and so individuals are not culpable for their evil actions. Schall understands that our freedom is an integral part of God's creation. Denying man's agency in the moral life is a dangerous proposition with frightening consequences.
In a brilliant essay that rings loudly in our culture of moral relativism, Schall takes issue with modern society's elevation of tolerance to the supreme virtue. In a world of patient listening and innocuous, non-judgmental conversation, one must wonder if the active pursuit of philosophical truth has been all but banished from our discourse. Chesterton knew from experience that polite society was not comfortable with statements of truth, particularly in the sphere of religion. This is precisely why Catholicism was disconcerting to English society and its press. Fr. Schall recognizes in this the ancient dilemma of political philosophy; that is, can truth be pursued in the society of man or will the "virtue of tolerance" require that man keep his most important questions within himself or the company of a few friends? Tolerance may effect a degree of harmony among men, but ultimately it is a doctrine of enslavement because it prohibits us from using a universal standard to judge right from wrong.
As the subtitle of the book indicates, each of the 41 essays speaks both to our present circumstances and down the ages. This comes as no surprise since Chesterton was a newspaperman concerned with metaphysics, a writer listening to men expound on their principles in the hope that they might be revealing something about first principles. A man concerned with eternal verities has something to offer every age. This is why Schall reads him and why he suggests we do the same. Chesterton was rare because "he understood what ideas meant and where they would in all probability take us when followed, both for good and for ill."
Fr. Schall offers his reflections as "teaching tools" in the most basic sense. They build on the conception of education as an awe-filled reception of all that is. "That is to say, reading Chesterton, reflecting on his thought, is itself a most profound experience whereby we can reach the truth, the being, the order of things." The author reminds us that at the root of learning is wonder at the natural order and the desire to understand it for its own sake. He places Chesterton in the distinguished company of Aristotle, Aquinas, and Johnson. He was an astute observer of nature who was endlessly fascinated by the world around him. Like Chesterton, Schall seems to fear that many of the modern world's mistakes have resulted from man's insistence on creating his own order. Schall's essays do much to restore a sense of wonder at creation, and thus are an excellent reintroduction to the highest things.
Kevin J. Doyle is a law student currently residing in New York City.
Not a subscriber? Subscribe to Touchstone today for full online access. Over 30 years of content!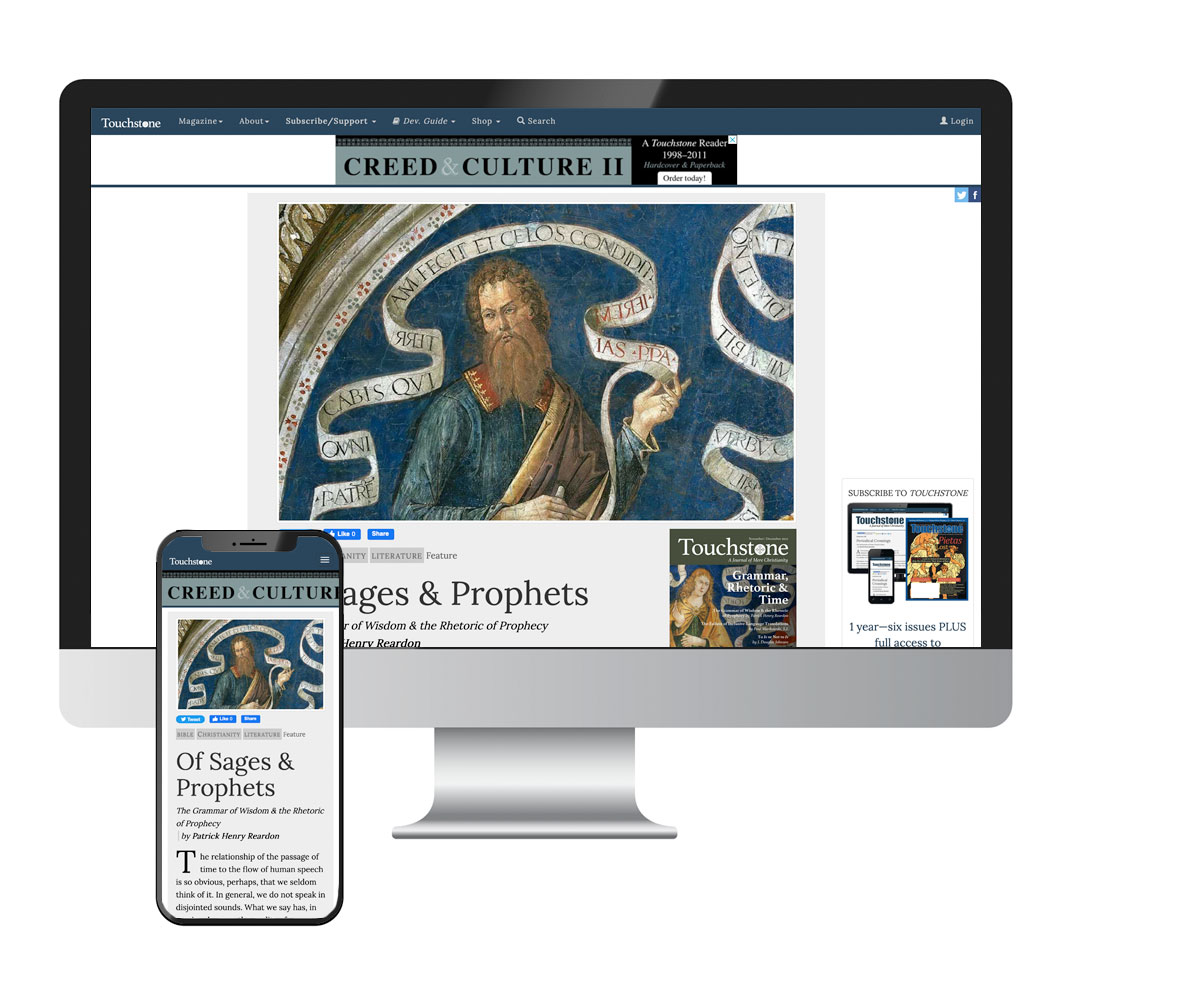 Get a one-year full-access subscription to the Touchstone online archives for only $19.95. That's only $1.66 per month!
Purchase Print &
Online Subscription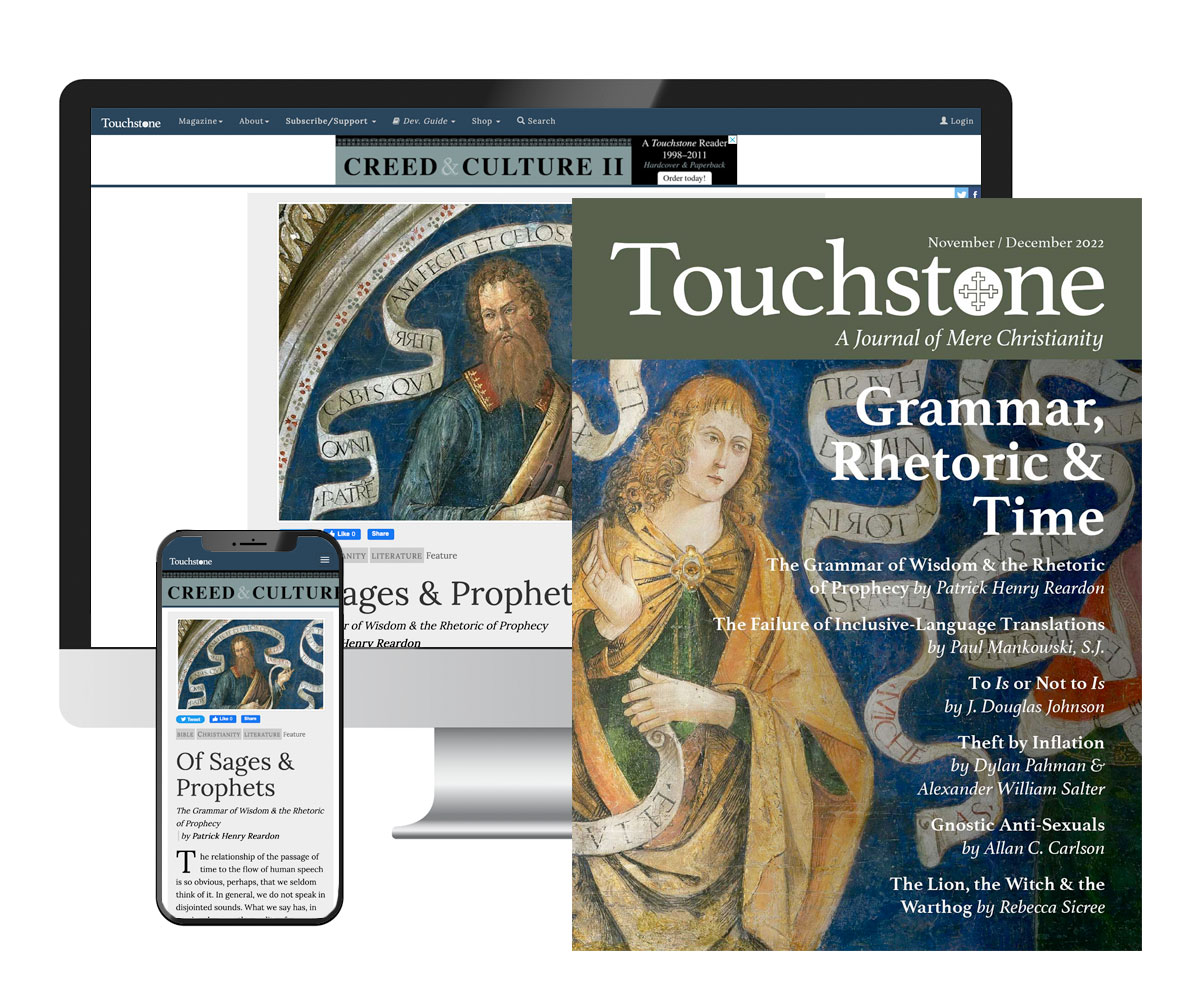 Get six issues (one year) of Touchstone PLUS full online access for only $29.95. That's only $2.50 per month!
Your subscription goes a long way to ensure that Touchstone is able to continue its mission of publishing quality Christian articles and commentary.
*Transactions will be processed on the secure server of The Fellowship of St. James website, the publisher of Touchstone.
from the touchstone online archives