Tough Little Sister
Thérèse of Lisieux—A Saint for All Christians
by Dwight Longenecker
It was during a hitchhiking pilgrimage to Jerusalem that I met a saint. After four years as an Anglican curate in southeast England, I had three months free before taking up my next post. I decided to make a pilgrimage to Jerusalem, staying in monasteries and convents en route. I wanted a holiday, but I also wanted the chance to reflect on my faith and explore the historic heartland of Christendom.
The first leg of the journey was through the western French province of Normandy. After an overnight stay at the historic Abbey of Bec, I hitched a ride to the town of Lisieux. I knew Lisieux was the hometown of St. Thérèse, and planned to stop, not because I had any particular interest in the saint called the "Little Flower" but because, as a pilgrimage destination, there probably would be a religious hostel where I could spend the night.
I had been brought up in a fundamentalist home in Pennsylvania. My ancestors were Mennonites, Brethren, and Reformed Christians. It was during my time at Bob Jones University that I became interested in C. S. Lewis, T. S. Eliot, Anglicanism, and all things English. I'd felt the call to ministry, and when I had the chance to study at Oxford, it seemed too good an opportunity to miss. During training and after ordination into the Anglican ministry, my understanding of the Church moved in a more Catholic direction, although I considered myself firmly Anglican. Devotion to someone as thoroughly Roman Catholic as "St Thérèse of the Child Jesus" was not high on my list of priorities, to say the least.
With her simpering expression, clutching a bouquet of roses and a crucifix, Thérèse seemed one of the worst expressions of nineteenth-century Catholic kitsch. What stories I heard about her life didn't help. She was "God's little girl"—a kind of Catholic Emily Dickinson who fed Roman Catholics' unfortunate taste for greeting card Christianity. I liked a robust faith and she represented the worst excesses of "meek and mild" Christianity—the kind that fosters doormats, not doorkeepers.
Nevertheless, I approached Lisieux with a certain detached curiosity. I found my way to the pilgrim's hostel and was greeted by a cheerful and practical nun. She showed me to a simply furnished room where I took off my shoes, shrugged off my backpack and sat down to relax. After dinner that night I wandered through the town. Adjacent to the hostel was the Carmelite convent where the saint lived for just nine years before her death at the age of 24. On the hill on the edge of town was a huge basilica built in honor of the saint. This little girl was certainly important to the Catholics, and I resolved to keep an open mind and try to learn a bit more about her.
The next day I visited the sites associated with the saint and picked up a paperback biography. I was impressed by what I discovered. It is true that Thérèse is called the "Little Flower," but if she is a flower, then she is a steel magnolia. Under that sentimental language and kitschy image I discovered the story of an amazing individual, a Christian soul who was tough as well as tender. If she clutched roses, those roses definitely had thorns. I was not won over to her completely, but my reading and exploration were enough to make me want to learn more.
A Complete Convert
Marie Françoise Thérèse Martin was born in Alençon in Normandy on January 2, 1873. Her father was a watchmaker, and her mother made lace to supplement the family income. In the summer of 1877 her mother died, and that autumn M. Martin moved Thérèse and her four older sisters to a small house called Les Buissonets in the nearby town of Lisieux. Thérèse was a sensitive and loving child, and the home was very devout, but conventionally middle class. She took part in a religion that was woven seamlessly into the tapestry of everyday life. Her Christian family was a sharing in the Holy Family, and God was everywhere present. Thérèse spoke of her early awareness of Christ by saying, "From the age of three I have never refused the good God anything."
She was four and a half when her mother died and from that point on she went through ten years of religious scruples and nervous hypersensitivity. On Christmas Eve when she was fourteen she describes how she suddenly became aware of God's healing and regained her spiritual strength. She considered this experience to have been her conversion. In his book, The Way of the Lamb, John Saward describes the conversion experience in terms of her childhood being reborn in a fresh way.
In the early hours of Christmas Day 1886 Thérèse was given what she called the "grace of my complete conversion" which was at the same time, the "grace of leaving my childhood." One might say she gave up one childhood for another: she left behind natural childhood, which is but a passing state, in order to make more intensely her own the supernatural childhood of her Baptism. . . . Here is the paradox of the Gospel. It is only when we convert and become like little children that we reach our Christian maturity.
By the time of this conversion experience she had not only lost her mother, but also two of her older sisters had left the family to enter the Carmelite convent in Lisieux. The Carmelites are a strictly enclosed contemplative order, and when a girl entered the Carmel, she took Christ's call to leave one's family for the sake of the kingdom quite literally. The nun would never again leave the convent, and strictly rationed family visits would be conducted through a grille and monitored.
After her Christmas conversion Thérèse was determined to follow her sisters into the dedicated life of prayer at the Carmelite convent. Rules forbade entrance to the convent at such an early age, but Thérèse persisted, first winning her father's, then finally the bishop's approval by the winter of 1887. In the meantime, on a visit to Rome she had the nerve to disobey all the adults and ask Pope Leo XIII himself for approval to enter the convent. He is reported to have smiled, patted her cheek and muttered that if it was God's will, she would enter. It was God's will, for in April of 1888, when she was fifteen, Thérèse entered the Carmel of Lisieux. She lived what appeared to be an unremarkable life completely hidden in Christ.
Her way was to find God hidden in ordinary life and to become a saint, not through heroic accomplishment, but through being lost in ordinariness. Indeed, many that knew her overlooked her sanctity. One sister testified that Thérèse was "certainly good and conscientious but nothing outstanding. . . . She had nothing to suffer and was rather insignificant." Another said, "I cannot understand why people speak of Sister Thérèse as if she were a saint. She never does anything notable." They missed the point. Thérèse had become humble. Her theory was, "One must behave like everyone else, not leaving the ranks either for weal or for woe, not pushing oneself forward or becoming the center of attention; one must behave as if there were nothing lacking." Nothing was lacking, for she had learned to trust in God utterly. "Sanctity," she wrote, "consists in a disposition of the heart that leaves us little and humble in God's arms, aware of our weakness and trusting unto folly in his Fatherly goodness."
The Little Way
Her life and her "little way" became famous through her autobiography, entitled The Story of a Soul. Autobiographies are notoriously egotistical. Thérèse wrote hers under religious obedience. She was commanded to write the first part of her little book as a family memoir. The later parts were intended as a contribution to her obituary. Only after her death did her sisters consider publication, and when the first two thousand copies were printed, everyone wondered how they would ever get rid of so many books. Yet in the first twelve years after publication, forty-seven thousand copies were sold. In 1914 Pope Pius X introduced her cause for beatification and called her "the greatest saint of modern times." Thérèse was beatified by Pius XI in 1923, and in 1925, just twenty-eight years after her death, there were 500,000 people in Saint Peter's Square to celebrate her canonization by Pius XI. The fame and honor of this provincial French girl continued. In 1944 she was declared patroness of France along with Joan of Arc; and at the centenary of her death in 1997 she was declared a Doctor of the Church by Pope John Paul II.
As I read more about Thérèse, I began to wonder, "If she has been so celebrated, if she has been made a doctor of the Church, there must be more to this girl than 'puppies and kittens spirituality.'" Books about Thérèse and her teachings are numerous. The best theological treatise is by the Swiss theologian Hans Urs Von Balthasar. His study of Thérèse's teachings makes up half of his volume entitled Two Sisters in the Spirit. Balthasar picks out some startling themes in Thérèse's writings. Locked within her simple style are the insights of a remarkably gifted spiritual theologian. Thérèse is radical in her Christianity, yet with great simplicity she echoes the great Christian themes that unite all Christians. As a former Evangelical I found themes echoing through Thérèse's writings that struck chords with my evangelical convictions. Although she writes within the context of nineteenth-century French Catholicism, she challenges its problems and proclaims the essence of "mere Christianity."
To understand Thérèse of Lisieux one has to penetrate her literary style. She writes with a childlike wonder and innocence that seems cloying to those more used to "adult" language. Her context of nineteenth-century French Catholicism allows an unfortunately romantic and sentimental form of expression. There is a vital literary point here, however: Thérèse's theme is spiritual childhood. It is right and proper that her theme, her life, and her literary style are a unity. If Thérèse's style is difficult for grown-ups, then so is her content, for the "way of spiritual childhood" can also seem impossibly naïve and sentimental. Certainly those for whom style is everything will not appreciate Thérèse's content even if they get past the style. Perhaps "taste" has to be left at the door of heaven. If one has to become as a little child to enter the kingdom, then sophisticated adult taste is not allowed. If this is so, then Thérèse's saccharine style becomes either a stumbling block or a stepping stone.
Thérèse is famous for preaching the "little way of spiritual childhood." Although this teaching doesn't immediately appeal to adults, it is precisely the thing we like least that may challenge us most. Like the serious disciples, we want to push the little child away, but as John Saward points out, Thérèse is only echoing the gospel that states quite firmly that, "Unless you become as a little child you cannot enter the kingdom." A little child shall lead them, and whether we find Thérèse's sweet innocence appealing or appalling is a silent judgment on us, not her. Her little way of spiritual childhood might seem sweetly naïve, but when considered more closely, it is not a way of sentimentality, but a way of surrender. It involves an utter sacrifice of self and reliance on the love of God the Father. So Thérèse sums it up, "The little way is the way of spiritual childhood, the way of trust and total surrender. To remain little means recognizing one's nothingness, expecting everything from the good God as a little child expects everything from its father."
The Kaleidoscope of Grace
Thérèse's reliance on God the Father is based on her confidence in God's grace. Catholic asceticism of her day tended to focus on feats of spiritual heroics. Refreshingly, Thérèse has no time for such good works. For her, good works alone are no more than a spiritual beauty treatment. Because she trusts in grace, not good works, her teaching undermines the Pharisaism of organized religion. So Balthasar writes, "Her battle is to wipe out the hard core of Pharisaism that persists in the midst of Christianity, that human will to power disguised in the mantle of religions that drives one to assert one's own greatness instead of acknowledging that God alone is great." So Thérèse says, "Jesus does not demand great deeds but only gratitude and self-surrender."
In the midst of a Catholicism that encouraged heroic action, Thérèse stresses that without grace her actions are worthless. Although she has sacrificed everything, she considers herself an unworthy servant. "Even if I had performed the deeds of Saint Paul," she writes, "I would still consider myself an unprofitable servant; I would find that my hands are empty." Elsewhere she says, "I reflect that He will be very much embarrassed as regards me: I have no works . . . well, He will render to me according to his own works!" In another place she writes of her dependence on grace in terms worthy of Martin Luther himself, "In the evening of this life I shall appear before you empty-handed, for I do not ask you, Lord, to count my works. All our justices have stains in your sight. So I want to be clad in your own Justice and receive from your Love the possession of yourself. I want no other throne or other crown than you my beloved!"
If Thérèse does not fall off the Pelagian side of the horse, she doesn't slip into Quietism either. The Christian soul is not a dead leaf tossed by the wind. Thérèse has no time for passivity. Her "little way" might mean total trust in God's grace, but it is that reliance on grace that empowers us to do our utmost to cooperate with God's will. So she says,
We must do everything that is within us: give without counting the cost, practice the virtues at every opportunity, conquer ourselves all the time and prove our love by every sort of tenderness and loving attention. In a word, we must carry out all the good works that lie within our powers—out of love for God. But it is truly essential to put our whole trust in him who alone can sanctify our work, who can indeed sanctify us without works, since he may even bring forth children of Abraham from the very stones. It is necessary for us, when we have done all we can to confess that we are unprofitable servants, while hoping that God in his grace will give us all that we need. That is the way of childhood.
Her explanation of the grace and works conundrum is typically simple and profound: "Being little means not attributing the virtues we practice to ourselves in the belief that we are capable of them, but recognizing that the good God places this treasure in the hands of his little child for him to use when necessary, but the treasure remains God's always."
In a famous passage Thérèse uses a child's kaleidoscope to illustrate grace:
This toy aroused my admiration and I used to wonder what could produce so pleasing a phenomenon; when one day, after serious examination, I saw there were simply a few tiny scraps of paper and of wool cut no matter how, and thrown here and there. I pursued my investigation and discovered three mirrors inside the tube: I had there the key to the problem. This was for me the image of a great mystery. As long as our actions, even the least of them, remain within the focus of Love, the Blessed Trinity, which is figured by the three mirrors, reflects them, and endows them with a wondrous beauty. Jesus, looking at us through the little lens, that is to say, as if it were through himself, finds all our actions pleasing to him. But if we leave the ineffable center of love, what will He see? Mere straws . . . actions sullied and nothing worth.
Salvation, Scripture & Reformers
As a Christian from an evangelical background, I found Thérèse's writings amazingly refreshing. They broke a lot of my preconceptions about Catholic thought and spirituality. Indeed, she seems to have revolutionized the Catholic Church as well. The ground swell of support for her teachings and the instant popularity show that the voice of the people was one with the voice of the Church. The mighty structure of the Catholic Church was both refreshed and challenged by her teaching.
Admitting as much, Pope Pius XI, during the canonization process for Thérèse, proclaimed that she was "the greatest modern saint." He said she has a "new mission" and proclaims a "new message," and he recognizes in her a "new model for sanctity." It is no exaggeration to say that this teenage girl hidden in a convent in a remote part of France challenged and changed the Catholic Church. She did so with no hint of revolution or rebellion. Her designation as a Doctor of the Church a century later confirms the church's acceptance of her teachings.
In her emphasis on grace, Thérèse is a prophet of the recent consensus between Catholics and Lutherans on the question of salvation. In the historic document Joint Declaration on the Doctrine of Justification, signed in October 1999, both Catholics and Lutherans were able to say, "By grace alone, in faith in Christ's saving work and not because of any merit on our part, we are accepted by God and receive the Holy Spirit, who renews our hearts while equipping and calling us to good works." Thérèse is one of the key teachers of this doctrine in the Catholic Church, and, like Luther, she came to her understanding through the Scriptures.
She loved to read and was extraordinarily well read for a child of her age and background, but in the convent she found that extra-biblical books simply didn't interest her any longer. She writes, "If I open a book composed by a spiritual author (even the most beautiful, or the most touching book), I feel my heart contract immediately and I read without understanding. Or if I do understand, my mind comes to a standstill without the capacity of meditating. In this helplessness, Holy Scripture and the Imitation of Christ come to my aid. In them I find a solid and very pure nourishment." Elsewhere she writes, "I can find nothing in books any more; the Gospels are enough for me. Is it not implied for example in the words of our Lord, 'Learn of me, for I am meek and humble of heart'?"
Thérèse committed great portions of Scripture to memory, and the novices in the convent were amazed by her display of scriptural knowledge. She always carried a New Testament, and in her cell she was busy compiling her own personal concordance. Balthasar says, "Luther, brought face to face with Scripture, came to conclusions that might be considered remotely parallel to those of Thérèse: the personal certainty of salvation, the stress upon trusting faith as opposed to ascetic practices and other good works, the clear-cut preference for New Testament mercy as against Old Testament justice. And, in this sense, with all due reserves having been made, the 'little way' can be regarded as the Catholic answer to the demands and questions raised by Luther."
Thérèse's doctrine of the "little way" answers the program outlined by the Reformers. Perhaps unknowingly she offers an answer to Protestant spirituality. There are many points of contact between Thérèse and the Reformers: the rejection of works righteousness; the demolition of one's own ideal of perfection to make room for God's perfection in man; the transcendent and yet personal dimensions to the act of faith; and the insistence that faith is more than intellectual assent to the content of Christianity.
But while there are similarities, the contrasts between Thérèse and the magisterial Reformers are equally striking. Thérèse does not foster religious revolution, but spiritual renewal. Most importantly, Thérèse believes perfection is possible by God's grace. She believes in a justification and sanctification that are real and personal, not externally and artificially applied. In other words, she does not allow sin to gain so overwhelming a hold. She admits of faults, but they are "faults which do not offend God." She believes, like St. John, that we are children of God and that "one who is born of God cannot go on sinning because he is born of God" (1 John 3:7–10). As Balthasar puts it, "What divides Thérèse from Luther is that the trauma of sin never entwines itself round her soul."
Zeal for Battle
This leads to another trait in the young nun, which surprised me: her zeal. Trained to view enclosed nuns as meek and passive creatures, Thérèse comes across as a firebrand for God. Despite being in the Carmelite monastery, she burns with zeal to fight the good fight of faith. Throughout her writings she proclaims her wish to be God's warrior. For those who regard her only as the "Little Flower" her militant spirit is almost shocking. Thérèse wrote poems and plays in honor of another female French warrior—Joan of Arc. A serendipitous photograph shows her dressed in armor to perform the part of Joan in one of her plays. Echoing the Virgin Mary and St. Paul, and with a romantic zeal for battle, Thérèse proclaims her mission, "I have put on the breastplate of the Almighty, and he has armed me with the strength of his arms. Henceforth no terror can wound me, for who can now divide me from his love? By his side, I advance to the battlefield, fearing neither fire nor steel; my enemies shall discover that I am a queen and the bride of a King."
Thérèse is a spiritual swashbuckler. Like a female chevalier she declares, "God has granted me the grace of being totally unafraid of war; I must do my duty, whatever the cost." "Let us fight without ceasing, even without hope of winning the battle, for what does success matter! Let us keep going, however exhausting the struggle may be. . . ." Elsewhere she says, "I long to accomplish the most heroic deeds, I feel within me the courage of the crusader. I would die on the battlefield in defense of the Church!" On her deathbed, like a spiritual Cyrano de Bergerac, she says, "I shall die with weapons in hand!" "Sanctity!" she bravely cries. "It must be won at the point of a sword!"
Her zeal for battle is directed into her life of prayer. Once again, my preconception of the enclosed Catholic monastic life was one of detachment from evangelism and social concern. Thérèse's view is exactly the opposite. Her life of prayer is a direct involvement in the spiritual battle. By her prayers, love, and sacrifice, she wished to win souls for Jesus. Repeatedly in her autobiography Thérèse proclaims her fervent love for sinners and her desire to win souls. "There is only one thing to do here below: to love Jesus, to win souls for him so that He may be loved. Let us seize with jealous care every least opportunity of self-sacrifice. Let us refuse him nothing!" This reveals Thérèse's technique of soul-winning. Like St. Paul who hopes his sacrifice will be united to Christ's for the good of the Church (Col. 1:24), Thérèse wants her sacrifice of love, prayer, and devotion to be dedicated to the missionaries for whom she prays daily. She wins souls by being united with Christ and united with the souls in prayer and love. So she writes, "Just as a torrent sweeps along with it unto the depths of the sea whatever it encounters on its course, even so, my Jesus, does the soul which plunges into the boundless ocean of Your love draw after her all her treasures. Lord, these treasures are the souls it has pleased You to unite to mine."
Missions & Truth
Thérèse was fascinated by missionary work. She maintained an encouraging correspondence with two missionary priests, supported them daily in prayer and wished to go to the mission field herself. Her language is as dynamic as is any revivalist preacher's: "I want to enlighten souls. I want to travel the earth." Thérèse prays,
O my beloved, to preach Your name and to set up Your glorious Cross in pagan lands. But one mission only would not suffice for me. Would that I could at one and the same time proclaim the Gospel all the world over, even to the remotest of its lands. I would desire to be a missionary not only for a few years, but to have been one from the creation of the world and so to continue to the end of time.
On her deathbed Thérèse said she fervently believed every one of her desires had been fulfilled. By this time she was taking an eternal perspective, seeing that her hidden life would be powerfully used by God in the future. But how was her passionate desire to be an "eternal missionary" fulfilled? Within the mystery of the Church it is no coincidence or exaggeration to see Thérèse's wish to be a missionary fulfilled in that other little saint, Teresa of Calcutta, who has been one of the most radiant Christian witnesses in the second half of this century. Indeed, Teresa of Calcutta chose her name in honor of Thérèse of Lisieux. She taught all her missionaries to follow the "little way" and witnessed to the fact that her worldwide missionary enterprise was inspired by the teenage nun of Lisieux.
At the heart of Thérèse's life is her personal, fervent, and loving relationship with Jesus Christ. Surrounded by the conventional Catholic piety of her day, she kicks over all the paraphernalia of formal religion. She is accused of a florid and sentimental style, but while she is tender and childlike, she never allows sentimentality to get in the way of Truth. When a sister tried to tell her "inspiring" stories of St. Francis with the birds and flowers, Thérèse replied, "I need nourishment for my soul. I need examples of humility." Another sister said that when Thérèse died, she would be met by a company of radiant white angels. The saint said, "All these images mean nothing to me. I can only nourish myself upon the Truth."
Confronted with pious and well-meaning devotional sermons about the Virgin Mary, Thérèse responded, "All the sermons on Mary I have heard have left me cold. . . . One should not relate improbable stories about her. . . . If a sermon on Mary is to bear fruit, it must give a genuine picture of her life, as we glimpse it in the Gospels." She felt the same about elaborate formal prayers:
To be heard it is not necessary to read from a book some beautiful formula composed for the occasion. I do not have the courage to force myself to search out beautiful prayers in books. There are so many of them it really gives me a headache! Each prayer is more beautiful than the others. . . . I say to God very simply what I wish to say, without composing beautiful sentences and he always understands me.
A Total Saint for All
Thérèse's "little way" turns out to be radical discipleship. With fiery zeal and uncompromising faith, it takes Christians to a point of total surrender to the One who totally surrendered himself to the Father's will. Thérèse demands total conversion. "You cannot be half a saint!" she proclaims, "You must be a whole saint or no saint at all." Her "little way of spiritual childhood" calls for the personality to die so the person can be reborn.
As Balthasar says, "This zero-point, the intersection of the Absolute, is Christ's gift . . . it is the abdication of one's own will in favor of total obedience to Christ." Thérèse does not preach her own idea or her own technique for Christian perfection. She simply proclaims the message of John 3 in which Christ says, "You must be born again." As Balthasar points out, "The little way is one way, yet it is also the way. . . . The love of God and one's neighbor contains the whole of the law, and all mysticism and asceticism, thus this little way, which makes this love absolutely central, can be described as ' the way' for all Christians."
My journey of faith has been influenced by many people, but among them, the little child of Lisieux has been one of the greatest. My experience in Lisieux brought me into contact with one of the most extraordinary Christians of the last century. In just twenty-four years she lived an amazing life that climaxed in 1897 when, after a terrible illness combined with a more terrible spiritual darkness, Thérèse died. In time she stands as a bridge between the nineteenth and the twentieth centuries. As a child she speaks prophetically to the grown-up sin and cynicism of our age. As a Catholic, without even knowing it, she embraces all that is good in Protestantism. As a prophetic soul she points forward to a new Christian unity in which all Christians may proclaim together the simple gospel, that we are called to be little children—sons and daughters of the King who are destined to live in his courts forever.
Dwight Longenecker, a Roman Catholic, lives in England where he works as a free-lance writer. He is the editor of The Path to Rome (Gracewing, 1999), a book of conversion stories, and the author of Listen My Son (Morehouse, October 2000), a commentary on the Rule of St. Benedict for fathers. A study of St. Thérèse of Lisieux and St. Benedict will be published in 2001.
Not a subscriber? Subscribe to Touchstone today for full online access. Over 30 years of content!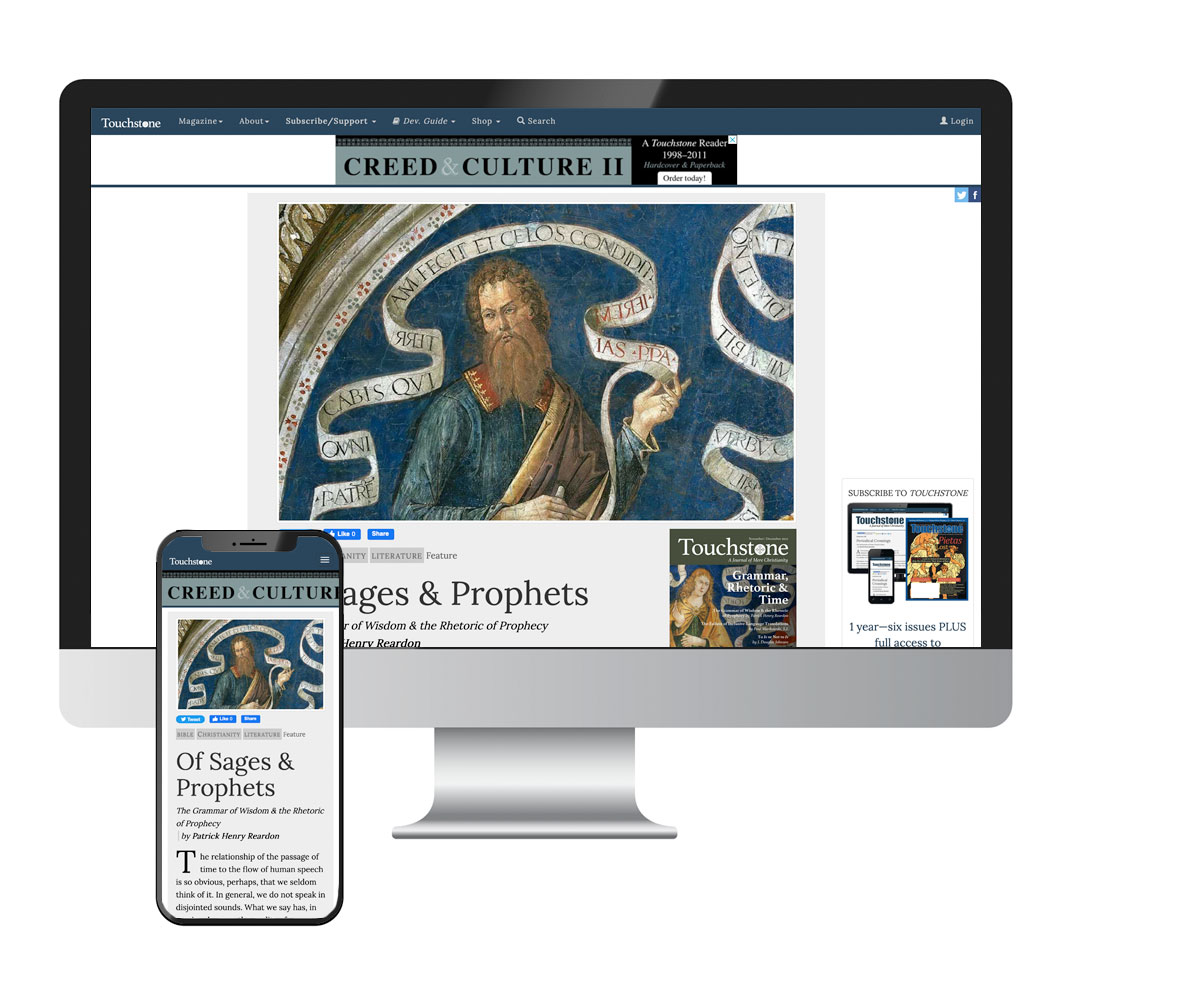 Get a one-year full-access subscription to the Touchstone online archives for only $19.95. That's only $1.66 per month!
Purchase Print &
Online Subscription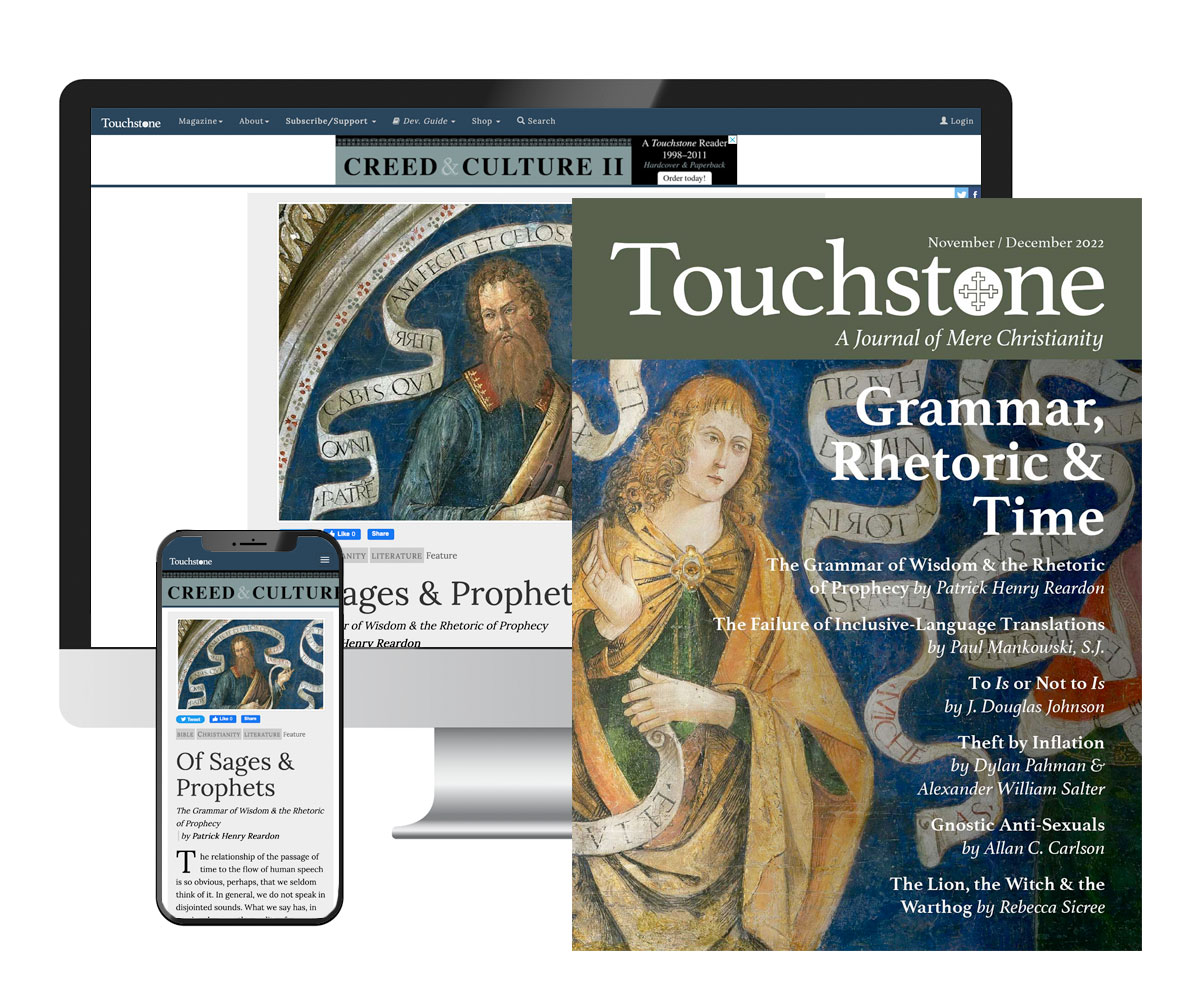 Get six issues (one year) of Touchstone PLUS full online access for only $29.95. That's only $2.50 per month!
Your subscription goes a long way to ensure that Touchstone is able to continue its mission of publishing quality Christian articles and commentary.
*Transactions will be processed on the secure server of The Fellowship of St. James website, the publisher of Touchstone.
from the touchstone online archives